The best anti-wrinkle creams and serums do more than just eliminating the fine lines that appear on your skin due to aging. While these anti-wrinkle products are designed for that primary reason, the best ones are able to provide other health benefits.
There are hundreds of anti-aging and anti-wrinkle products being offered today to cater to the needs of men and women who want to look young and beautiful. Thus, it can be tough to choose which one would be the most beneficial, safest and most effective.
To make the selection easier for you, we've searched high and low to come up with a list of the best anti-wrinkle creams today. By the time you're done reading this, we hope you'll be able to determine which is the right one for you.
How Do The Best Anti-Wrinkle Creams Work?
Anti-wrinkle products like creams and serums have one common objective: to reduce the fine lines and wrinkles on your face. All of them hope to reverse the damage that external factors and aging may have caused.
Their effectiveness usually depends on the active ingredients they have. Some use retinol, a form of vitamin A, while others use vitamin C and other ingredients.
At times, manufacturers try to experiment and combine two or more powerful ingredients. The outcome then would work by improving the elasticity of your skin.
When this happens, you start to experience the benefits that anti-wrinkle products bring. Your skin regenerates new cells and you begin to look and feel young and beautiful again.
Why Use Anti-Wrinkle Products?
Anti-wrinkle products are beneficial in a lot of ways. Here are some reasons why you should try using them:
They provide extra hydration and moisture to the skin.
Your skin's elasticity improves through the regeneration of skin cells.
They eliminate the fine lines and wrinkles on your face to make your skin firmer and smoother.
They have the ability to protect your skin from external factors such as pollution and UV rays.
Because of these reasons, your skin is able to go back to its natural flawlessness. In just a few weeks, you'll be able to notice the difference.
How To Choose The Best Anti-Wrinkle Creams?
When you're searching for the best anti-wrinkle creams, there are some factors you need to consider. It is not enough to just buy the product of your choice and see if it's effective after applying it.
Beauty products, just like prescription drugs, may produce different results in different people. Hence, you need to take note of some necessary precautions. Here are some tips you can use when choosing the best anti-wrinkle creams.
1. Read the label. This way, you'll figure out not just the product's ingredients but the warnings as well. If you know the warnings, you'll be able to determine if it's right for you or not.
2. Check the ingredients. This is to know further if the product contains chemicals or other elements you might be allergic to. Likewise, this will help you make further research regarding the benefits of such ingredients and their corresponding side effects.
3. Research the manufacturer and its website. Equally important as knowing everything about the product is gaining a lot of information about its manufacturer. Reputable companies use high-quality ingredients and certified laboratories to produce high-quality products.
While there are plenty of anti-wrinkle products available on the market today, we've narrowed down the list of the best anti-wrinkle creams that you can choose from. Check out our best reviewed anti-aging wrinkle creams below.
1. Pura Bella
Pura Bella is a revolutionary anti-aging cream designed to rejuvenate skin quality within a specific period of time. It promises to make your skin look more radiant by eliminating all the signs of skin aging on your face.
The main ingredient used in this anti-wrinkle cream is Retinol. This is a pure form of vitamin A that is beneficial to the skin. It has anti-aging abilities that can eliminate fine lines and wrinkles.
As an agent for skin protection, Retinol increases collagen production to improve your skin's elasticity. Likewise, it moisturizes your skin to prevent the forming of wrinkles.
With the use of this ingredient, Pura Bella is able to create barriers that protect your skin from harmful aggressors such as the UV rays.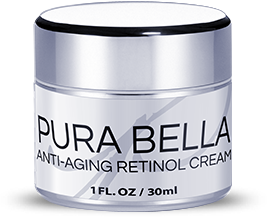 Pros:
contains 100% pure natural and organic ingredients
has no fillers or any other artificial ingredients
prepared and manufactured in a certified laboratory
may be applicable for all skin types
has a lot of favorable reviews from customers
the company offers promotions if you purchase more than one jar
they offer a money back guarantee if the product won't work for you
Cons:
not yet FDA-approved
not recommended to those under 18 years of age
Retinol may cause side effects such as dryness, flakiness, and redness of the skin
Overall, we believe that Pura Bella is one of the best anti-wrinkle creams out there.
Its ingredients are all naturally made, thus side effects are less likely to occur. While retinol may cause some negative results, the company made sure that this cream only has the right amount of such ingredient for skin protection.
Moreover, this anti-wrinkle cream has a lot of positive reviews indicating its effectiveness. Many users shared that it made their skin look and feel fresher and smoother.
2. Olay Regenerist
Olay Regenerist, or more properly called as Olay Regenerist 3-Point Treatment Cream, claims to be the "game-changer" in the world of anti-aging products.
In fact, it is branded so far as the most powerful and best-selling moisturizer among Olay's products. It works by directly treating the areas on your skin that are most prone to aging.
These areas include your eyes, your jawline, and your neck. That's why it's called a "3-point cream." They are the points on your face where the signs of skin aging are most noticeable.
As a moisturizing treatment, this anti-wrinkle cream uses a powerful amino-peptide complex to give you the results you desire. With this ingredient, you acquire a younger looking skin, free from wrinkles and fine lines.
The cream also has palmitoyl pentapeptide-4 and niacinamide that increase the production of collagen. This way, your skin improves its elasticity and firmness.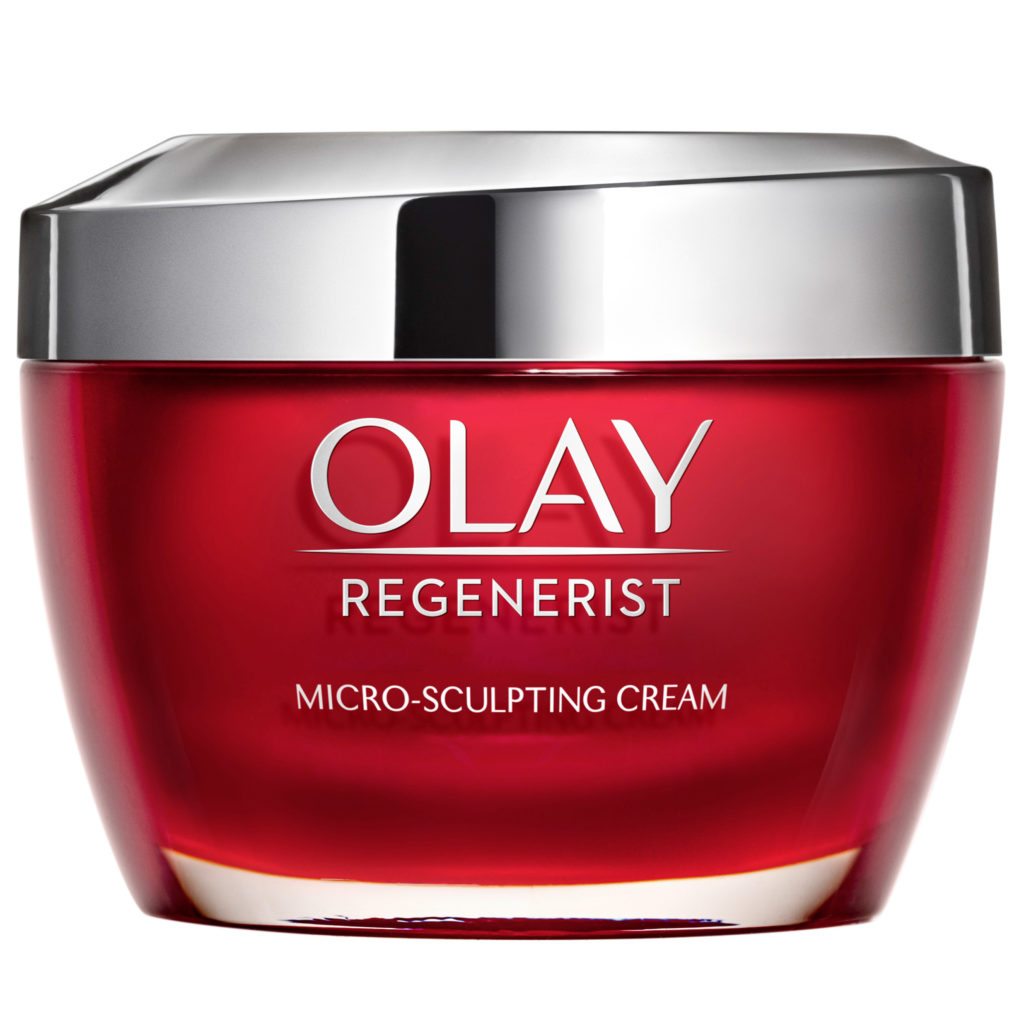 Pros:
reduces the appearance of wrinkles and fine lines
focuses on regenerating skin cells and getting rid of saggy facial skin
the company has a well-established reputation
has a lot of positive feedback from customers
Cons:
no indication if the cream is available for all skin types
has a lot of preservatives that may cause irritation for those with sensitive skin
most users talked about its effectiveness as a moisturizer and not as an anti-wrinkle cream
some customer reports indicated side effects such as skin irritation and dryness
We can say the advantages and disadvantages of Olay Regenerist are equally balanced. Still, we believe that this skincare product is a wise choice and is among today's best anti-wrinkle creams.
The side effects reported may be true and also not true. There are no official reports yet proving these claims.
Besides, the results of every product vary from one person to another. You may or may not experience those that have been indicated above.
If in case you do, however, discontinue the use of this cream and seek help from your doctor immediately.
3. Dr. Dennis Gross C+ Collagen Deep Cream
Dr. Dennis Gross C+ Collagen Deep Cream claims to be a good anti-wrinkle cream for those who have normal, dry, and sensitive skin. It's a rich and fast-absorbing cream that energizes and deeply hydrates the skin.
Generally, it also claims to be the ultimate solution for your skin's dryness, dullness, and uneven texture.
This cream features 3-O Vitamin C technology. Through this process, the skin is able to quickly absorb the product's ingredients for the correction of dark spots and wrinkles.
In this technology, an advanced form of vitamin C is combined with a propriety energy complex. Such combination leads to the skin cells' ability to recharge and regenerate new cells.
Moreover, this cream uses nourishing oils extracted from the Camellia Japonica and sunflower seeds to improve the skin's protective barrier. Both of these oils and the other ingredients of the product also reduce trans-epidermal water loss.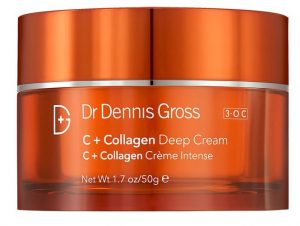 Pros:
consists of a very good mixture of ingredients to improve uneven skin tone
reduces not just fine lines and wrinkles but also the occurrence of discoloration
contains antioxidants as it has three types of vitamin C
all Dr. Dennis Gross Skincare products are proven to use only high-quality ingredients
Cons:
contains alcohol which may pose risks such as skin irritation and redness
most users complained about its unpleasant scent
it might take several weeks for you to be able to see the results
Dr. Dennis Gross C+ Collagen Deep Cream is branded today as one of the best anti-wrinkle creams available on the market. Interestingly enough, a lot of user reviews include it in their own list of the best creams for skin protection.
The reason behind its effectiveness is probably the technology it uses. Uncommon to other creams, it has its own way of benefiting the skin with all its nutrients.
If you'll also notice, there are no reported side effects so far. The only complaint from customers is that it has an unpleasant smell.
With all these in mind, this anti-wrinkle cream may probably be a good choice after all.
4. Neutrogena Healthy Skin Anti-Wrinkle Night Cream
Neutrogena Healthy Skin Anti-Wrinkle Night Cream has an intensely hydrating effect on the skin. It visibly diminishes the appearance of fine lines and wrinkles on your face. Moreover, it provides a soft and smooth feeling to the skin.
This anti-wrinkle night cream works through the help of its main ingredients. It contains retinol and vitamin A that penetrate deep within the skin's surface to eliminate age spots.
Likewise, it has a combination of Pro-Vitamin B5, Vitamin E, and other nutrients that even skin tone and enhance moisture levels.
With the help of all its ingredients, this cream provides more hydration so that the skin can restore its natural radiance.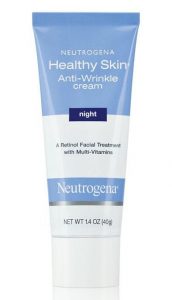 Pros:
has non-comedogenic properties, meaning it doesn't clog the pores in your skin
contains ingredients with hypoallergenic properties
free from any added fragrances and oils
contains Retinol which is the mostly used ingredient in formulating anti-aging creams
recommended by most dermatologists and skincare experts
less expensive than other anti-wrinkle creams
Cons:
composed of too many ingredients which may or may not cause side effects
Retinol may cause adverse effects such as skin redness and irritation
In our opinion, Neutrogena Healthy Skin Anti-Wrinkle Night Cream is a practical option as an anti-aging beauty product. It's less expensive than others but it carries the same effects.
Moreover, Johnson & Johnson, the company that manufactures it has a well-established reputation already. They have been in the business for years providing effective products to almost all kinds of consumers.
Likewise, the company is also transparent in giving information as they recommend discontinuing the product if symptoms of allergies occur.
5. Garnier UltraLift
Garnier UltraLift claims to give you "lifted skin." This means that it can make your skin look firmer and tighter by reducing the fine lines and wrinkles.
According to the manufacturer, this anti-wrinkle cream can reduce the signs of aging in your face in just a span of five days. It can as well moisturize your skin within 24 hours after application.
The ingredients it has include rice peptides and pro-retinol. Both help in providing extra moisture and hydration to your skin. They are also what cause it to look "lifted."
Furthermore, these two ingredients also improve your skin's elasticity. They increase the production of more collagen in your body.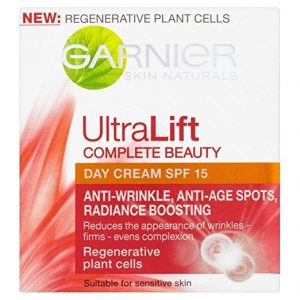 Pros:
affordable as it is less expensive compared to other creams
has a lot of positive customer reviews talking about its effectiveness
available in a lot of countries
has non-comedogenic properties
Cons:
carries a lot of chemical ingredients
has reviews complaining about strong allergic reactions such as swollen eyes
contains Retinol that may cause side effects such as skin irritation and redness
other users say that it's a sunscreen and not an anti-wrinkle cream
Upon weighing the pros and cons of Garnier UltraLift, we believe that it's worth a try and deserves its spot in our list of the best anti-wrinkle creams.
Obviously, both sides are of equal weight. It has advantages, but it also has disadvantages.
What makes it promising, though, is that it's cheaper but carries the same effects as the products from other brands. Moreover, a lot of users have already attested to its effectiveness.
True enough, there were some who complained about the adverse reactions they experienced. However, they are only a small portion of those who have already tried the product. Also, they aren't official reports yet.
Given that, the choice is up to you whether or not you would like to try this product. If you opt to take it, just be aware of the necessary precautions so you won't suffer unwanted results.
Conclusion
The list provided above is just to help you narrow down your options when choosing the best anti-wrinkle creams today. If you discover some other creams or serums that you think may be more beneficial to you, you may include them in your own list.
However, make sure that before considering a different product, you should search about it thoroughly. There are instances when a product may look promising, but in reality, it isn't.
So to make sure that what you're planning to purchase is the real deal, conduct your own personal research. Make a background check about the manufacturer and the product itself.
In your research, try to also look for comprehensive and substantive reviews about the anti-wrinkle product. Oftentimes, you'll find a great number of reviews from online retailers. Once you find these reviews, weigh them thoroughly to check how many are the positive feedback and how many are the negative ones.
Finally, to be able to get the best out of the anti-wrinkle products you're considering, consult with your doctor or dermatologist first. After all, they are the experts in the field. They know which best anti-wrinkle creams can definitely address your skin problems.