What Is Genucel?
Genucel is an anti-aging eye cream. It is more properly known as Genucel Plant Stem Cell Therapy. As an eye cream, it claims to reduce the puffiness and eye bags.
This product uses Eyeseryl which has been clinically tested and proven to make your eyes look younger and more vibrant.
In a separate clinical study conducted by the manufacturer on the effectiveness of Eyeseryl, the results showed that 95% of those who volunteered showed great results.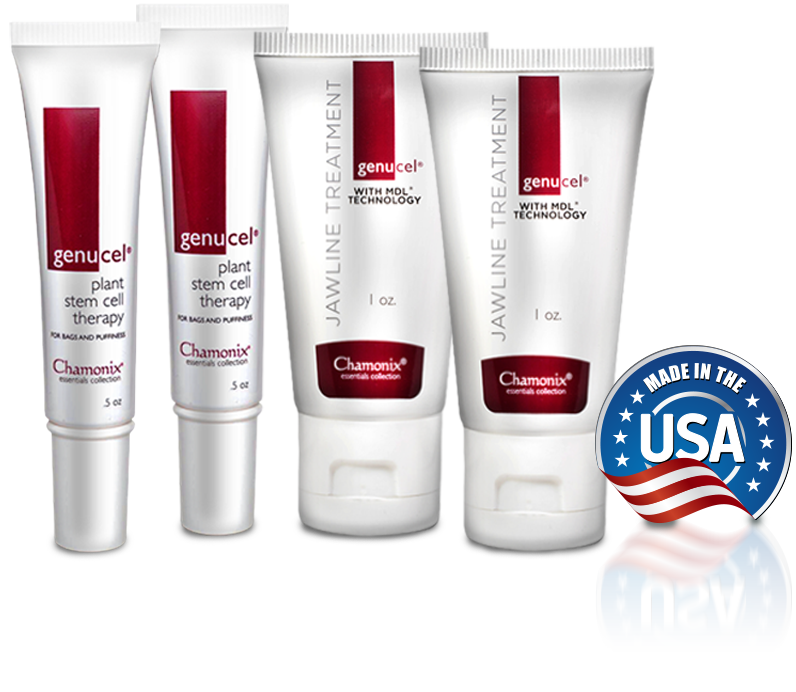 CLICK HERE FOR THE BEST ANTI-AGING ALTERNATIVE
Who Makes Genucel?
Genucel is manufactured by a company called Chamonix Skin Care. They have been in the beauty and skincare industry for quite some time.
The company uses their own patented stem cell technology to provide solutions for various skin-aging problems. Their goal is to make you look fresher and younger with the beauty products they promote.
For questions or comments, call Chamonix's customer service hotline at 1-800-754-6211. You can also send them an email to this address: [email protected]
Who Is Genucel For?
Genucel is both for men and women who have already reached the old age. Likewise, it is for those who are about to approach such stage in life.
There are no specific indications whether the cream may be used by young adults or not. However, the manufacturer specifically says that those 18 years old and below may not use this product.
How Does Genucel Work?
As you age, your skin loses much of its elasticity. This results in wrinkles and fine lines that become more noticeable as years go by.
Relatively, the muscles around your eyes start to weaken, and eye bags and puffiness start to appear.
Genucel promises to help you eliminate these eye problems. It was designed to treat several issues that cause your eyes to feel and look old and weary.
It has 2% Eyeseryl compared to other products, which only have 1%. Eyeseryl is a natural peptide that reduces inflammation around your eyes. The end result would then be the elimination of the bags and puffiness.
The cream also has PhytoCellTec™ Malus Domestica plant stem cells. Extracted from the Swiss apple and mixed with Eyeseryl, this ingredient tightens the skin around your eye. As a result, it gives a youthful glow and more radiant look on your face.
Genucel Ingredients
The manufacturer of this cream uses plant-based ingredients to improve the elasticity and firmness of your skin. As per Genucel, it particularly targets the skin around your eyes. It has the following key ingredients:
Eyeseryl (Acetyl Tetrapeptide-5) – The main function of this peptide is to strengthen your skin. It primarily prevents fluid accumulation under your eyes and then decreases the permeability of blood vessels located around your eye area.
Relatively, this process is essential to prevent the breakdown of capillaries. Weak capillaries are what cause eye bags, puffiness, and wrinkles.
PhytoCellTec™ Malus Domestica – This ingredient came from the stem cells of the Swiss apple fruit that the company uses. It ensures the longevity of the skin cells by rejuvenating the skin with all the nutrients it needs.
Furthermore, this derivative improves the ability of the skin to build new epidermal tissues.
Hydrolyzed Marine Collagen – This form of collagen comes from fish scales extract, including cod and salmon. It slows down the signs of skin aging by repairing damaged cells. It is what contributes to the firmness of your skin.
Some of its other main ingredients also include:
Green Tea Leaf Extract – This herb provides skin protection and repair. It helps in combating free radicals that damage the skin. Moreover, it stimulates the production of more collagen.
Goji Berry Extract – This anti-aging fruit has antioxidant properties. It acts as a defense against environmental stressors that cause wrinkles and lines.
It also increases hydration and improves your skin tone. These processes diminish the presence of age spots on your face.
Algae Extract – This ingredient has strong anti-inflammatory and anti-acne properties. It helps in regulating and maintaining essential skin minerals.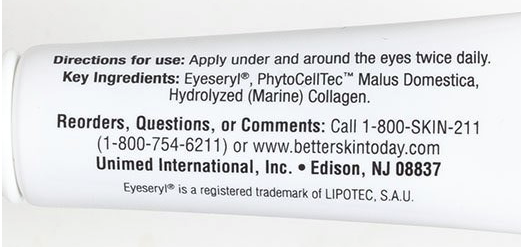 Genucel Side Effects
We checked the product's website as well as the manufacturer's website. They haven't provided a list of side effects.
We tried looking on other trusted websites which would hopefully provide reviews on the product. Yet, it was still quite difficult to determine whether Genucel really has side effects or none at all.
For instance, some reviews mentioned that the product does not have any reported side effects so far. They only said to be mindful still when taking the product.
Some, however, reported otherwise. Few of the adverse effects that the users reported were redness, peeling, and irritation of the skin around their eyes.
Other users also complained about having dried-out skin and allergic reactions.
How To Use Genucel
The manufacturer recommends applying Genucel twice a day, once in the morning and another one in the evening.
Going over the specific recommendations, like applying it more than twice, might lead to some serious allergic reactions.
Genucel Reviews
If you're going to check online, you might find that there were some positive Genucel reviews. However, as you will discover, there were more negative ones.
A lot of customers were disappointed after noticing that the product did not show any effect. They expressed their regrets for having to spend money for an eye cream that really didn't give them the best results.
One user mentioned how aside from not noticing any effect, she also felt a painful stinging sensation in her eye after using the product. She said she wished she had her money back.
Another said that she had high hopes of getting rid of the bags under her eyes. Yet, even when she used the cream as directed on its label, she saw no visible results.
There was also one customer who said that the cream didn't react nicely to her skin. She felt like her skin was burning. She did, however, received a refund.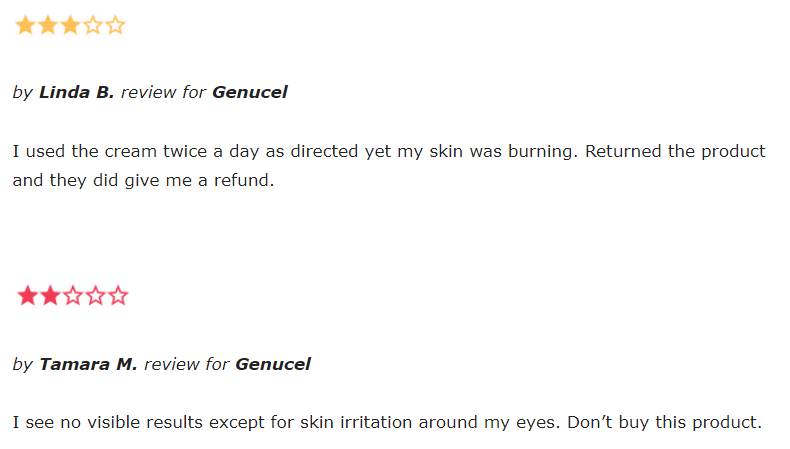 Where To Buy Genucel?
Genucel is available through its manufacturer's or its independent website. Online retailers such as Amazon also sell the product.
If you will buy it directly from the company, you are guaranteed with a free shipping. Also, they offer a money-back policy should the product not work for you.
Does Genucel Really Work Or Is It A Scam?
We believe that Genucel may indeed really be effective for some. There are reports, after all, indicating that it worked for other people who tried it.
The manufacturer also has a good and established reputation in the skincare industry. They have been in the business for years, and they have already provided other beauty products that are worth trying.
However, even if these facts are true, there are other eye cream products that may give you better results. Look for those that garnered a lot of positive feedback from customers, but are not that expensive and do not possess adverse effects.
As mentioned above, there aren't a lot of people who attested to the cream's effectiveness. More so, there were many complaints regarding the allergic reactions it brought to their skin.
That being said, we really can't recommend using this eye cream without being certain on how your skin reacts to it. Hence, we highly suggest to consult your dermatologist first should you decide on buying and using it.
Latest Comments:
Sorted by: Most Recent

by Linda B. review for Genucel
I used the cream twice a day as directed yet my skin was burning. Returned the product and they did give me a refund.

by Tamara M. review for Genucel
I see no visible results except for skin irritation around my eyes. Don't buy this product.

by Diane S. review for Genucel
It didn't work for me. What a waste of money.