What Is Blue Angel?
Blue Angel is a weight loss supplement that claims to be a powerful fat burner. It also goes by the name Blue Angels Ephedra. Aside from boosting metabolism, these pills may also increase energy levels, physical performance and focus.
If you're an avid fan of weight loss pills and other similar supplements, you'd know by now that ephedra-based products are considered risky and not safe because of their potential side effects. However, there are still people who would ignore these risks and still try the product anyway. Let's see if Blue Angel may be worth the risk and if it will be able to provide a good result as far as weight loss is concerned.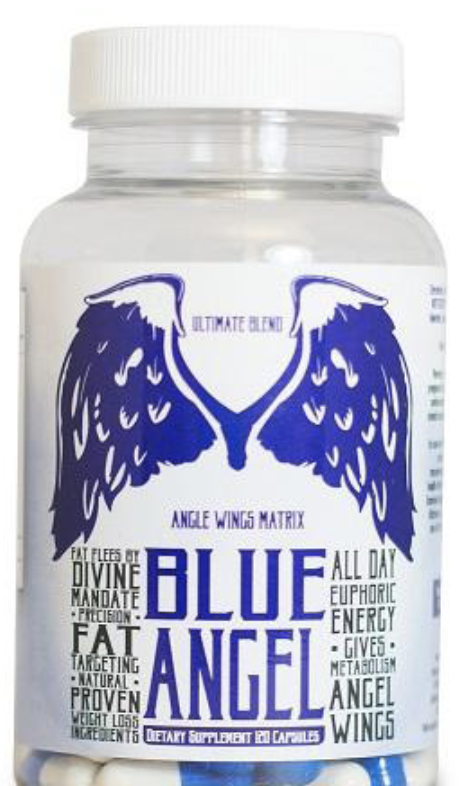 Who Makes Blue Angel?
The pills are manufactured and distributed by Schwartz Laboratories – a company that started back in 1993. Their products are mostly weight loss supplements which also contain ephedra extract as the active ingredient.
For any customer service concerns, you may send an email at [email protected] or call their phone numbers:
Toll-Free: 1-800-378-1223
Local: (513) 948-1222
Fax: (513) 679-2232
Their mailing address is at:
Schwartz Laboratories
6905 Plainfield Road
Cincinnati, Ohio 45236
Best Blue Angel Alternative
Due to all the negative reviews about Blue Angel, we've been looking for a competitive product that was proven more effective. We checked several of them with deception, and finally came around a real effective weight loss supplement. You can read its review HERE.
Who Should Take Blue Angel?
Blue Angel is only for people who are above 18 years old. Selling of this product to those who are below 18 is prohibited. It is also not for use by pregnant and/or lactating women. There is an indication that taking this supplement along with caffeine can cause serious adverse effects.
If you have caffeine sensitivity, it's best to not take these pills. Consulting a healthcare practitioner is always advised.
How Does Blue Angel Work?
The working process of Blue Angel can be attributed to its proprietary blend that the manufacturer refers to as the Angel Wings Matrix. It contains several active ingredients that they claim to be effective promoters of fat burning. You can also find slimming agents and stimulants included in this formula.
The supplement targets accurate fat so that it knows what to burn and how to burn it faster. The metabolic boost is because of what they call the "Angel Wings," making sure that your metabolism will increase. It will also see to it that you'll have the right amount of energy to last all day.
Blue Angel Ingredients
As already mentioned, the main ingredient of Blue Angel is Ephedra extract. Ephedra is an herbal plant that is extracted for medicinal purposes. The tops and branches are typically used for obesity and weight loss. It can also help with nasal congestion, allergies, respiratory tract conditions, asthma and hay fever.
The safety of ephedra has long been causing a controversy. It was restricted by the FDA in June of 1997 because of the serious side effects that it may bring. It was even banned in 2003 but was brought back again in 2005. According to WebMD, higher doses of ephedra can lead to hemorrhagic stroke, anxiety and seizure disorders and even death.
Other side effects can include the following:
heart attack
high blood pressure
muscle disorder
irregular heartbeat
seizures
loss of consciousness
dizziness
restlessness
nausea
vomiting
anxiety
heart pounding
restlessness
headache
For its proprietary blend, the Angel Wings Matrix is made up of several active ingredients with a total of 1305mg content. There's no indication of individual servings for each ingredient, though.
Garcinia cambogia extract – Contains hydroxycitric acid or HCA that is believed to block the storage of fat in the body. It helps in suppressing the appetite and increasing endurance during exercise.
Raspberry ketones – The chemical found in raspberry ketones may be effective in increasing metabolism. It can also reduce the appetite.
Yohimbe extract – Yohimbe is another ingredient that's considered unsafe for consumption, particularly if taken by mouth. It may cause kidney failure, rapid or irregular heartbeat, heart attacks and seizure.
Other ingredients included in the Angel Wings Matrix are white willow bark, black pepper extract, capsaicin, coleus forskolin, chromium, caffeine, L-carnitine tartrate, green coffee bean extract, 2-amino-4-methyl pentane, green tea extract, mustard seed, citrus aurantium, and theobromine.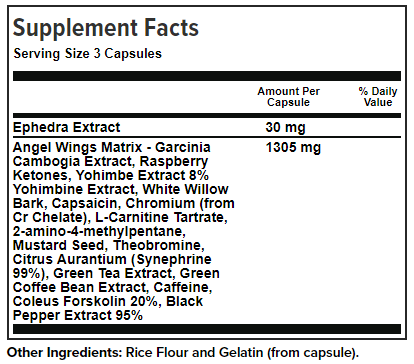 Blue Angel Side Effects
Because of its ephedra and yohimbe content, Blue Angel is possibly unsafe when talking about side effects. if you intend to try this product, you need to make sure that you have visited a doctor first especially if you are sensitive to caffeine, as well with its other active ingredients.
Side effects may include:
severe headache
rapid heartbeat
shortness of breath
dizziness
heart attack
stroke
Blue Angel Dosage
You must follow the recommended dosage of Blue Angel to minimize potential side effects, particularly life-threatening ones. The allowed daily serving is 9 capsules, which should not be exceeded within a 24-hour period.
Make sure to hydrate well by drinking plenty of water and remember not to consume soda, tea or caffeine.
Blue Angel Reviews
There are no Blue Angel reviews on the manufacturer's website, and there's no Amazon listing for it either. This makes it even harder to assess the effectiveness and more so, the safety of this supplement.
Some online reviews are commenting on the product's relatively expensive price. If you are to look at the other supplements offered by Schwartz laboratories, you will notice how the prices are quite similar, almost the same price range.
Where To Buy Blue Angel?
There are some online merchants selling these pills, mostly those that are suppliers of other weight loss supplements and diet plans. You may be able to find a lower price but there's no guarantee that the product will be legitimate.
You can also order Blue Angel from the manufacturer's website. If you wish to return the item, they will only accept unopened ones within 30 days from the date of purchase.
DISCOVER OUR FAVORITE ALTERNATIVE HERE
Does Blue Angel Really Work Or Is It A Scam?
There are no reviews that we can use as a reference that's why we really cannot tell if Blue Angel works or not. Aside from this, the safety is another serious factor you should consider. The side effects that it can bring are not at all as simple as having an allergic reaction.
It's better to look for a weight loss supplement that's already proven to be effective. More so, look for a product that will not pose any threat or danger to your precious health. Your wellness should always be your top priority before anything else.