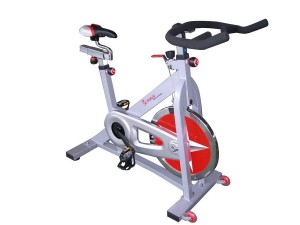 –>>CLICK TO SEE LATEST DEAL<<–
Sunny Health and Fitness are an established name in the home fitness market, having forged for themselves a reputation as a supplier of quality, low priced training gear. Their key offering in the indoor bike space is the Sunny Health & fitness Indoor Cycle. As you'd expect, it's a frills free bike that promises to give you a good, basic indoor riding experience.
So, is it worth your investment?
Time to investigate . . .
Features
Flywheel – The Sunny exercise bike comes with a heavy duty flywheel, at 40 lb. This is more than you would normally get with a budget bike such as this. It is the flywheel which is the key determinant of how realistic your ride is. The bike is a little heavier because of the flywheel, but that extra weight delivers a very smooth, realistic riding experience.
Assembly – The Sunny Health & Fitness Pro Indoor cycling bike arrives partly assembled. It also provides some basic tools to assist with the rest of the assembly. Putting the bike together is a piece of cake and should be able to be achieved by a single person in about 20 minutes.
Solid Construction – The Sunny exercise bike is constructed of a heavy duty steel frame. It is a very sturdy unit which feels extremely secure when you are riding. The total weight of the bike is 111 pounds and the dimensions are 48.5" x 20" x 46.5".
Fluid Mechanism – The Sunny pro Indoor cycling bike comes with a heavy duty crank and a smooth chain drive mechanism. When combined with the 40 lb flywheel, the effect is a very fluid, smooth biking experience that simulates what you would get in the outdoors.
Adjustability – The Sunny cycling bike is able to accommodate a range of body shoes and heights. The seat and handlebars are fully adjustable to suit the individual exerciser.
Variable Resistance – The Sunny Pro Indoor cycle features a range of resistance levels which are controlled by an easy access knob just below the handle bars. This provides the rider the means of increasing intensity as they get fitter. The change between resistance levels is quite smooth.
–>>CLICK TO SEE LATEST DEAL<<–
Pros
40 lb flywheel
Heavy duty crank and smooth chain drive mechanism
Able to fit all sizes
Variable resistance
Solid construction
Very well priced
Cons
Heavy – At 111 lbs, the Sunny bike is rather heavy for an indoor trainer. This may make it difficult for the elderly to transport it from room to room.
No Console – The Sunny Indoor trainer does not feature a monitor with LCD display of distance, time, calories or speed. Although by no means essential for a quality extra, a readout of your essential data is a nice addition that most people expect to get on an indoor training bike.
Seat – The Sunny exercise bike comes with light gel padded seat which doesn't do a lot in terms of providing comfort for your butt. The seat is also quite narrow. You might want to bring a small pillow with you to your workout to allow you to get a slightly more pleasant workout experience.
Handlebar Adjustment – The handle bars are only able to move up and down. The ability to adjust them horizontally would have been a nice way to further customize the bike to the individual user.
Recommendation
The Sunny Health & Fitness Pro Indoor cycling bike is a basic, sturdy exercise machine that is fully capable of giving you a quality calorie burning workout day after day. You won't get any extras like an LCD monitor or technology integration, but you will get a bike that will do the business at a great price. We recommend the Sunny Indoor exercise bike.
–>>CLICK TO SEE LATEST DEAL<<–