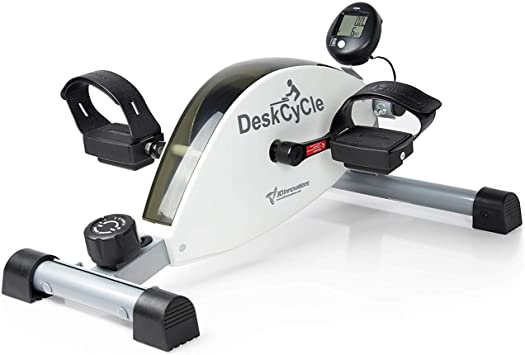 DeskCycle
CLICK TO REVEAL PRICE
Those of us who spend most of our day at work, stuck behind a desk struggle to find the time to get in the 30-60 minutes of moderate exercise that the US Surgeon General recommends for good health. The DeskCycle desk exerciser provides a simple solution in the form of a compact pedal device that is small enough to place under your desk.
This allows you to workout while you're working in the office. But does it really work?
Let's investigate.
Features
The DeskCycle desk exerciser claims to be the only bike that is specifically designed to be used as an under desk exerciser. It has a number of features that set it apart  . . .
Lowest Pedal Height – At a height of just 10 inches, this is the lowest pedal height you'll find. That makes this the most compact pedal machine on the market.
Smooth, Quiet Operation – The DeskCycle desk exerciser uses a touch-free magnetic resistance system that allows for a friction free, smooth and quiet ride. This avoids the jerky, inconsistent pedaling action that you get with most devices. The machine is very quiet when in operation, so it won't distract your co-workers.
Variable Resistance – There's not much to it, but that doesn't stop the DeskCycle desk exerciser from packing in 8 resistance levels that allow for a progressive resistance as you improve in your fitness level. If you are exercising at a greater intensity than Level 3, however, you will need to be sitting in a sturdy chair to prevent your body moving. Even so, the DeskCycle provides twice as many resistance levels than most of the other pedal trainers in the marketplace.
LCD Display – The LCD monitor provides you with a read out of your distance, time, speed and calories burned.
Stable and Sturdy Design – The DeskCycle desk exerciser is solidly constructed. This means that it won't slide around on the floor under your desk, even when you are working out at the highest intensity levels. While most people will be able to move the exerciser around, it may be a little difficult for the elderly.
Pedal Motion – You are provided with bi-directional pedal motion on this under desk cycle. For best effect you should point your toes and push down as you pedal.
Closed Loop Magnetic System – Because the magnetic system used in the DeskCycle desk exerciser is enclosed in a loop, the cycle is perfectly safe to use around your computer and pacemaker.
Pros 
Very compact and portable
Stable and rigid
Bi-directional pedal motion
LCD 5-function display
8 levels of variable resistance
Lowest pedal height available
Magnetic resistance for smooth, fluid operation
Cons 
LCD Display – From your seating position, you can't get a good view of the LCD display. In addition, the calorie counter is quite inaccurate. However, the unit includes a display stand with a connection to allow you to dismount the display and place it anywhere that you wish.
Seat Movement – If you are not sitting at a sturdy chair, you will notice that, above Resistance Level 3, your chair will move around as you pedal. The only way to resolve this is to sit in a sturdier chair, which you may not have the luxury of doing under work conditions.
Foot Straps – The foot straps are a good thing in that they allow you to lock your feet in place for a sturdy workout experience. However, for people who are constantly getting up and down during the work day, it could be a hassle.
Recommendation
The DeskCycle desk exerciser is a handy way to burn extra calories while at work. Its compact, quiet design will allow you to train unobtrusively as you go about your work. It won't provide the full workout that an exercycle would, but it will allow you to get in your 30-60 minutes, even as you're going about your business day.