What Is Lipodrene?
Lipodrene is a weight loss supplement that promises to boost your metabolism, burn fats, and suppress your appetite. It's also popularly known as the "Yellow Hexagon" weight loss pill and may also be called Lipodrene with Ephedra.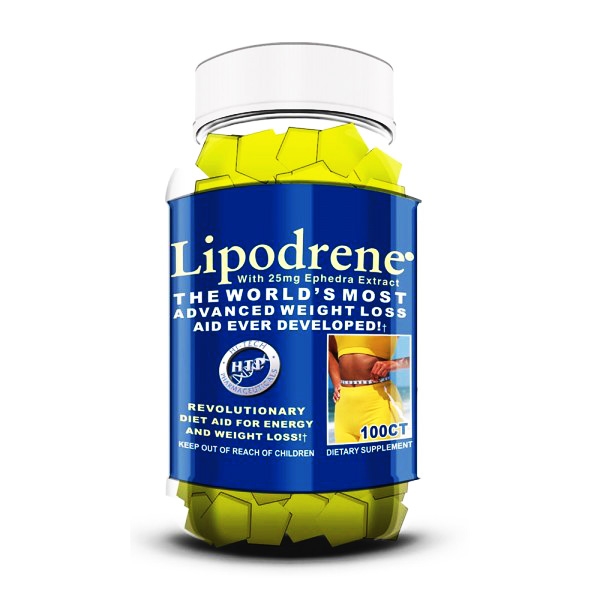 DISCOVER OUR FAVORITE ALTERNATIVE HERE
Its official website calls it "the ultimate fat burner" and the label has a too forward claim: "the world's most advanced weight loss aid ever developed." Perhaps you're getting more and more intrigued with this product already. Let's find out if it's indeed the kind of breakthrough that it claims to be.
Who Makes Lipodrene?
Lipodrene was developed by a company called Hi-Tech Pharmaceuticals. It was founded back in 1979 and mainly produces dietary supplements, beverages, pharmaceutical and sports nutrition products.
Their contact address is:
Hi-Tech Pharmaceuticals
6015 B Unity Drive
Norcross, GA 30071
For customer service concerns, you may contact Hi-Tech Pharmaceuticals at 888-855-7919, or directly reach Lipodrene at (1) 800-368-5055.
Best Lipodrene Alternative
Due to all the negative reviews about Lipodrene, we've been looking for a competitive product that was proven more effective. We checked several of them with deception, and finally came around a real effective weight loss supplement. You can read its review HERE.
Who Is Lipodrene For?
Lipodrene is said to be intended for people who are trying to lose weight, particularly those who want to get rid of stubborn fat in specific areas of the body. According to their website, this is the diet pill that you're looking for regardless if your weight loss goal is just 5 lbs or as high as 75 lbs.
There is a label indication that this supplement should not be taken by those who are below 18 years old. It is also not for pregnant or nursing women.
How Does Lipodrene Work?
Lipodrene boasts of its highly active ingredient which is Ephedra. It's said to be the one responsible for increasing the BMR or Basal Metabolic Rate of the body, causing it to burn calories faster.
The formula can also prevent or control the release of enzymes that are responsible for controlling the fat storage in the body. This means that fatty acids are then released from your fat cells.
This is a process called the Lipolysis wherein alpaha-2 receptors are activated so that the fatty acids will be drawn out. Triggering this process will target the fatty areas of your body that are hard to burn, such as the thighs, buttocks and hips.
Lipodrene Ingredients
Lipodrene has a proprietary blend with Thermo Rx and Extend Rx which is said to be a combination of 4 plant extracts. This blend supposedly creates a thermogenic response that has never been seen before.
It's not indicated, though, what these plant extracts specifically are. It's just indicated that they were processed and standardized to create the proprietary blend.
Other ingredients are:
Ephedra extract – This extract is from the Ephedra sinica plant. It can affect weight loss, particularly when combined with caffeine. There are studies showing that using Ephedra may result in reduced fat mass and weight loss.However, in 2004, the FDA banned all supplements that contain Ephedra because it's been associated with high risk of cardiovascular complications. It was also found out that a high number of poisoning cases are attributed to the consumption of ephedra-related products.
Acacia rigidula extract – This active ingredient has been marketed to effectively aid in weight loss, as well as in boosting energy and sharpening attention or memory. However, there are serious side effects that have been associated with this ingredient. Several cases of heart palpitations and increased heart rate were reported in people who are taking products or supplements that contain acacia rigidula.
Caffeine – Aside from its ability to suppress the appetite, it also gives you energy that the body needs for burning calories. It is also known to effectively aid in weight loss and acts as a stimulant.
Green tea extract – Green tea is packed with lots of antioxidants that help in reducing fat accumulation. It can also prevent certain diseases and signs of aging. Although this is typically consumed as a beverage, some weight loss supplements like Lipodrene include this ingredient in their formula.
Synephrine – Also called as the bitter orange, this fruit plant is usually used in making soap and cosmetics. WebMD states that this ingredient may possibly be unsafe when used for weight loss in form of supplements. This is due to the fact that taking this with stimulants like caffeine and other herbs that contain caffeine may lead to severe side effects like high blood pressure, stroke, heart attack and fainting.
Lipodrene Side Effects
Mild to moderate side effects can be expected upon consumption of Lipodrene. Though there are users who are not experiencing any side effects at all, there are several who reported side effects like the following:
increasing blood pressure
dizziness
jitteriness
nausea
ventricular fibrillation or a heart rhythm problem caused by rapid heartbeat
anxiety
interactions with medications
These side effects are not too easy to ignore, particularly if you are known to be sensitive to any of the ingredients that may cause potential damage.
Lipodrene Dosage
Lipodrene's dosage is not very specific if you would look at its label indication. It is specified, however, to not exceed a total of 4 tablets in a span of 24 hours. The suggested use is to take 1 to 2 tablets daily for best result.
You may also initially take half of the tablet depending on your body's tolerance. This dosage may be increased as your body gets accustomed to the effects of the product.
Lipodrene Reviews
There is no doubt that this supplement is quite a famous one but with all the Lipodrene reviews we've read so far, we're just not sure if this is the kind of popularity that a reputable weight loss pill would want to have.
There are users who claimed that this product may be good for boosting energy but no effect was noted as far as weight loss is concerned. The reviews about side effects that were experienced are also not easy to disregard.
One user compared the experience to taking meth but in legal form. He said he was not able to sleep at all, and even had urine with a weird dark orange color. Bad headaches, agitation and aggressive behavior were also noted.
Where To Buy Lipodrene?
Lipodrene may be ordered directly from its official website. There's a 60-day conditional money back guarantee. Conditional, which means that opened products are no longer acceptable for returns and will not be refunded.
There are also other online merchants that offer this supplement. We're not sure if you can find this in local pharmacies and supplements supply stores.
DISCOVER OUR FAVORITE ALTERNATIVE HERE
Does Lipodrene Really Work Or Is It A Scam?
We think Lipodrene may work for some users in terms of weight loss. Yet, it's definitely not for everyone. If you are to consider all the potential risks and side effects that it may bring, perhaps you'd like to think again and ask yourself if it's worth all the risks or not.
Being one of the most controversial weight loss supplements for quite a long time now, it has earned quite a shady reputation that everyone should be cautious about.
There are certainly more products available that can naturally aid in weight loss without having to think of dangerous ingredients and severe side effects that you may experience while using them. Thus, we recommend that you research better and potentially safer alternatives to this product.