What Is Kollagen Intensiv?
Kollagen Intensiv is an anti-aging cream that is currently making its way to the list of best anti-aging creams today. It speeds up your body's ability to produce natural collagen, giving your face a more youthful and vibrant appearance.
This product promises to eliminate the fine lines and wrinkles on your face as well as reduce the dark circles and crow's feet surrounding your eye area. Furthermore, it evens your skin tone and gives it a soft and velvety feeling.
Clinically proven to reduce all signs of aging on your face, this product promises to make you more beautiful, flawless, and ageless.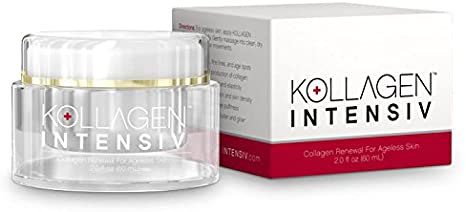 Who Makes Kollagen Intensiv?
The manufacturer of this anti-aging cream is Skinception. They are a small skincare label that manufactures products without parabens or harmful chemicals.
Skinception appears to be a daughter company of Leading Edge Health. This mother company has been in the business since 1999. Like Skinception, their commitment is to provide only safe and effective beauty and health products to their consumers.
If you have questions about Kollagen Intensiv, you can call their hotline at 1-866-621-6886 (North America Toll-Free) or 1-604-677-5365 (International). Their customer service is available from 6:00 AM to 10:00 PM (Pacific Standard Time) every day except on holidays.
They also have a contact page on their website should you opt to contact them via email.
Who Is Kollagen Intensiv For?
As an anti-aging cream, Kollagen Intensiv is primarily for older people who wish to look young and beautiful again. However, younger men and women may also use it.
You don't have to resort to painful and more expensive ways such as surgeries and injections to look younger. All you have to do is apply this cream on your face, and you'll surely achieve your desired appearance.
How Does Kollagen Intensiv Work?
Kollagen Intensiv works mainly by increasing your body's ability to naturally produce collagen. Such increase is essential for your skin to regain its youthful appearance.
For the beauty conscious, this is quite important considering that natural collagen production declines as people age.
It contains Syn-coll as its main ingredient. This peptide has been proven to eliminate age spots up to 354% and improve skin texture by 201%.
Aside from Syn-coll, this anti-aging cream also uses other ingredients like vitamins, peptides, and antioxidants. All of them synergistically work together to nourish and repair your skin, bringing back your natural beauty.
On a more specific note, this product works by providing you with the following benefits:
Enhances your natural moisturizing factor (NMF). It locks in the moisture in your skin to prevent evaporation of water on the skin's surface.
Diminishes photoaging triggered by sun damage. It rejuvenates and repairs your skin. It also combats the effect of UV radiation, sunlight exposure, and other factors.
Prevents the effect of glycation. It prevents the proteins from cross-linking and interleukins from increasing. This retains your skin's elasticity.
Reduces dark under-eye circles, puffiness, and crow's feet. Its formulation claims to be the "total anti-aging" solution.
Kollagen Intensiv does not just target a particular part of your skin. It prevents the signs of skin aging that may occur all over your face.
Kollagen Intensiv Ingredients
This anti-aging cream contains many ingredients, but they are all clinically proven to be safe and effective. Some of them are as follows:
Syn-coll – slows down the aging process. It is a patented peptide that boosts collagen production naturally. It also protects the skin from collagen degradation and reverses skin damage prompted by free radicals, UV radiation, and other external environmental aggressors.
Shea Butter – heals and moisturizes your skin. It treats skin problems such as blemishes, wrinkles, itching, and burning. It stops clogging of skin pores, preventing pimple and acne breakouts from happening.
Glycerin – attracts water easily. As a humectant, it seals in the moisture in your skin to prevent water from escaping. Thus, it prevents the occurrence of dry and rough skin.
Tocopherol – is a form of Vitamin E, which means that it is a good antioxidant and an anti-aging agent. Generally, it improves health whether taken topically or orally.
Retinol – stimulates the production of new skin cells. Its combination with Syn-coll produces numerous anti-aging benefits to the skin, making the product more effective.
Hyaluronic Acid – is a powerful humectant. It keeps your skin hydrated and moisturized, making you look and feel younger.
Oat Kernel Extract – has anti-inflammatory, soothing, and moisturizing properties. It treats skin conditions such as psoriasis, acne, and eczema.
Cyclopentasiloxane – provides a smooth, silky, and soft feeling to the touch. As a water repellent, it forms a protective barrier on your skin.
Kollagen Intensiv Side Effects
According to the manufacturer, there are no reports yet regarding the product's side effects. They also ensure that side effects are less likely to happen as their ingredients are clinically-tested in FDA-approved facilities.
However, they admit that people have different skin types, and results may vary. Though they have made sure that it will work for everyone, this product may still cause adverse reactions if you have particularly sensitive skin.
For safety purposes, they recommend consulting a doctor or dermatologist first before using the product to avoid adverse results.
How To Use Kollagen Intensiv?
Wash your face first with clean water and soap or any recommended face wash before applying the cream. Apply Kollagen Intensiv onto your skin twice on a daily basis. Do the first routine in the morning and the second one in the evening.
Kollagen Intensiv Reviews
There are many Kollagen Intensiv reviews available online, and most of them are positive ones.
A lot of customers are happy and satisfied that the product indeed worked as promised. They mentioned that they have been using the product for years now, and it still is consistent in providing them a younger-looking skin.
The users also praised the product for having a good smell. They said that it is a complete package as it is fragrant, effective, and safe.
Where To Buy Kollagen Intensiv?
Kollagen Intensiv is available through its independent website or the manufacturer's website. They offer a 100% 97-day money back guarantee if the product doesn't work for you.
The product is also available on some online retailers like Amazon.
Does Kollagen Intensiv Really Work Or Is It A Scam?
Kollagen Intensiv has worked effectively for many users. The number of its positive reviews could attest to that. Its manufacturer seems to be honest and transparent in providing information about its product.
It's also impressive that it has no reported side effects so far. It seems to be safe as the company has published its conducted studies on the product's website to prove its safety and effectiveness.
In this regard, we highly recommend the use of this anti-aging cream. After all, a lot of trusted celebrities are using it, and they are living proofs that it is indeed effective. Many other regular folks on the internet are also promoting it.
So if you are looking for a real anti-aging cream, this product might be the perfect one for you.