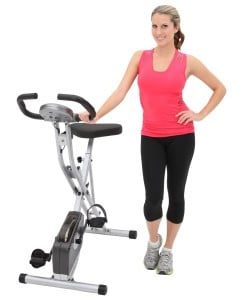 >>CLICK HERE TO REVEAL PRICE<<
Getting in a good workout at home is often a matter of finding the space to put your exercise gear. Many people who live in confined spaces require equipment that they can fold away for quick storage. The Exerpeutic Folding Upright Bike from Exerpeutic Fitness offers a solution for the indoor cycle enthusiast. Let's see how it stacks up.
Features
Heavy Duty – Lightweight doesn't have to mean that a bike can't handle itself. The Exerpeutic folding upright has a solid construction, testified to by the fact that it can take a weight up to 300 pounds – that's 80 pounds more than the Sunny recumbent foldable!
Unlike many folding upright bikes, the Exerpeutic folding magnetic upright bike looks stable. The frame is made out of heavy-duty steel tubes, allowing it to sit on a rigid base. It has leg stabilizers to provide an extra level of stability. By the way, the feet are equipped with wheels to make it easy to move the bike around.
Comfort – The Exerpeutic folding bike has a very comfortable large seat cushion. The seat dimensions are also generous, catering to all sized butts.
8 Levels of Resistance – With the turn of a dial, conveniently located just below the handles, you are able to adjust your workout over 8 levels of resistance. This makes the Exerpeutic bike suitable for all fitness levels.
Pulse Sensors – The Exerpeutic folding bike features dual pulse sensors in the handles for measuring your pulse rate during the workout. This is a rare feature in a foldaway bike that it is available in this price bracket.
LCD Display – The Exerpeutic foldaway bike features a large screen LCD display that provides the vital information that you need to track your workout progress, including, speed, distance, time and heart rate.
Compact – The Exerpeutic folding is collapsible, much like an ironing board. It weighs 43 pounds, making it slightly heavier than the Sunny Recumbent foldable, but still manageable for most people. The dimensions of the bike are 46 inches by 31 inches by 19 inches.
Cranking System – The three piece high torque cranking system provides a reliable and consistent pedaling motion. The precision balanced flywheel and v-belt offer a smooth and quiet operation. All of this makes you feel as if you are riding on the road.
Quiet Operation – The Exerpeutic folding bike is as close to noiseless as you can get. This allows you to watch TV without interruption while you're working out. To make this even easier, there is a convenient cup holder located at the front of the unit to allow you to place your remote control.
Pros
Compact Design
Noiseless Operation
Large LCD display with pulse read out
High Torque Cranking System
Comfortable Seat
Variable Resistance to 8 Levels
Cons
Pulse Rate Monitor – It's great that this bike has included a hand operated pulse monitor. However, the accuracy of the readout is quite dubious. If you want a more accurate reading, you might want to invest in a chest strap monitor.
Pedals Too Far Forward – The pedals on the Exerpeutic stationary bike are a little too far forward to comfort. This means that you need to be slightly hunched forward, especially when you are working at a high resistance level. This may put your lower back in an uncompromising position.
Recommendation
The Exerpeutic is a sturdy addition to the lightweight, foldable exercylce market. It provides a very impressive mechanical operation that is smooth and quiet. For the budget price that you pay, you get a decent amount of features which will provide you with a solid, no frills workout time after time. People with back issues may not be suited to this bike due to the forward pedal positions. Anyone else who's after a bargain priced foldaway that does the business need look no further.