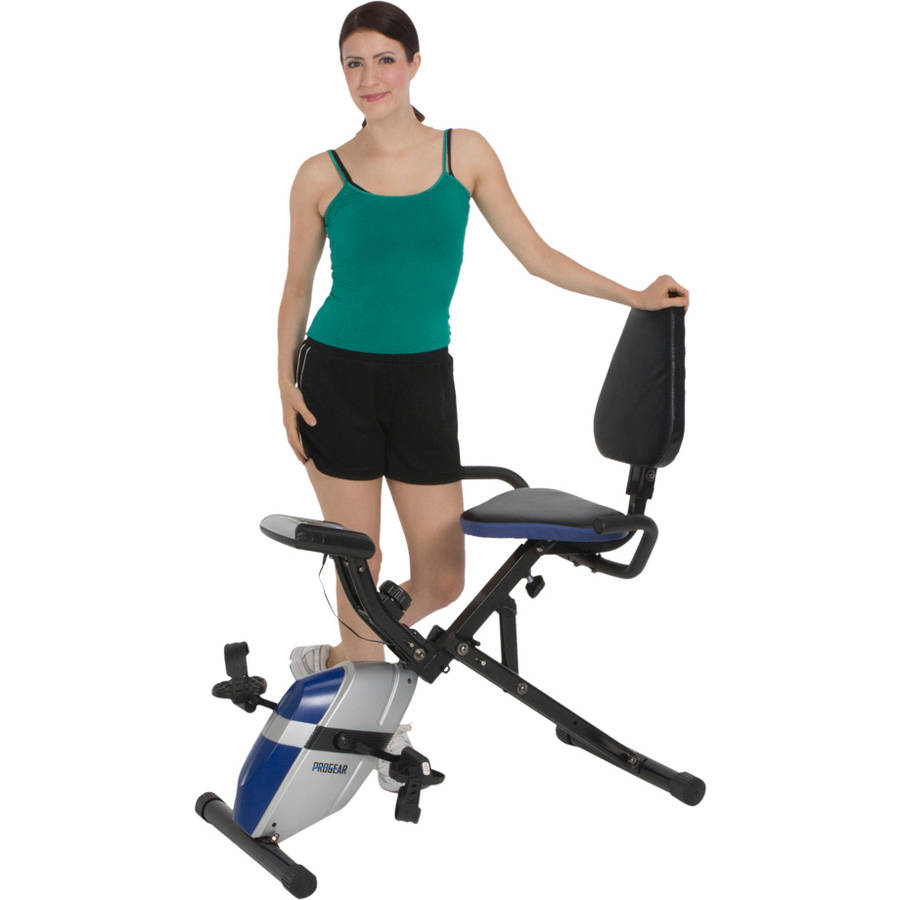 When you've seen one recumbent bike, you've seen them all, right? Well, you may have thought so. But you probably haven't seen the Progear 190  Foldable Recumbent Bike from Progear Fitness. By placing the pedals below and in front of the height of the seat, they have added a different look while, at the same time, enhancing the ergonomic design of this compact recumbent bike.
Time to delve deeper into the ins and outs of the Progear 190 Recumbent Bike.
Features
Portability / Compactness – The Progear 190 Recumbent Bike features a compact design which makes it ideal for cramped spaces. With dimensions of 38 inches x 21 inches x 44 inches it will fit into most tight spots. At a total weight of 38 pounds, it's one of the lightest fold-aways on the market. The unit folds up for ease of storage. Included transportation wheels make it easy to move from room to room. The unit is compact enough that it can even be stored in a closet when you're not using it.
Ergonomic Design – The Progear recumbent exercise bike has a number of features that enhance the ergonomics of the machine. It has larger than standard pedals and the layout of the bike has the pedal further forward than you'd normally find. Safety straps on the pedals prevent any foot slippage while working out. The high back seat is very comfortable, featuring a wide seating area. Side handles give you an enhanced gripping position. It is also very easy to get on and off of this bike.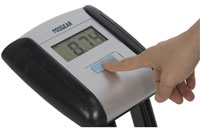 Performance Monitor – The LCD panel is large sized and easy to read. It provides instant feedback on your workout with displays of time spent exercising, calories burned, distance, speed and heart rate. This latter readout is provided by way of the hand sensors on the handlebars which transmits your pulse rate to the monitor.
Variable Resistance – The Progear 190 Recumbent Bike offers an 8 speed variable resistance by way of a magnetic resistance. The change between the levels is smooth and the latter levels provide a decent amount of resistance to challenge experienced trainers.
Crank System – The Heart Rate 190 features a high torque 3 piece smooth crank system to provide the smoothest motion possible as you turn the pedals. This cranking system will make it easier for you to find a consistent pedaling motion. The precision balanced flywheel and specially designed V-belt drive makes this bike so quiet that you can watch TV, listen to music or read a book while working out.
Pros
Holds up to 275 pounds of user weight
Extended leg stabilizers to prevent any movement
Height Adjustable from 5'2" to 6'2"
Ergonomically enhanced for better back support
Crank system ensures quiet, smooth operation
8 level variable resistance 
Cons 
Poor Packing – While some of the components are packed in styrofoam, most of them appeared to be simply tossed into the shipping box.
Bolts not aligning – Some online reviewers have noted that the housings for some of components do not match up with their bolt holes. This means that you have to force the bolts into place, which is not the ideal scenario.
Heart Rate Monitor Inaccuracy – The heart rate monitor is a nice addition, but will not give you an overly accurate readout.
Recommendation
The Progear 190 Recumbent Bike allows you to get your exercise in while you are sitting in back supported comfort. It is a bike that offers you a basic quality workout experience at a very good price. People with pre-existing lower back concerns will appreciate the enhanced level of support that you get with the Progear bike.