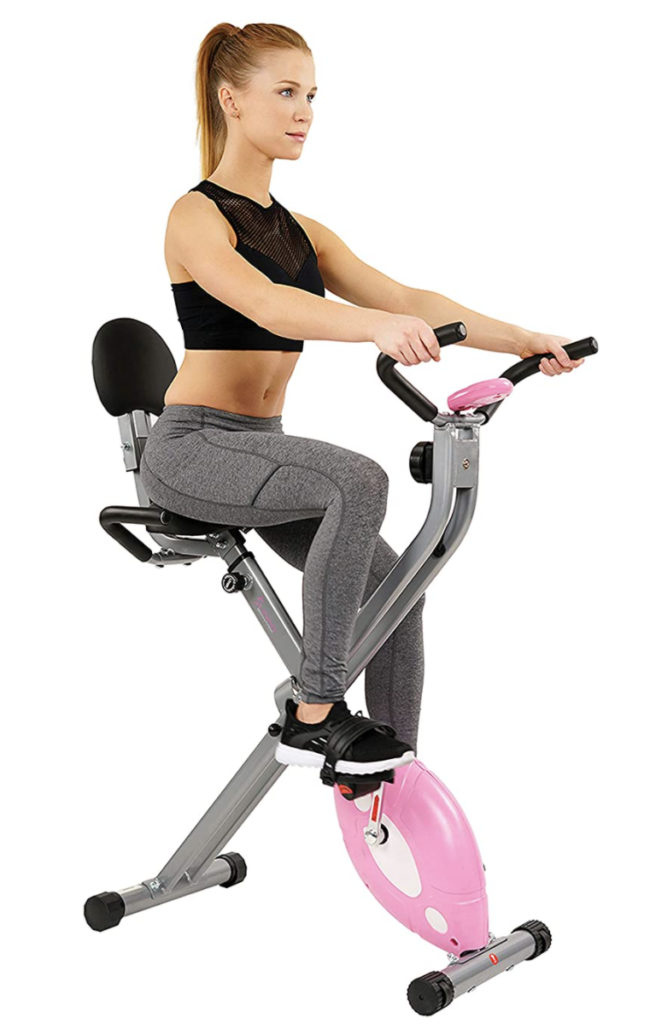 >>CLICK TO REVEAL PRICE<<
For many people, their desire to get fit at home is dictated by lack of available space. What they need is a piece of equipment that gets the job done, while being light weight enough to carry and compact enough to store in a cupboard or under a bed. When it comes to exercycling, Sunny fitness have got all of these needs covered with the Sunny Folding Recumbent.
The Sunny Folding Recumbent Bike is a lightweight, stowaway exercycle with a folding frame for ease of storage. Of course, there are quite a few lightweight foldable bikes on the market. Many of them, however, are lightweight, not only in weight, but also in features and performance. Let's see how Sunny's pink exercise bike stacks up.
Features
Compact Design – At just 35 pounds, this lightweight exercycle is able to be easily moved around by just about anybody. The dimensions of the bike are a space saving 32" x 19.5" x 46". It easily collapses inward to a size which is about the same as a regular ironing board. This allows you to store the Sunny Folding Recumbent bike in the smallest nook and cranny that you have available.
Sturdiness – Lightweight doesn't have to mean that a recumbent bike lacks rigidity. The Sunny lightweight stationery bike feels solid when it is set up. Obviously it won't be as sturdy as the more expensive, permanent set up bikes out there, but it will support most people securely during even the most intense workout. The bike has a maximum weight capacity of 220 pounds.
Comfort – Most lightweight foldables aren't exactly built for comfort. They feature a skinny, lightly padded seat and usually the leg room is too cramped to allow for a proper movement pattern. So how does the Sunny lightweight recumbent back measure up in this regard?
The seat of the Sunny features a wide base and doesn't come to too narrow a point, making it comfortable to sit upon. However, it could do with a bit more padding as the seat feels rather too sturdy when you sit upon it for an extended period of time.
While not easily adjustable, the seat height can be changed to accommodate different heights. The distance and angling from the seat to the pedals allows for a natural, smooth riding motion.
Console – The Sunny Folding Recumbent Bike has an LCD screen that gives you all the data that you require from your workout, including speed, distance traveled, workout time and number of calories burned.
Variable Resistance – For a low budget lightweight recumbent bike, having 8 variable resistance levels is quite impressive, yet that is what you get with this folding recumbent from Sunny Fitness. This allows you to progressively increase the resistance of your workout over time.
Noiseless – If you're after a silent exercise bike, then the Sunny folding is the one for you. It is completely noiseless, even when you are working to full capacity on it.
Fluid motion – This lightweight stationary bike works off a magnetic resistance. The flywheel action is smooth, allowing for a natural pedaling action. You are able to pedal the bike in both forward and backward directions.
Pros
Lightweight and compact
Sturdy
8 resistance levels
LCD display with essential data
Noiseless
Adjustable pedal straps
Two way striding capability
Cons
Seat Padding – If you're planning to be on the bike for any length of time, you might want to bring a small pillow with you in order to enhance your comfort level.
Resistance Levels – While the Sunny folding recumbent bike does offer an impressive 8 levels of resistance, the top intensity levels are not going to be very challenging for experienced riders. That makes this bike more suitable for beginners or those looking for a lighter workout.
Recommendation
The Sunny Folding Recumbent Bike is a lightweight, foldable bike that would be ideal for the person who wants to get in a regular, low to medium intensity workout and doesn't have a lot of space in which to do it. It has its flaws (mentioned above), but, for the money you pay and the space it demands it will do the job that you expect of it.