What Is Olay Pro X?
Olay Pro X Advanced Cleansing System is a facial cleansing system which includes a brush and an exfoliating renewal cleanser.
The 2-speed facial cleansing brush comes with two AA batteries. With high and low speeds, you can control how it treats your skin.
It's also water resistant, meaning you can use it in the shower. Used with the Pro X cleanser, your skin will feel smooth and refreshed.
This cleanser has an anti-aging formulation. It also provides deep cleansing for hard-to-remove makeup.
Olay Pro X is designed by the Global Derm Alliance, a partnership between Pro X and a group of world-renowned dermatologists.
They helped create this product with their expertise in dermatology, clinical methods, biochemistry, and molecular biology. Their protocols target root causes of skin problems.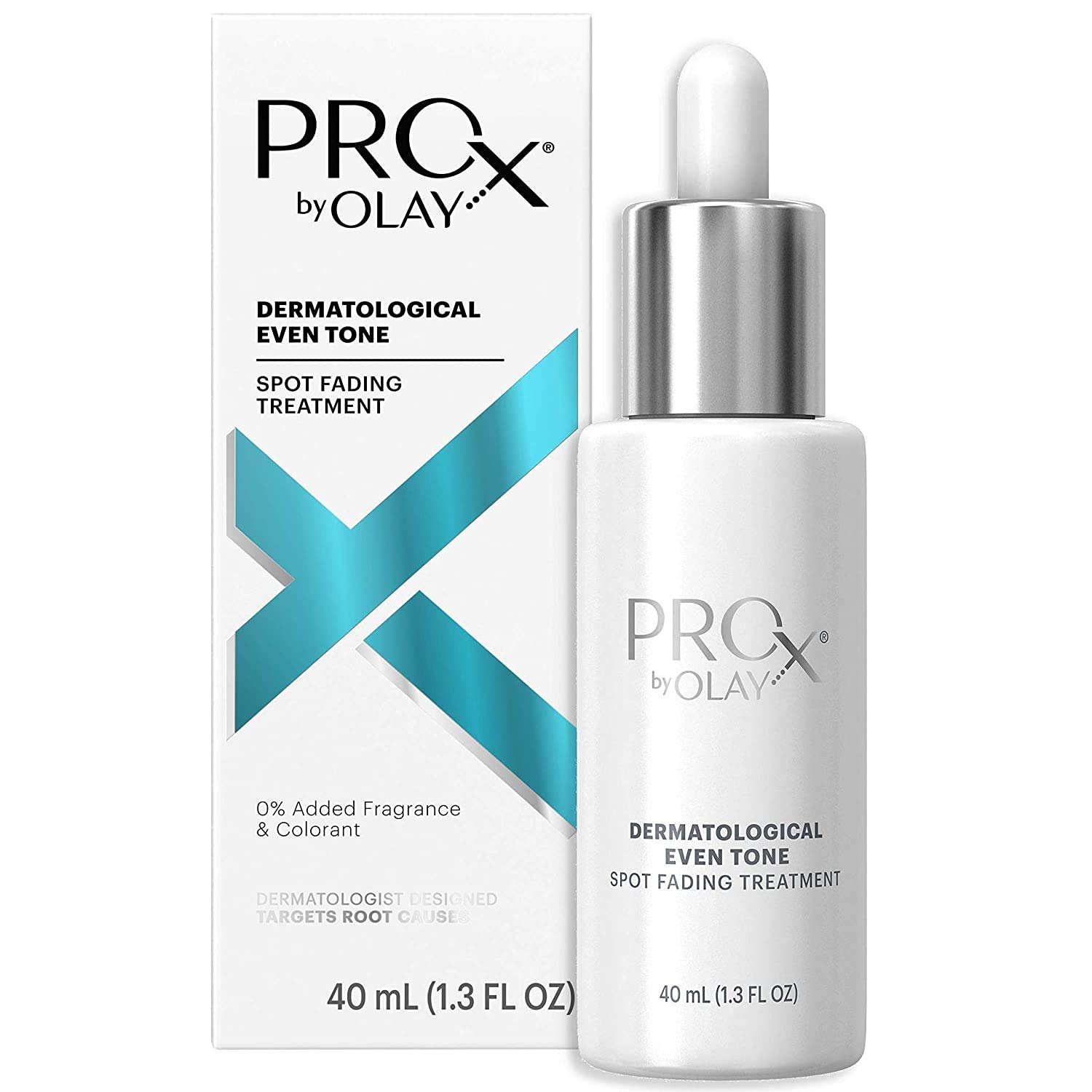 Who Makes Olay Pro X?
Olay Pro X is a product of Procter & Gamble. For questions or concerns, you may contact them through the following:
By Mail: The Procter & Gamble Company, One Procter & Gamble Plaza, Cincinnati, Ohio 45202 USA
By Phone: 1-866-710-PROX (7769) Monday-Friday, 9:00AM–6:00PM Eastern Time
By Email: Use the contact form on their website.
Who Is Olay Pro X For?
This product is for the busy woman who has very little time to take care of her facial skin. All you need is a minute or two of this regimen in the shower, and you can achieve a cleaner and smoother skin.
If you use make-up every day, Olay Pro X is ideal for you. The rotating brush releases make-up that has settled in your pores due to all-day wear.
Worried about fine lines and wrinkles on your face? This combination of anti-aging cleanser and rotating brush relaxes facial lines due to stress or aging.
For oily skin, the system may prevent your acne breakout by deeply cleansing the dirt trapped in your skin by your natural oils.
And for dry skin, doing this regimen will remove your dead skin cells to give new ones the chance to thrive.
How Does Olay Pro X Work?
Through advanced skin research, Olay Pro-X scientists have identified the three root causes of skin aging: sun damage, decreased skin surface resilience, and slower skin surface renewal rate.
They formulated Olay Pro X using state-of-the-art techniques and skin chemistry metrics.
The rotating brush massages the exfoliating cleanser onto the skin. The lathering formula thoroughly cleans the skin as it gently exfoliates.
Each rotation of the brush releases deep-seated dirt and makeup, leaving your face clean and primed for hydration.
The result is almost a reversal of the three causes of skin aging: a more resilient skin surface, increased hydration, and faster skin surface renewal rate.
Olay Pro X Ingredients
Olay Pro X Exfoliating Renewal Cleanser contains the following:
Water
Glycerin – An alcohol based compound used in skin care products to attract water and seal in moisture.
Lauramidopropyl Betaine – This is an ammonium used in hair and skin conditioning products for its foam boosting property.
Sodium Cocoyl Isethionate – A fatty acid derived from coconut oil. Its ability to mix water with oil and dirt allows them to be rinsed away easier.
Sorbitol – A naturally occurring sugar-like alcohol used in cosmetics. It prevents moisture loss by hydrating the skin.
Acrylates Copolymer – Ingredients in this group of acids function as binders in cosmetics.
Peg-200 Hydrogenated Glyceryl Palmate – This thickening agent is a mild additive to baby products and hair and skin care formulations.
Hydrated Silica – A form of silicone dioxide which functions as a skin conditioning agent.
Citric Acid – An organic acid found in citrus fruits added to cosmetics and personal care products as a preservative.
Potassium Hydroxide – Also known as lye, this alkaline chemical is used to control the pH in cosmetics and personal care products.
Polyquaternium-10 – A water soluble granulated powder used in hair and skin care products for its anti-static and moisturizing properties.
Peg-7 Glyceryl Cocoate – This substance is a cleansing agent, thickener, moisturizer and emulsifier for hair and skin care products.
Peg-100 – A compound made of natural oils and stearic acid with the ability to cleanse and moisturize the skin.
Disodium Edta – This compound acts as an absorption agent, preservative and stabilizer. It is used in skin and hair care products because it enhances foaming action.
Methylchloroisothiazolinone – A preservative with antifungal and antibacterial effects.
Methylisothiazolinone – Also a preservative used in cosmetic and beauty products for its antibacterial property.
Olay Pro X Side Effects
There are no known side effects from using Olay Pro X. But you should be very careful to avoid direct contact of the cleanser with your eyes, hair and hairline.
Some women have naturally sensitive skin. If you notice skin irritation or redness, you should discontinue using it.
In addition, the exfoliating cleanser may increase your skin's sensitivity to the sun.
How To Use Olay Pro X?
This product can be used for all skin types.
Directions:
Dampen your face and the brush head with water. Massage the Olay Pro X cleanser to your moistened face with your fingers.
Turn on the cleansing brush. Gently move it around your face for about 60 seconds, avoiding the eye and hairline areas. Rinse your face and the brush head with water.
You can do this regimen daily.
For best results, replace the brush head every three months, or upon visible wear.
Olay Pro X Reviews
Based on the customer reviews and feedback online, thousands of women have tried the Olay Pro X Advanced Cleansing System. A majority of them were satisfied with the results.
Ladies of all skin types – normal, dry, oily – reported having a soft, healthy glow on their facial skin after a few days of following the regimen.
Almost all of them mentioned the apparent lifting of blackheads from the t-zone of their faces. They felt deep cleansing to the pores as well.
A large number of users found it effective in preventing acne breakouts. This was one of the main objectives of this product's formulation.
Of those who were not fully satisfied, their most common comment was that the brush was too gentle. They wanted a more aggressive rotation.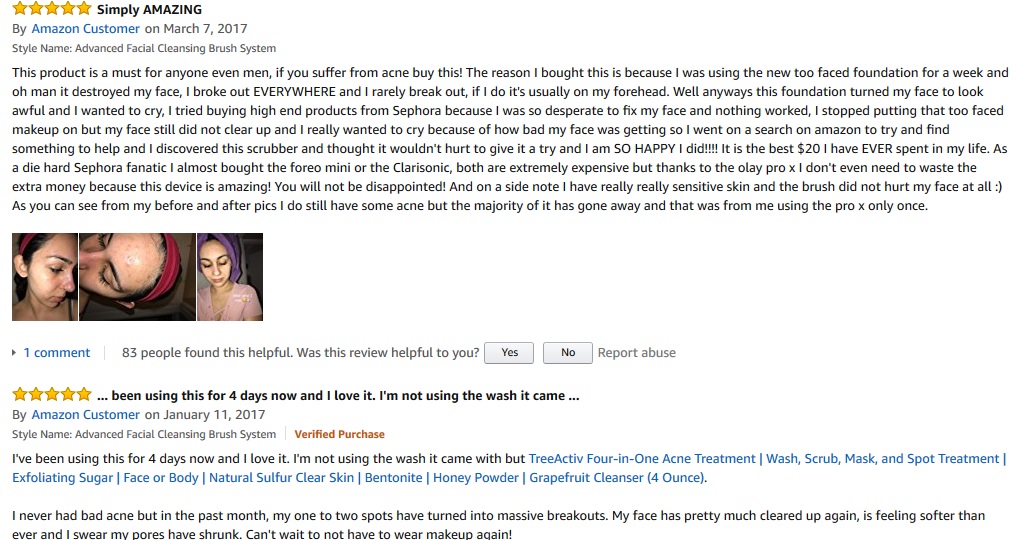 Where To Buy Olay Pro X
This product is available online through the manufacturer's official website and other retailers, including Amazon and eBay.
Olay Pro X is an over-the-counter product so you can also purchase it at retailer stores and beauty shops across the US.
Does Olay Pro X Really Work Or Is It A Scam?
Procter & Gamble, manufacturer of Olay Pro X Advanced Cleansing System, is a reputable company with an impressive lineup of trusted personal care brands.
Olay is one of those brands. And its Pro X product has been enjoying positive reviews from the majority of its buyers.
These customers shared how the product delivered on its promises of smooth, glowing and younger looking skin.
In addition, it comes with a satisfaction guarantee or your money back within 60 days of purchase. At its comparatively low price, this is just a bonus.
With all this positive feedback, we believe that Olay Pro X works and is well worth your money. What else can we say? Almost 5,000 satisfied women can't be wrong.