What Is Eyelasticity?
Eyelasticity is an anti-aging eye cream. Branded as an "age-defying eye therapy," it increases the production of collagen in your skin to make it firmer and younger looking.
This product is formulated to help you get rid of the signs of aging around the eyes without resorting to painful ways. Injections and surgeries may be effective, but they are quite dangerous and risky.
With this eye cream, your crow's feet, under-eye dark circles, and puffiness will surely go away. It eliminates the fine lines and wrinkles around your eyes while moisturizing and softening your skin.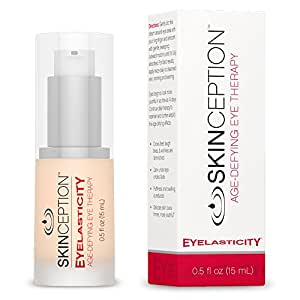 Who Makes Eyelasticity?
The maker of this beautifying eye cream is Skinception. They also create other skincare and beauty products, focusing mainly on anti-aging creams.
The company prides itself on using only clinically-tested ingredients in formulating their products. They do not use parabens, synthetics, or harmful chemicals as they value safety and quality above all.
For questions and comments, they have a contact form on their website where you can send your message. If you want to place an order, you can call them at 1-866-269-3487.
Who Is Eyelasticity For?
Your eyes are the window to your soul. They are the very first thing that other people look at the first time they meet you. Sometimes, your eyes can even express the things that words cannot.
Hence, there is a need to take care of those eyes and how they appear. You need Eyelasticity to get rid of those aging signs surrounding your eye area.
This product is primarily marketed to older women, but it can also be used by men. Regardless of gender, this eye cream will surely make you look and feel young and vibrant again.
This beauty cream also produces results in just four weeks. Thus, if you want to see faster anti-aging results, this eye cream will be great for you.
How Does Eyelasticity Work?
Eyelasticity contains ingredients that produce results similar to Botox. However, instead of going through painful injections, you only need to strictly comply with the application of this cream on your face.
As you age, the collagen and elastin in your skin start to diminish. Your skin becomes thinner and wrinklier. Even your nails and hair become weaker.
Similarly, the capillaries in your skin around the eye area start to leak red blood cells. In the presence of this leakage, oxidation and clotting happen, forming dark circles and eye bags.
This anti-aging eye cream produces more collagen and elastin. Its ingredients synergistically work to reduce the dark circles and to thicken the skin under your eyes. It also reduces blood clotting which causes discoloration.
The product also improves vascular health and muscle contractions. It strengthens the dermal mattress and supports healthy macrophage cells. Most of all, it protects your under-eye skin against free radical damage.
Eyelasticity Ingredients
Eyelasticity has the following active ingredients:
Eyeseryl – reduces puffiness and dark circles by 95%. It strengthens the skin under your eyes and prevents the accumulation of fluid. It also heals skin inflammation and swelling.
Syn-ake – is likened to a snake venom. In fact, this peptide was created by a company that is known to be a snake breeder and keeper.
Snake venom may be deadly but tiny amounts of it can be beneficial. It can reduce signs of skin aging by inhibiting muscle activity. Such inhibition eliminates the appearance of fine lines and wrinkles on your face.
Regu-age – improves microcirculation and ensures the right amount of collagen and elastin in your skin. It is a fast and effective ingredient that is known to reduce dark circles and puffiness around the eye area.
This ingredient also strengthens the connective tissue, improving vascular health. It also reduces inflammation and swelling of the skin.
ProCollONe+ – stimulates collagen synthesis, particularly collagen I. Collagen I is the most common form of collagen in the body. It protects the dermal layer of your skin, reducing the visibility of crow's feet and wrinkles.
Hydrolite 5 – improves the bioavailability of the other ingredients in the cream. Studies show that it can moisturize your skin by an average of 100% within 14 days.
Symglucan – protects your skin against external aggressors such as UV rays and pollution. It also promotes the synthesis of collagen and retention of moisture.
Eyelasticity Side Effects
There are no reports so far regarding the side effects of Eyelasticity. The manufacturer actually recommends it to those who have sensitive skin as it contains ingredients suitable for such skin type.
However, they also admit that some of its ingredients may cause mild to moderate side effects. These include redness, swelling, itching, and allergic reactions. Should these adverse results occur, immediately discontinue the use of the product, and seek help from your dermatologist.
How To Use Eyelasticity?
Eyelasticity is simple to use. You only need to apply it twice on a daily basis, morning and evening. Here's a quick procedure on how to apply it:
Dot the cream gently around your eye area using your ring finger.
Massage the cream in an outward motion until it's fully absorbed by your skin.
According to the clinical studies conducted by the manufacturer, the results should show in just 4 weeks. However, for best results, they recommend using the eye cream for a minimum of 90 days on a daily basis.
Eyelasticity Reviews
There are mixed Eyelasticity reviews available online. Some are happy and satisfied with the results they got while others are quite disappointed.
The positive reviews talked about its effectiveness. Most consumers said that they definitely saw improvements on the skin under their eyes. There was even one user who said that it produced results in just a week.
On the other hand, the negative reviews mostly talked about the company's service and the product's price. Some said that their orders arrived late while others complained that it's a bit expensive.
Where To Buy Eyelasticity?
Eyelasticity is available through the manufacturer's website. They offer a 97-day money-back guarantee should the product fail to work for you.
Currently, they are offering a 90-day package, which is good for three months. Should you opt to commit to such package, you will be having bonus gifts and savings as discounts.
The product is also available in some online retail stores such as Amazon.
Does Eyelasticity Really Work Or Is It A Scam?
In our opinion, Eyelasticity is not a scam and is definitely worth trying. Most of the reviews attest to its effectiveness.
Moreover, the company is transparent in providing information about their product. Transparency is an important consideration for any user's buying decision, and Skinception apparently knows this well.
This eye cream uses the most powerful ingredients when it comes to formulating eye creams. Even if you check their website, they have provided a copy of the studies they have conducted to test these ingredients' safety and effectiveness.
If you're looking for an anti-aging eye cream that would eliminate all those dark circles, puffiness, and crow's feet under your eye area, we highly suggest using Elasticity.