Schwinn AD6 Airdyne Pros & Cons Exposed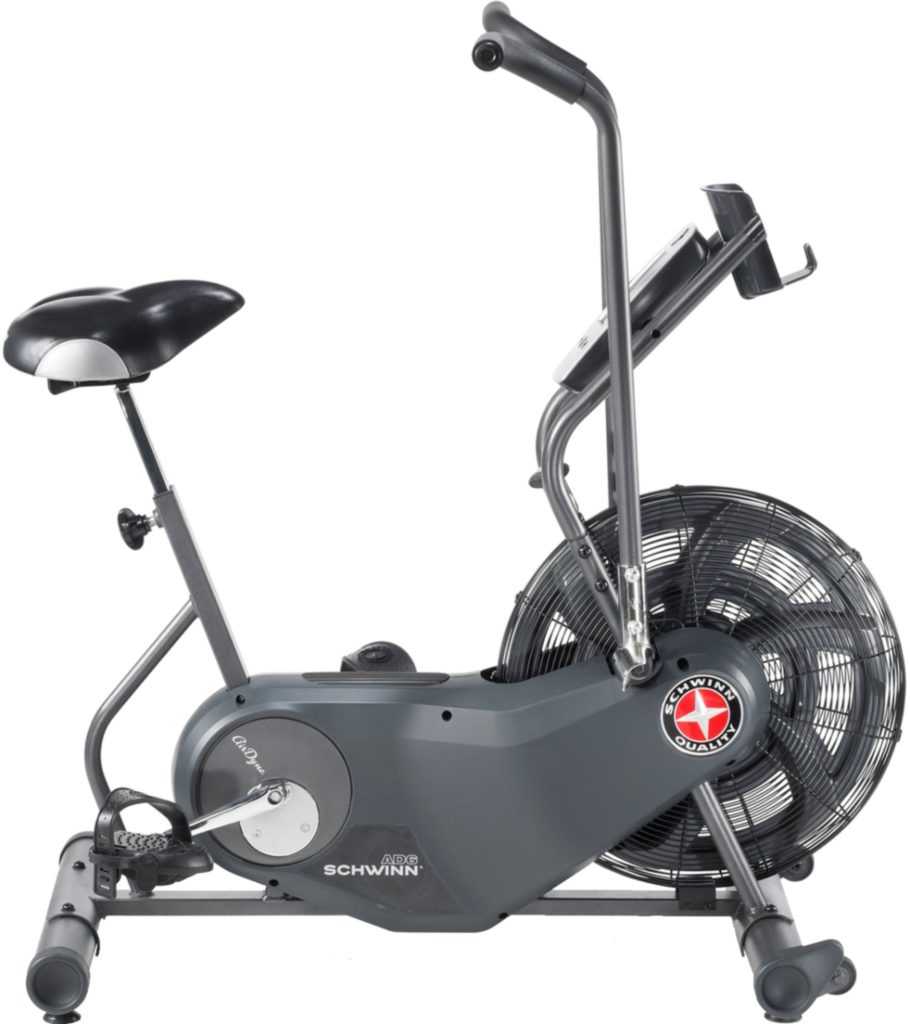 Not being able to fit in your clothes is a nightmare for everyone. Any person who goes through it is afflicted to mental and physical trauma, and there are two ways to deal with it. The first and the easy way out is, of course, to go out and get new clothes that would fit. While many people do this and do not care about their increasing weight, it only further leads to more weight gain.
The second, and the tough way, to deal with it is to do something about it. Now that's where you have to make some tough choices. While some people prefer dieting, that is simply not possible for everyone. Another option is, of course, hitting the gym. However, that can be inconvenient for some as most people simply don't have the time for it.
That can be taken care of as well. If you want to lose weight in your free time, whenever that might be, you can get an exercise bike to get some exercise at home.
Schwinn AD6 Airdyne
Exercise bikes are a popular alternative to the gym because they can save you the hassle of going to crowded gyms and save some valuable time. Another advantage is, of course, that you get to work out comfortably in your home, and you can conveniently work out whenever you get some free time.
You can easily store the bike as well, and you can watch television, read a book, listen to music, or do whatever you want as you work out on your own exercise bike. When you go searching for the right exercise bike for you, there are hundreds of options available. You can easily be confused or tricked into buying a low-quality product. However, there are some products worth buying, and the Schwinn AD6 Airdyne Exercise Bike is one of them.
Comparison to AD2 Airdyne
The AD6 faces tough competition from its brother AD2 as both bikes belong to the same series. The AD6 Airdyne is, of course, more advanced as it uses a dual stage Super Torque belt drive, while the AD2 relies on its single stage belt drive. What this does, basically, is that the pedaling experience gets a lot smoother and more natural. The AD6 also features the integrated heart rate monitor.
It's also more comfortable than the AD2 due to its extra-padded and oversized seat. Similarly, the AD6 has a maximum user weight limit of 300lbs, while the AD2 can't take more than 250 lbs. The AD6 is clearly meant to be the better and more sophisticated of the two as it has a higher build quality and a 15-year warranty compared to AD2's 5-year warranty only.
Best Features
The bike offers infinite wind resistance, which means the harder you pedal, the more resistance you'll get for an effective workout. You can choose to work out your lower and upper body independently or simultaneously. The console featured on the bike shows six workout metrics and also features a RevMeter RPM gauge, so you no longer have to wait for readouts.
The RevMeter RPM gauge can be a fascinating and fun way to see your workout visually. Integrated water bottle holder also makes things a lot easier when working out. For comfort, a thickly-padded and large seat is featured. Four levelers on the bike ensure maximum stability. While a chest strap is not included, the bike is compatible with telemetric heart rate. The workout bike also features self-balancing pedals and wheels to ensure the perfect stability and balance.
While all these features are valuable, there are a few features that set this product apart from the crowd such as its infinite resistance and highly equipped console.
Infinite Wind Resistance
The bike features a fan that offers unlimited resistance that you get by simply pedaling harder. Other advantages include low noise and it gets breezier the harder you pedal. Though it gets louder at top speeds, it is still not annoying and you can easily focus on watching TV, listening to music or other activities.
Full Body Workout
The Airdyne AD6 bike offers the complete exercise with its full-body workout. While most bikes only focus on the lower body workout, the AD6 engages your upper body as well, and it can be very effective in losing weight. While it's effective, it can also have its toll on the upper body when you push towards top speeds.
Console
The Schwinn greatly improves the console by adding stats on speed, distance, and calories as well as a RevMeter for a visual display of stats. However, the LCD is not as bright as you'd expect it to be and it can be hard to read the stats being displayed.
Comfort and Ergonomics
Some of the most important aspects of an exercise bike are its comfort level and the ergonomics of the design. While the bike's seat is very comfortable, especially for an upright bike, you may start to feel numbness after some time, but that can be solved by placing a cushion. Another plus point is the presence of foot straps on the pedals that are easily adjustable. Another noticeable feature is the integrated bottle holder of the bike that is placed in front of the display console.
Conclusion
To sum it all up, the AD6 Bike by Schwinn is a well-built exercise bicycle that has some valuable features such as the ability to work the lower as well as the upper body. Unlimited resistance and comfortable design are other advantages of the bike that easily put the AD6 in the high-end category of exercise bikes. A sleek and well-equipped console and a bottle holder mean you're paying for good value.
Of course, the Schwinn AD6 is not the cheapest exercise bike available on the market, but the price tag is justified as it offers tons of useful features and a 15-year build warranty, which means you are investing in workout equipment that will last for a long time to come.