This is the place where you'll find answers to all your indoor cycling questions. Now that you've made the smart decision to get fit the indoor cycle way, your challenge is to find the right equipment to fit your needs.
That's where we come in.
Our mission is to provide customers with complete, unbiased, independent indoor cycle reviews to assist them in selecting the very best products for achieving their goals.
We are committed to you, the purchaser, not the manufacturer or the retailer. That means that, unlike many other so-called review sites, we'll tell it like it is. If a bike is great, we'll give it deserved kudos, but if it's crap, we'll let you know so that you don't go pouring your hard earned money down the drain!
Together we'll make sure that you find the perfect match for your indoor fitness requirements.
Why Choose An Indoor Cycle?
Your home fitness choices are endless. Every week sees some new exercise gadget enter the marketplace. So, why would you choose an exercycle over all the other options? Quite simply, because training on an indoor cycle is the best thing you can do to get fit fast. Here are a half dozen reasons why . . .
Extreme Calorie Burn – A 60 minute ride can burn between 700-800 calories. That's the equivalent of a 20 mile bike ride, without dodging the traffic.
Weather Proof – You get all of the benefits of cycling with none of the drawbacks. You can workout in any weather, and at any time of day, right in front of your TV set.
Stronger Heart and Lungs – Regular indoor cycling will keep you heart rate within the vigorous range recommended for optimal heart health. This will help you to lower your risk of coronary artery disease, help lower blood pressure and LDL cholesterol and bring down your overall resting heart rate.
Interval Training – High Intensity Interval Training (HIIT) has been recognized as the most effective calorie burner and overall cardio fitness booster that we know of. Indoor cycling is the ideal platform to perform HIIT training.
Endorphin Rush – You've probably heard of the runner's high. Well, that same release of happy-mood inducing neurotransmitters is achieved by indoor cycling. Endorphins are renowned for their ability to bring on feelings of euphoria, lower stress levels and enhance the body's immune response.
Low Impact – There is no other form of exercise that has the potential to be so high intensity that is so low impact. In fact, when done properly, indoor cycling has virtually no impact on the hip, knee and ankle joints. That makes it the perfect choice for everyone, but especially people who are coming back from injury.
Editor's Favorites
This is where you'll find an in-depth review of the bike that I've chosen as the best of the best. I'll break down the specs and features to reveal why this is the one bike, above all others, that I'd have in my own home.
Buyer's Guide
The Buyer's Guide should be first port of call. It will prove an indispensable aid in helping you to make sense of the  confusing array of options out there. You'll discover precisely what to look for when investigating indoor bike options, whether you should opt for an upright, recumbent or spin bike and what type of resistance system will be ideally suited for your needs.
Comfort is a defining issue in selecting the right bike. So, we've even got a buyer's guide to help you to choose the perfect seat for your bike. And then there's the fancy equipment that come as enticing add-ons with many bikes. You need to know whether these bells and whistles are simply frivolous window dressing or whether they can actually add to the quality of your workout. We've got that covered as well.
More Tips
You can never have too much information to help you to make a smart decision. That's why we've packed even more useful advice into our More Tips section. The Buying Guide asks you a series of questions to allow you to determine exactly what your indoor cycle needs really are. We'll show you how to do your homework so that, when you do hand over the cash, you can be 100% confident in your purchasing decision.
Having the greatest bike in the world isn't going to benefit you if it ends up being the world's most expensive clothes rack. Our Tips For a Better Training Session will show you how to get the most out of your investment so that your workouts are the most productive, energizing and motivating training you've ever done.
Our Home vs Gym section takes a step back to ask if you really should be going to the expense of an indoor bike at all. Wouldn't a gym membership be a smarter (and cheaper) option? You'd better prioritize this information – it could change everything!
Meet Your Stationary Bike Options
Upright
Upright bikes are the oldest and, by far, the most popular category of exercycle. The rider sits upright. As a result, the seats are large and padded, in contrast to spin bikes, which often have the rider pedaling off the seat.
There is a huge range of upright bikes. They tend to be broken into manual versus computer controlled. They also have huge variance in size and strength, as well as computer features. They range from relatively cheap to very expensive.
Which Upright Bike is Best For You?
The answer to this question depends on what your needs and your budget are. Generally, upright bikes tend to have most features in common. The differences come down to type, size and ability.
Let's start with a top of the range bike and check out its features. Then we'll consider what things you need to give up when you've got a smaller budget.
Fully Adjustable Handle Bars – More expensive bikes will allow you to custom adjust the handle bars to suit your preferences. Less expensive models will not.
Drink Holder – A conveniently located drink holder will help you to stay hydrated throughout the workout.
Sturdiness – More expensive bikes will have a more solid, rigid construction, meaning that they will be heavier. Smaller bikes will have less steel in them.
Crank – The best bikes will have a 3 piece crank. This is three individual pieces bolted together, whereas a one piece crank is just one piece of metal bent into shape. Clearly the 3-piece will have more strength and will last longer.
Seat – All seats tend to be height adjustable, but the more expensive models also have reach adjustment. This allows the seat to be adjusted backwards and forwards. This allows you to move the seat closer or further away from the console and handle bars.
Seat size and seat material differs significantly according to price, from the small, foam padded seats all the way up to large, comfortable, gel padded seats.
Foot – The best bikes have an oblong shaped foot. This allows you to adjust for uneven floor surfaces.
Console – The size and color of the screen varies. Obviously, the more money you spend the greater the options in terms of screen size and display type. The number of things displayed in the screen can range from a single display that rotates through to a multi-color dot matrix display.
A major area of difference between a quality bike and a not so good one is the level of heart rate measurement. All bikes these days tend to come with hand pulse measurements. When you put your hands on them it will give you a rough guide of what your heart rate is. The better models have wireless heart rate. That means you can wear a chest strap and the bike's computer will constantly and, very accurately, measure your heart rate as you exercise.
The better programs come on the more expensive bikes. Both the number of programs that are built and the types, such as heart rate control and user definable program. This means that the computer and console will control the tension of the bike while you tune out and watch TV.
Flywheel – The flywheel is hidden inside the bike. This can vary in weight, with the larger flywheels being more expensive. It will be smoother, allowing for a better feel as you pedal for longer distances. In addition, the more steel used in the machine, the higher the user capacity (some of them up to 330 pounds).
Size – Some of the cheaper bikes are simply too small for an adult to get a decent workout in. They cramp you up too much. The handlebars will be non-adjustable, making it even more difficult to get comfortable.
Power Source – The most basic models use battery power. Middle of the range bikes use AC power, while the top of the line bikes tend to be self-generating. You don't to plug them in. The moment you start cycling, the power from your legs drives the console.
Footplates – Large, comfortable foot plates with a strap over them are found on the best models. The less you pay, the smaller they get.
Our Range of Upright Bike Reviews features the following bikes: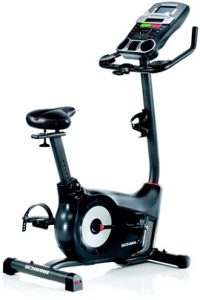 Schwinn 170 Upright Exercise Bike
The Schwinn 170 Upright Bike features a heavy duty flywheel that makes for a smooth, quiet ride. With 29 programs and 4 user settings it offers an impressive workout selection and the unique dual track two LCD window system provides feedback on up to 13 different display settings.
–>>Click here to learn more about this bike<<–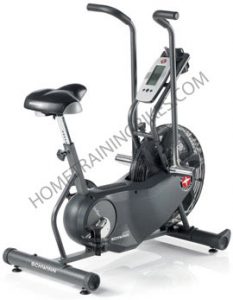 Schwinn AD6 Airdyne Upright Exercise Bike
The Schwinn AD6 Bike offers infinite wind resistance based upon your level of pedaling. The movable arms allow you to work both the upper and lower body. This bike features a large, thickly padded seat and a continuous console readout of 6 workout metrics.
–>>Learn more about it here<<–
Recumbent
Recumbent bikes involve sitting down and leaning back on a traditional back support. Being in this position uses different muscles than an upright bike. The recumbent bike focuses more on the quads and calves (legs) and less on the glutes and lower back.
Recumbent bikes are easier on the joints. They tend to be more comfortable if you just want to sit and read a book or watch TV. You'll probably notice that exercising on a recumbent bike will give you a slightly unusual feel as a result of the knees coming up so high during the cycling motion.
The fact that the seat is larger on a recumbent bike makes for a far more comfortable rider experience. Many people find the smaller seat found on the upright model to be a nuisance that curtails their workout time.
A recumbent bike is a great choice for individuals who suffer from coordination or neurological difficulties. People of all abilities can safely use a recumbent. And, because you are unable to stand up while riding a recumbent bike, the injuries that may occur when standing while pedaling an upright bike are eliminated.
A key benefit of a recumbent bike is that it offers total back support when cycling. You are placed in a better ergonomic position, making this a smart choice for people who have lower back issues or are coming back from injury.
Recumbent bikes are extremely low impact. People whose backs and hips are affected by rheumatoid arthritis will find the recumbent bike easier to use, due to the fact that the load is spread over the back and buttocks.
Here's a quick chart to help you compare the features of recumbent and upright bikes  . . .
| | |
| --- | --- |
| Recumbent | Upright |
| Reclined body position | Upright body position |
| Larger seat | Smaller seat |
| Pedals positioned in front of body | Pedals are positioned under the body |
Our Range of Recumbent Bike Reviews features the following bikes: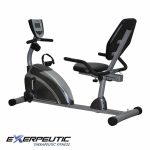 Exerpeutic 900XL Recumbent
This is a comfortable recumbent bike with a unique smooth torque cranking system to provide smooth and consistent pedaling. It also offers 8 levels of magnetic resistance to provide a progressive workout challenge.
–>>Read my unbiased review here<<–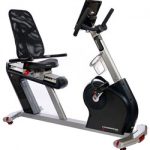 Diamondback Fitness 510Sr
The Diamondback Fitness 510Sr  is a luxury recumbent bike that offers 20 workout programs, LCD display with real time feedback, an integrated speaker system and a sculpted seat back and base.
–>>Read our full review here<<–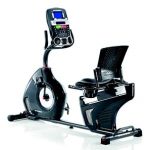 Schwinn 270 Recumbent Bike
The Schwinn 270 Recumbent bike offers an incredible 29 workout programs and 25 levels of resistance to suit every level of training experience. The dual track LCD display allows you to monitor 13 different workout parameters.
–>>Read my latest review now<<–
Spin Exercise Bikes

If you've been to the gym, you'll know about Spin classes. Spin bikes are the most authentic replica for a road bike. They have a large spinning disk at the front. Your job is to keep it moving at all costs. Even after you've finished pedaling, the momentum of the flywheel keeps it going.
There are no programs with Spin bikes. There are usually no consoles either. Spin bike seats are the most like authentic outdoor bike seats. On a spin bike, you tend to lean forward like you do on the road.
Our favorite Spine Bikes reviewed: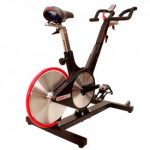 Keiser M3 Plus Indoor Cycle
The Keiser M3 Plus Indoor cycle is a sleek spin bike that features smooth, whisper quiet operation, a 4-way adjustable seat and fore and aft adjustable handle bars.
–>>Full Keiser M3 Review here<<–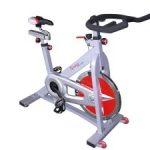 Sunny Health & Fitness Indoor Cycling Bike
The Sunny Health & Fitness Pro Indoor cycling bike is a no frills spinner with a 40 pound fly wheel to provide a very smooth ride. The heavy duty crank and smooth drive mechanism enhance the experience even further.
–>>Click here to read my full unbiased review<<–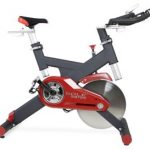 Sole Fitness SB700
The Sole Fitness SB700 comes with a huge 48 pound flywheel, giving it the smoothest, most realistic ride we've yet come across. It has fore / aft and up / down adjustments for both seat and handle bars.
–>Hear the truth about it here<<–
Desk Cycles and Stands

A recent addition to the home cycle market, the desk cycle is designed to allow you to get you workout in while you work. There are two types. The first is simply a pedal mechanism that sits on the floor under your desk. You sit in your normal work desk and pedal away as you're typing. They generally feature a magnetic resistance for frictionless operation. This makes the bike whisper quiet, so your attempt at burning calories won't be upsetting your workmates.
The second type of desk cycle features a full exercycle with seat that has a desk attached to it. The desk is adjustable in front of you to allow you to get set your own customized work station. Clearly, this model is more suited to a home office setting.
Our range of deskcycle reviews features the following bikes:
Deskcycle Desk Exerciser
With a pedal height of just 10 inches, this pedaler offers the lowest pedal experience you'll find. That makes it ideal to slip under you desk or in front of the couch.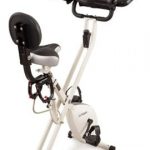 Fitdesk FDX2
The Fitdesk FDX 2 is a high quality desk cycle mash up that features a twin belt, high velocity flywheel, non slip desk surface and adjustable seat back and extender.
–>>Our latest review available here<<–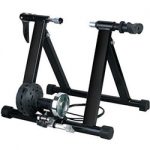 Magnetic Steel Indoor Bike Trainer
The Magnet Steel Indoor Exerciser Trainer features five internal resistance settings, a state of the art magnet system and an extremely quiet design.
Folding Exercise Bikes

There has been a focus in recent times on making home fitness equipment more portable and storable. This has given rise to the popularity of the folding bike. These bikes fold up like an ironing bard, allowing them to be stored under a bed or in a cupboard.
Folding bikes usually comes with transport wheels and, often handles for ease of transportation.
The downside of folding bikes is that they are not nearly as robust as their fixed counterparts. Non-folding bikes are often made of a single piece of metal. This means that there are fewer parts that can potentially break down.
Our range of Folding bike reviews features the following bikes: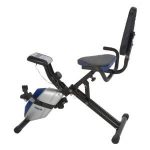 Progear 190 Recumbent Bike
The Progear 190 Recumbent Bike features a large pedal design with safety straps. It has a high torque three piece crank system, 8 levels of resistance and can handle up to 275 pounds of weight.
–>Complete review can be found here<<–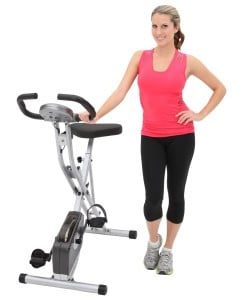 Exerpeutic Folding Upright Bike
The Exerpeutic has a double drive transmission system, 8 levels of magnetic resistance and a unique design that makes it very easy to get on and off the bike. This bike may be lightweight but it can take up to 300 pounds of weight.
–>> Read the full review right here<<–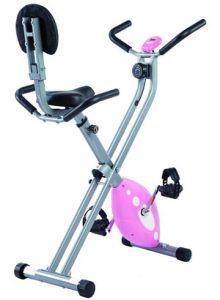 Sunny Folding Recumbent Bike
The Sunny Folding Recumbent Bike is a top quality steel and plastic lightweight foldaway. It comes with a high back support and adjustable seat to fit a range of user heights.
–>>Ryan's review updated 2020<<–
The Best Brands
Keiser – Keiser Fitness Equipment have been bringing innovation to the fitness industry since they introduced the first pneumatic exercise machines in 1978. Since then they have forged a reputation for quality and craftsmanship that have established them as an iconic brand. Their top of the line bikes are setting the standard.
Schwinn – Schwinn started the exercycle fitness craze way back in 1966 with their revolutionary exercise bike. Since then they have proven to be a leading innovator in the fitness industry. They have developed such innovations as perimeter weighted flywheels to take the standard to the next level.
Mad Dogg Athletics – Recognized as the world's leading spin bike manufacturer, Mad Dogg have been building the best and most comprehensive range of training equipment to deliver an unrivalled fitness experience.
Sunny Fitness – Not all top manufacturers produce top of the range gear. Sunny Fitness have forged a reputation as a manufacturer of low to medium budget exercise equipment that are reliable, innovative and backed by excellent customer service. That may well be the reason that Sunny Fitness bikes are the number one selling brand of exercycles on Amazon.com.
Recommendation (and a Warning)
For most people we recommend an upright bike. A spin cycle is usually bought by someone who has class experience from the gym or wants a bike that really feels like riding a road bike. They are generally already experienced road bike riders. People who buy recumbents generally get referred to a recumbent bike by their physiotherapist or doctor. This is a because a recumbent is easier on the joints and gives a much more relaxed feel on the seat.
With the rise of popularity of exercise bikes, so too has come a rise in the number of players in the industry. There are a lot of opportunistic retailers now operating in the market place. Here are somesigns that you be dealing with a less than reputable seller:
Shaddy/Unknown Internet- only retail outlets
General goods retailers
Poor warranty conditions
You really need to be on the lookout for a reputable brand that has proven itself in the industry. Exercycles have lots of moving parts, with belts and pieces that interact with each other. Knowing that there is company standing behind your bike with spare parts and after sales service is a big plus.