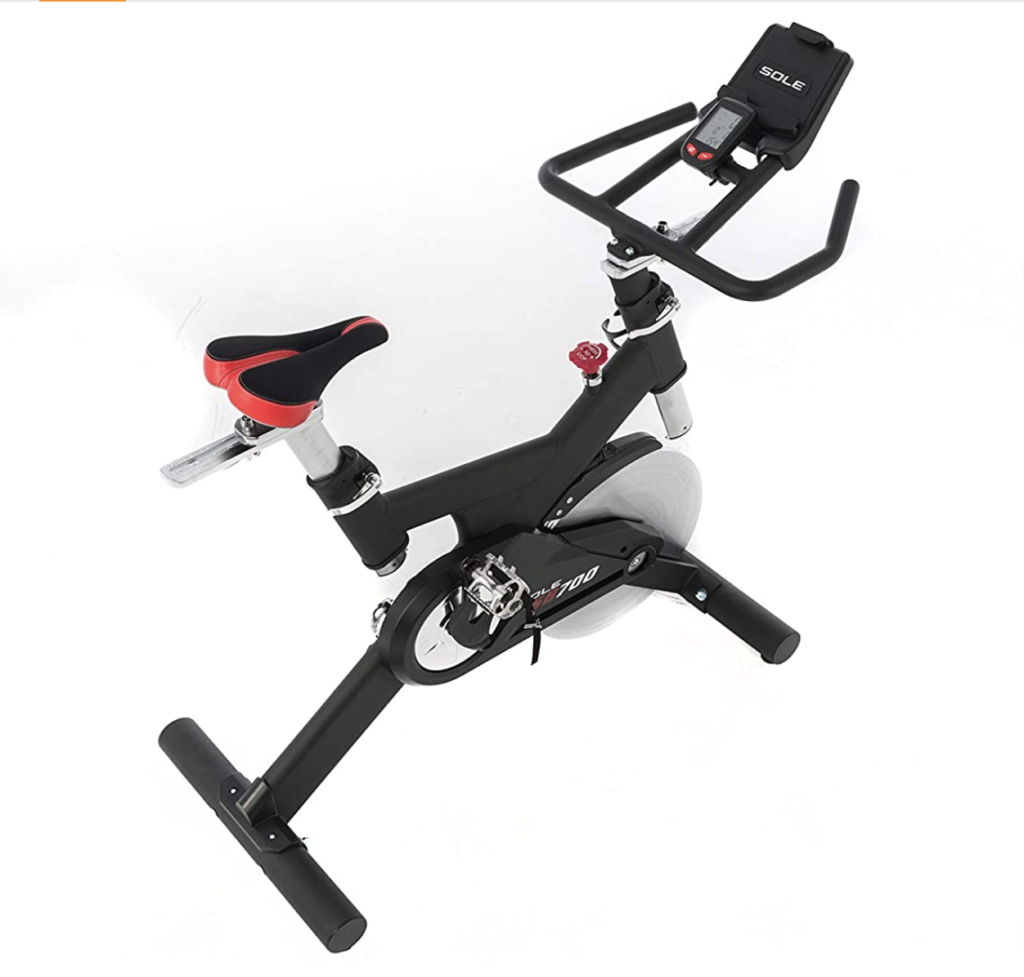 The exercycle market is cluttered with bikes ranging from budget to heavy commercial. For a while, however, a gap has existed in terms of a light commercial cycle that would be suitable for both the discerning home user and the private studio operator. Sole Fitness have looked to fill that gap with their SB700. Let's find out how well they succeeded with our review of the Sole Fitness SB700 Indoor exercise cycle.
Features
Heavy Duty Flywheel – The flywheel is the key to a smooth, fluid ride; the heavier the better. At 48 pounds, the flywheel on the Sole Fitness SB700 is one of the heaviest you'll find on any exercycle. That means that this bike generates an extremely smooth riding experience, without the jarring pedal action that you often get when the resistance increases on lesser models. The Kevlar braking system complements the heavy duty flywheel to provide an overall experience that is as close to outdoor riding as you are likely to get.
Magnetic Resistance – Magnetic resistance technology ensures a whisper quiet resistance, providing a smooth transition between resistance levels. This adds up to an extremely quiet workout.
Adjustable Seating – Both the seat and back rest provide for and aft movement as well as up and down adjustment. The handle bars offer the same flexibility, allowing users of all shapes and sizes to customize the settings to their own requirements.
Heavy Duty Frame – Heavy steel tubing provides a strong, durable frame that will easily meet the demands of light commercial use. The aluminium shroud provides a sleek, stylish finish. The bike features wheels for ease of transport.
Display – The large LCD console makes viewing your training data easy from any angle. The display gives you instant feedback on your calories consumed, workout time, distance traveled and speed. It is compatible with a wireless heart rate chest strap, which comes as an optional extra. The LCD is also backlit to make it even easier to view your training data.
Ease of Assembly – The Sole SB700 comes partly assembled, making your job that much easier. You should be able to put the machine together inside of thirty minutes without any help. The box comes with some simple tools to help put it together.
Variable Resistance – You can cycle through multiple levels of resistance simply by dialing a knob that is conveniently located below the handle bars. Integration between resistance levels is extremely quiet, thanks in large part to the over-sized flywheel.
Pros
48-Pound Flywheel
Kevlar Braking System
Easy to Assemble
Heavy Duty Construction
Large LCD Display Monitor
Fully Adjustable Seat and Handlebars
Magnetic Resistance
Cons
Heavy – The packaging box lists the weight as 140 pounds, but it is more like 154 pounds when fully set up. This makes the Sole indoor cycle one of the heaviest bikes on the market. This is primarily due to the 48-pound flywheel, which is also the reason that this bike performs so well. It will mean, however, that you'll have difficulty getting it up and down the stairs. It does come with wheels, which will help seniors to move it from room to room.
Recommendation 
The Sole Fitness SB700 Indoor Exercise Spin Bike bridges the gap between commercial and home use with a style and quality that you don't normally find in a bike that is designed for home use. Of any bike we've tested, the Sole SB700 has the smoothest, most fluid, natural cycling motion, which is really what counts when you're after a superior indoor exercycle. The counter to that is that it is very heavy. If you're not lugging it around every day, that shouldn't be an issue. Overall, we believe that the Sole Fitness SB700 is well worth the asking price.