What Is Glucocil?
Glucocil is a supplement that is best suited for people who are suffering from Type 2 diabetes mellitus and hyperglycemia. It claims to be the total blood sugar optimizer that can help with:
maintaining normal blood sugar levels
supporting normal blood lipid levels
reducing the elevation of post-meal blood sugar
promoting better insulin production and sensitivity
aiding in weight loss in a healthy way
promoting better circulatory, blood vessel and heart health
Perhaps you won't be too surprised to know that there's too much sugar included in our diet every single day. In fact, type 2 diabetes affects nearly 27 million Americans. This is because sugar is simply hard to eliminate.
What about Glucocil? Will it be an effective solution in trying to solve this sugar problem?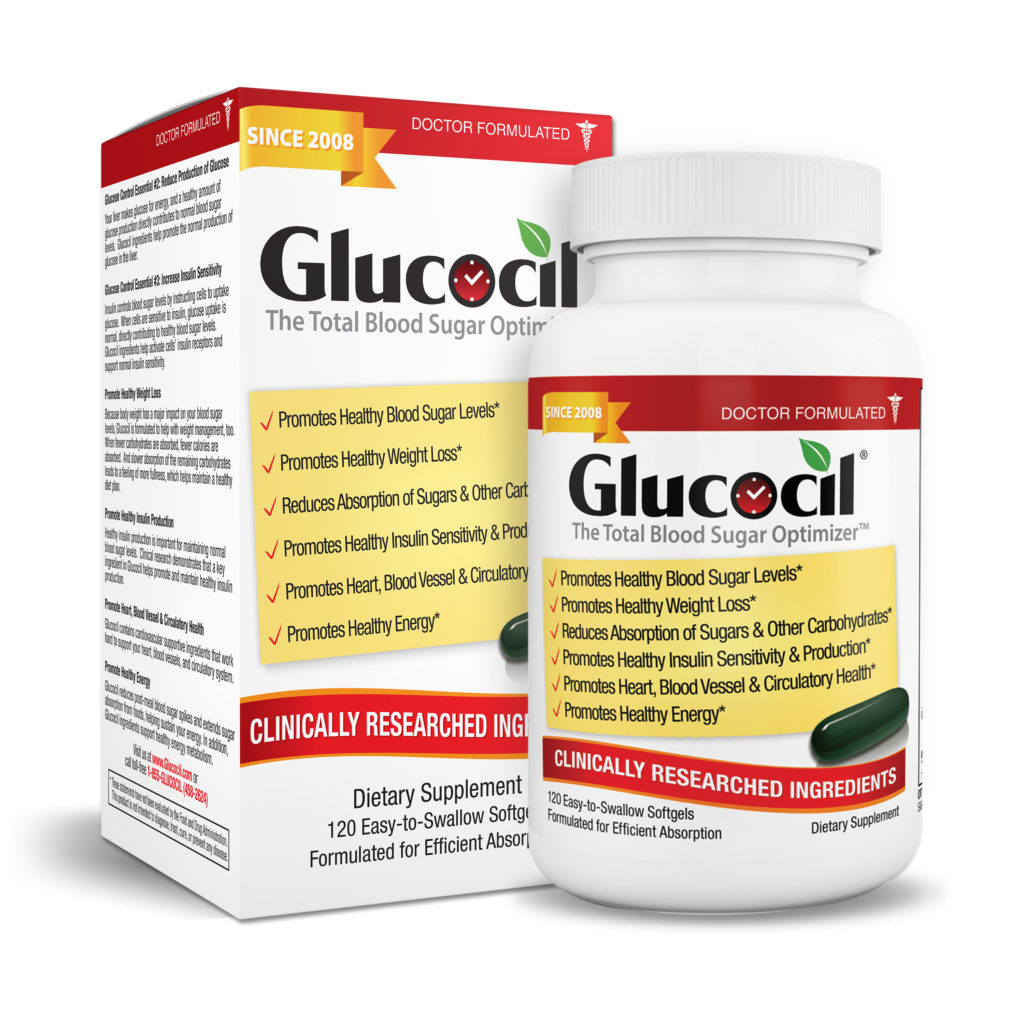 Who Makes Glucocil?
The creator of Glucocil is a San Diego-based company called Neuliven Health. It started in 2003 and continues to be more innovative and passionate in creating products that would promote health and wellness.
For any comment, question or product inquiry, you can give them a call at their toll-free number – (888) 406-7101. This is a customer service hotline that is open every Monday thru Fridays, 9AM to 5PM PST.
You can also send them an email at [email protected]
Who Should Take Glucocil?
Glucocil may be taken by anyone who is 18 years old and above. No prescription is required when buying this supplement but it's recommended that you talk to your doctor first before trying any new dietary supplement.
This blood sugar optimizer can be used for people who are watching their blood sugar. Even when you do not have diabetes yet and you know there's a possibility of you getting it (mostly due to hereditary issues), you can give this product a try. It can also be taken by overweight people.
How Does Glucocil Work?
It is the liver's job to produce glucose. The body has certain enzymes and hormones that tell the liver when it's time to produce glucose. However, when the body's already aging, the liver tends to not read these signals properly. This will lead to more glucose building up in the bloodstream.
Glucocil helps the liver to function as it should. That's why glucose will be produced as necessary and the blood sugar level will be kept at a normal or stable range. Aside from supporting liver health, it also functions in enhancing circulatory, blood vessel and heart health.
Glucocil Ingredients
This supplement features a blood glucose management blend that includes the following ingredients:
Phellodendron bark extract – The extract from this plant's bark is popularly known in treating various health issues such as diabetes, cirrhosis of the liver, osteoarthritis, stomach ulcers, obesity, weight loss, pneumonia, meningitis and tuberculosis.
Gymnema sylvestre extract – Gymnema is a plant with a Hindi name of "gurmar" which means "destroyer of sugar." It is used for cough, weight loss, diabetes and metabolic syndrome.
Alpha Lipoic Acid – Research shows that this chemical can enhance the conduction and function of neurons in diabetes.
Mulberry leaf extract – Contains alpha-glucosidase inhibitor which is known to be a sugar blocker, thus helping significantly lower blood sugar levels.
Veldt grape extract – Also known as Pirandai plant, veldt grape can help in treating ear pain, indigestion, menstrual problems and fractures.
Banaba extract – This herbal remedy is popular dues to its ability to act as an antioxidant, anti-fungal, antiviral and anti-inflammatory. It also has the ability to lower blood sugar levels.
Cinnamon – Some studies have proven that cinnamon can lower blood sugar levels and cholesterol. It also prevents clotting of the blood and relieves indigestion and arthritis pain.
Insulin – Insulin can be found in Latin America and known for its medicinal uses in treating flu and colds. It can also help in eliminating kidney stones and reducing inflammation.
Other notable ingredients of Glucocil are Omega 3 fatty acids, Chromium, Vitamin B12, Vitamin B6, Vitamin D3 and B1.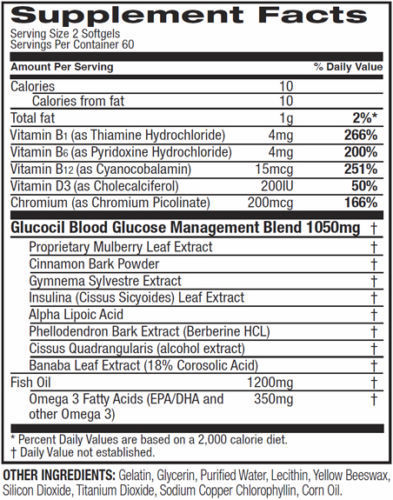 Glucocil Side Effects
Taking Glucocil will help you reduce the absorption of carbohydrates that are in the foods that you ingest. Those carbohydrates that are not absorbed by the body may cause a few discomforts such as loose stool, gas constipation and bloating.
These discomforts should go away within a few weeks as your body gets used to the supplement. If in case you are taking this product before your meal and you experience acid reflux or heartburn, you may try taking it after meals and see if there would be a development.
Glucocil Dosage
For first time users, it's recommended to take one pill during lunchtime and another one during dinner time. After three days of doing this, you may adjust the dosage to two pills per mealtime.
If in case you forgot to take your dosage during the meal, you can also take it after eating. Take note that it's important to take this supplement daily, as the nutritional support that it provides may decrease if you take less than the recommended dosage.
Glucocil Reviews
This dietary supplement seems to be a very popular product. As of this writing, there are more than 1,600 Glucocil reviews on Amazon alone. More than 60% of these reviews are all positive, which only means that this product can really work when taken as instructed.
A review indicated how the product has been used regularly for more than two years already and it really works in controlling glucose. Another user is also very pleased with how her fasting numbers have significantly decreased with this supplement's help.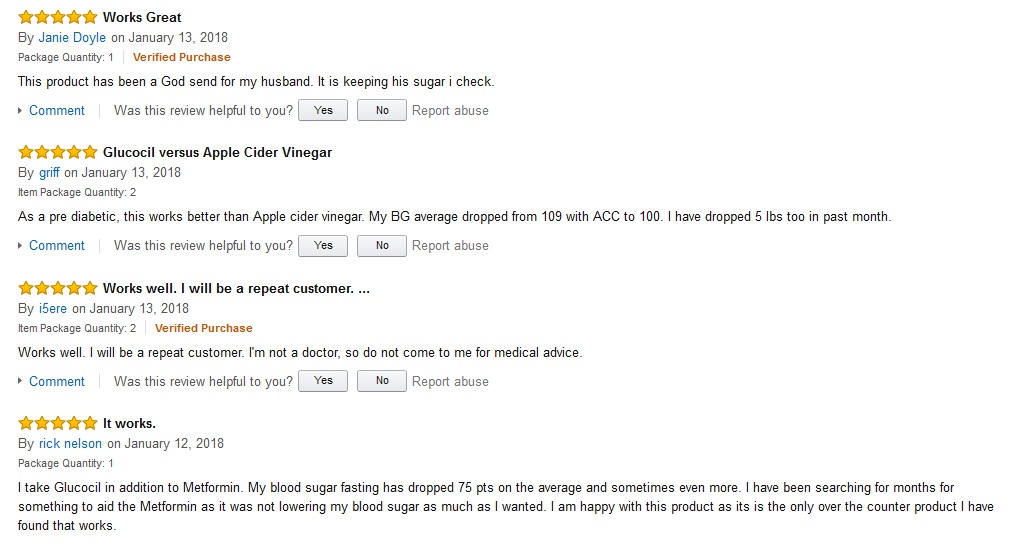 Where To Buy Glucocil?
Glucocil may be ordered directly from its official website. You can also find it in a lot of online retailers like Amazon. No need to worry about its availability because there are always enough stocks for it and you can easily order it from just about any online merchant.
Does Glucocil Really Work Or Is It A Scam?
Based on our research and user reviews, we can say that Glucocil definitely works. The positive reviews can attest to this fact and all those people who have been helped by this product are surely satisfied and are continuing to take it.
Now you are able to control your sugar levels without having to take additional medicines or supplements. You can get this benefit from this single supplement — and even more.