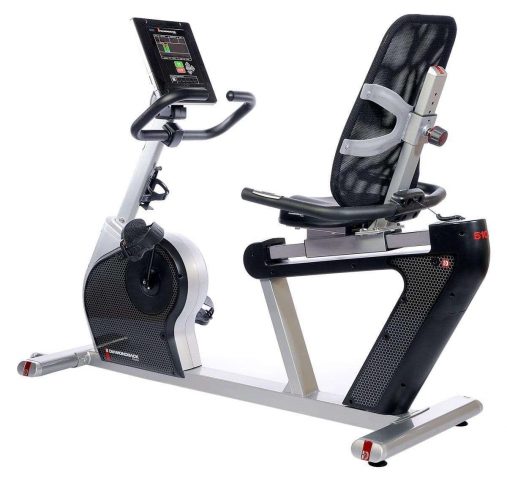 The Diamondback Fitness 510Sr recumbent exercycle has immediate visual impact. The look of the bike is extremely hi-tech, with a sleek black finish and hi-spec console that give it immediate appeal. But there's far more to this bike than good looks. The 510Sr takes all the pressure off the back and upper body while delivering an extremely effective workout for the lower body. This cycle has been impressing users and reviewers since its release by Diamondback Fitness. Let's take a closer look to see if this is the bike for you.
Diamondback 510Sr Features 
Custom Fit – Getting the right fit on a cycle is perhaps the most important aspect of a good ride. On the 510Sr you are able to make critical adjustments to both the fore and aft of the saddle position. The vertical back and lumbar settings are also completely adjustable to your personal preference. You can adjust the console to suit your desired level and angle and even the toe straps are fully adjustable.
The enhanced level of adjustability, along with the total back support, makes the Diamondback recumbent bike ideal for seniors who may be suffering from joint or knee problems and pregnant women.
Fully Interactive Console – The enhanced visibility LCD display on the 510Sr provides 20 quickset workout programs. It also provides you will real time display of all your essential training data, including speed, distance traveled, calories burned and time elapsed. The console features input for your iPod or MP3 player, and a USB charger. Other features of the console are built-in speakers and a headphone jack, a cooling fan and even a magazine holder.
16 Levels of Resistance – The Diamondback 510Sr offers you 16 levels of resistance by way of a one touch onboard resistance changer. Change between the levels is seamless and smooth thanks to the enhanced technology of the flywheel. The frictionless eddy current braking system provides a smooth, quiet, enjoyable ride.
Sculpted Chair – The chair of the 510Sr is ergonomically designed for ultimate comfort and usability. The seat is fully adjustable to allow you to set it your desired level of comfort.
Integrated Heart Rate Console Sensors – You don't need a heart rate strap on this exercise bike, The front handles feature a heart rate console that will accurately read your pulse rate from your grip.
Cooling and Hydration – The Diamondback exercycle features a water bottle holder which is mounted to the bike. Built into the console is a multi speed cooling fan, allowing you to both stay hydrated and cool as you sweat it out.
Compact – While stylish enough to complement any room in your home, the Diamondback also features a minimal footprint to allow for ease of storage. It's dimensions are 50" in height x 64" in width and 23" in diameter.
Pros
20 Workout programs
16 levels of resistance
LCD display with real time feedback of distance traveled, speed, time elapsed and calories burned
Handle bar heart rate monitor
Integrated speaker system with iPod and MP3 input
Completely adjustable to suit all heights and weights
Ergonomically designed seat provides maximum comfort
Limited lifetime warranty on frame and bike, with 3 years on the electronics
Cons 
No software option – Unlike the Schwinn 170, the Diamondback 510Sr does not come with the software to allow you to save your workout data to your mobile device or computer for future analysis. To track your progress on this bike, you'll have to resort to old school – writing it down!
Recommendation 
It's no surprise that the Diamondback Fitness 510Sr was awarded the prestigious 'Head of the Class' award by Fitness Professor Review. It features a superior design, top quality craftsmanship and a stunning look. The performance of this exercise bike lives up to its appearance, with some serious specs that make this one of the best recumbent bicycle deals you're likely to find. We love this bike and fully endorse it for any exerciser, but especially for people who need superior back support while working out.