What Is Nutrisystem Shakes?
Nutrisystem Shakes, also called TurboShakes, are part of the Nutrisystem weight loss program. These are shakes of different varieties that are packed with essential vitamins and minerals, fiber and protein.
This is the kind of shake that's ideal for meal replacement and can be of great help if you are trying to lose weight, control your appetite and maintain ideal weight.
Nutrisystem has proven to be an effective program for people who are trying to shed off unwanted fats. With this system, you no longer have to worry about what to eat and when to eat it. The diet plans will do all the work for you.
Nutrisystem has a lot of shakes available for different purposes. In this review we will be talking about the Nutrisystem TurboShakes.
These shakes will not only make you feel full for a longer period of time, but more so, it will provide you with essential nutrients that your body needs to stay energized as you go through your diet plan.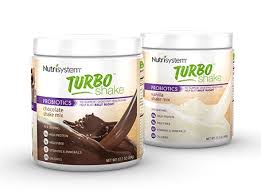 Who Makes Nutrisystem Shakes?
Nutrisystem has been an innovator and leader for over 45 years when it comes to the industry of fitness and weight loss. The company offers weight loss programs that are proven to be effective, safe and backed by scientific studies.
Their corporate headquarters is listed as follows:
Nutrisystem, Inc.
600 Office Center Drive
Fort Washington, PA 19034
There are also various ways available to get in contact with them. They have different numbers for specific departments, such as customer service, sales, weight loss counselors, program consultants and dietary counselors.
You may call their respective phone numbers or send them an email anytime. The contact info can be found directly on their website at the "Contact Us" section.
Who Should Take Nutrisystem Shakes?
Nutrisystem Shakes are for people who are always on the go. If you're too busy to grab a decent meal and yet you prefer to still have something healthy and won't add too much calories, the Nutrisystem TurboShake is what you need.
The shake is designed for the go-getter in you who would always want to stay fit while juggling work and family responsibilities. It doesn't matter if you're an office person with a 9-5 schedule or a stay-at-home parent who just likes munching on something nutritious.
Instead of going for unhealthy junk foods that will only make you feel bloated and yet still hungry, why not choose any of Nutrisystem TurboShakes instead?
How Does Nutrisystem Shakes Work?
These shakes work simply as a meal replacement. Nutrisystem Turboshakes, in particular, can greatly help in supporting digestive health. This means your belly won't get bloated yet you would still feel fuller whenever you're having it.
The fullness will also stay for a longer period of time, so as to prevent cravings that are not part of your diet plan. One of its key ingredients is the whey protein concentrate which acts as a probiotic. It also boosts immunity, builds muscle mass and even helps in lowering blood pressure.
The shakes come in two delicious flavors which are chocolate and vanilla. If you're on a Nutrisystem weight loss program, it would be more effective to also go for these shakes. You will not only maximize the benefits of this program but you'll also get more advantages that you cannot get from other meal replacement shakes out there.
Nutrisystem Shakes Ingredients
The TurboShakes are packed with the right kinds of vitamins, minerals, fiber and protein to make sure that all your nutritional requirements are met while on the journey of losing weight.
The ingredients are:
Whey protein concentrate – This is a common ingredient that you can find in almost all bodybuilding supplements, particularly for people who are looking to increase their intake of protein. It contains low amount of fat and cholesterol.
Fructose – This is a type of sweetener that has fewer calories than regular sugar. Some studies show that fructose may help in controlling blood sugar levels, which is beneficial for people with diabetes.
Calcium caseinate – This protein makes you feel full. It's also rich in L-glutamine which can greatly help when building muscles.
Vitamin C – Also known as ascorbic acid, this vitamin is helpful in protecting the body from immune system deficiencies. It also benefits the cardiovascular health.
Vitamin E – This vitamin provides a lot of health benefits. It has antioxidant properties which can help in preventing cancer. It also supports slower aging, prevents blocked blood vessels and heart diseases, and can be used for treating chest pains and high blood pressure.
Ferrous sulfate – This mineral is essential in the production of red blood cells in the body.
Biotin – Helps in keeping your eyes, hair, skin, nervous system and liver healthy. Including biotin in your daily supplements may regulate blood sugar and even help mothers have babies that are healthier.
Other ingredients of the Nutrisystem Shakes include vitamin B12, magnesium carbonate, vitamin D3, vitamin K, potassium iodide, soy, milk, folic acid, glycinate chelate, thiamin mononitrate, riboflavin, chromium nicotinate , pyridoxine hydrochloride, vitamin A palmitate, annatto extract for color, manganese sulfate, copper gluconate, zinc sulfate, d-calcium pantothenate, niacinamide, bacillus coagulans gbi-30 6086, mono and diglycerides, tocopherols, stevia leaf extract, magnesium oxide, carrageenan and xantham gum.
Nutrisystem Shakes Side Effects
There should be no side effects to expect when you are consuming this meal replacement shake. Nutrisystem Shakes are made from natural and safe ingredients so there should be nothing to worry about.
It is still recommended that you get your doctor's advice first before trying a new weight loss program or any meal replacement shakes like the Nutrisystem TurboShake.
Nutrisystem Shakes Dosage
Preparing your Nutrisystem Shakes is always quick and easy. You just have to mix 8oz of cold water with 1/2 cup of ice, and then add 2 full scoops of Nutrisystem TurboShake powder. Just shake until the powder is fully dissolved.
Nutrisystem Shakes Reviews
Nutrisystem Shakes reviews are not hard to find at all. You can easily find reviews on their official website. These are reviews from actual people who have tried the Nutrisystem TurboShake and loved it.
The users would often comment about the good taste of the shakes, both the chocolate and vanilla flavors. It is also preferred by those who are always busy and on the go. One user commented how this product is such a great way to start the day.
There was even this one lengthy review on Amazon, detailing all the positive things that she loved about the Nutrisystem TurboShake. She commended the great taste and how easy it is to prepare the shake.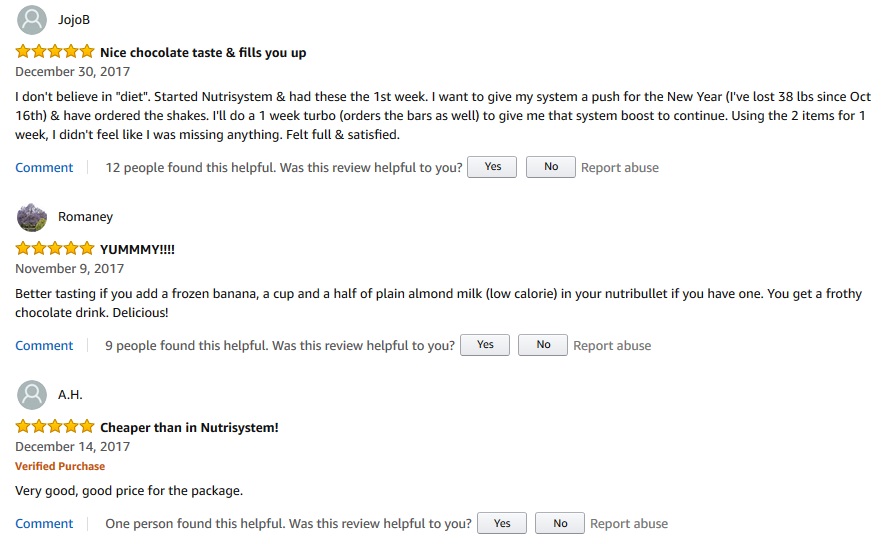 Where To Buy Nutrisystem Shakes?
The shakes can be purchased directly from Nutrisystem's official website. They have an ongoing offer wherein you will get a free shaker bottle when you spend a minimum of $120 on their products.
Amazon also offers Nutrisystem Shakes in different packs. You can choose the 7-pack, 14-pack or 28-pack products depending on your preference.
Does Nutrisystem Shakes Really Work Or Is It A Scam?
Well, need we say more? Nutrisystem Shakes is what you are looking for if you need something to make you feel full and still have enough energy to conquer a busy day ahead.
Not only will it aid in your weight loss plan, but more so, it will help you gain the essential nutrients that your body greatly needs for different activities.