Discover the famous Schwinn 270 Recumbent Bike today, by the great firm Schwinn which have established a reputation as a premium player in the exercycle market over the last decade.
They became a household name in the outdoor bike market before launching into the fitness space several years ago. Today, when people want the best they ask for a Schwinn.
Their top of the line model is the Schwinn 270 Recumbent Bike. Time to find out if the product matches the reputation.
Features
The Schwinn 270 looks cool. It features sleek curves, a substantial cockpit like seating arrangement and a high spec display pane that looks like an aircraft cockpit. But there's much more to this recumbent bike than good looks.
Maximum Comfort Seat
When you are sitting on a recumbent bike for any length of time, comfort is an important factor. The Schwinn 270 has taken seat comfort to a new level by providing a ventilated contoured back support portion of the seat. This allows the seat to breathe, reducing sweat and heat build-up. The bottom of the seat has an extra layer of thick padding to make it more enjoyable to sit and pedal.
The seat is adjustable in all directions to accommodate multiple users by way of the aluminum slider seat rail system, which features a quick and easy lever for fore and aft seat adjustment.
Multi Program – The schwinn 270 recumbent bike features a full 29 workout programs to suit ever ability level and user need. 12 are profile programs, 9 heart rate control, and 4 are custom user designed. There are also 2 fitness tests, and a recovery test.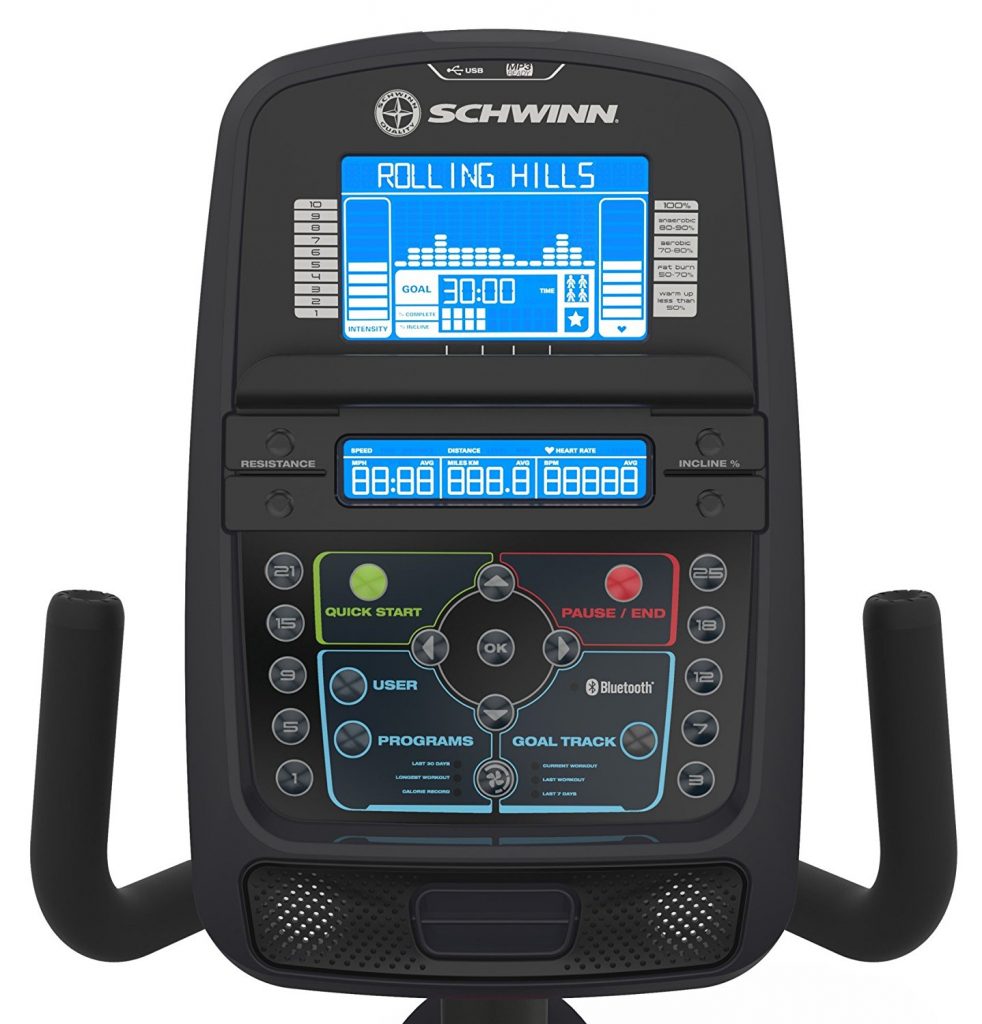 Dual Track Technology – The impressive display of this recumbent bike is able to show 13 training parameters at one time with its split screen display. On one side you get to see the raw data from your current workout. On the other you are able to chart your progress toward your training goal. As well as the normal data, you get feedback on your RPM, calories, intensity and pulse rate.
The Schwinn 270 also offers USB transferability, allowing you to analyze you training statistics later. The data can be connected together with MyFitnessPal or SchwinnConnect.
25 Level Eddy Current – You get an impressively smooth rider experience thanks to the multi level eddy current with is connected to a heavy duty high inertia perimeter weighted flywheel. The transition between resistance levels is seamless, without any of the jarring that is often experienced.
The 25 levels of resistance provide an unprecedented variable workout that will suit every fitness level. The control knob for the resistance levels is conveniently located and easy to operate.
Rugged Construction – The schwinn 270 recumbent bike is constructed of a single piece frame, two integrated levelers and a large mid-frame support. This all adds up to an impressively sold frame that is capable of handling up to 300 pounds.
Grip Heart Rate Monitor – The grip handles are ergonomically located alongside the seat and feature heart rate monitors. This is great for people with lower back issues, as it allow them to maintain an ergonomically advantageous seating position throughout their exercise session.
Pros
29 exercise programs
Visually impressive
Dual-track LCD display
Grip heart rate monitor
25 level eddy current
Ventilated back support
Cushioned seat
10 year frame / 2 year mechanical warranty
Built in fan
Cons
Several online reviewers have reported that the packaging was sub-standard resulting in damaged parts.
The Display panel is very bright at adjustable.
Schwinn 270 Reviews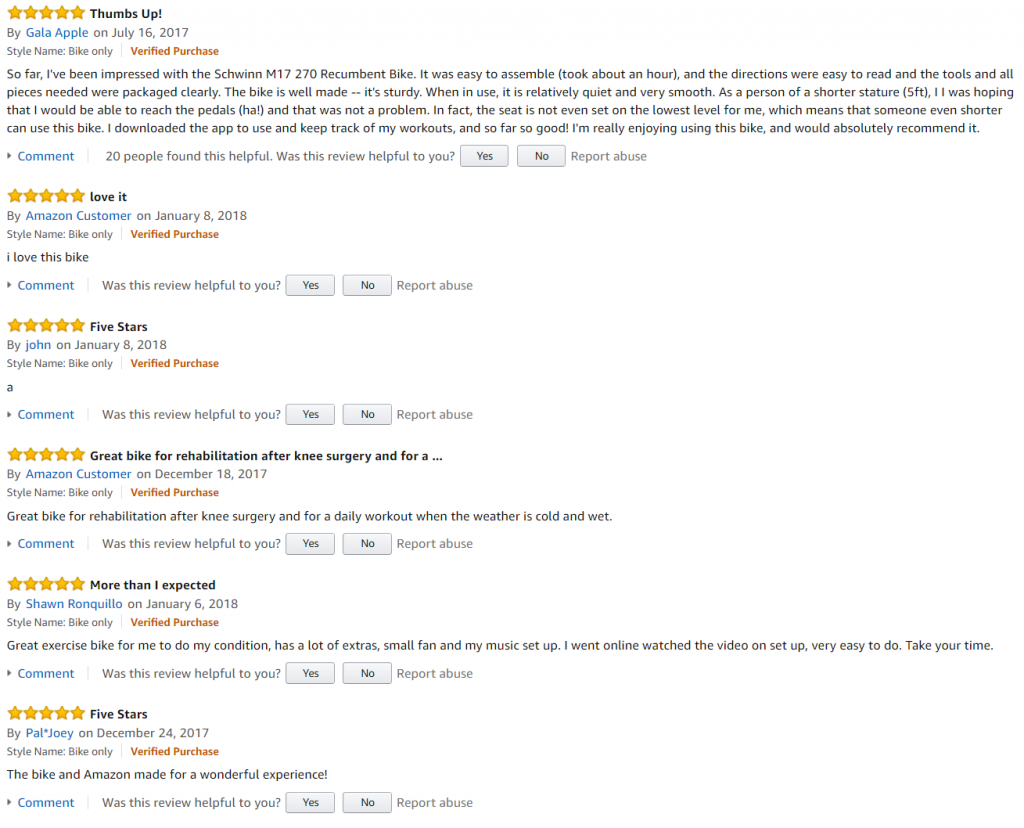 Recommendation
The Schwinn 270 Recumbent bike is an impressive looking exercycle that provides you with some high specs designed to enhance your riding experience (multi display, extra seat padding, back ventilation) as well as a massive range of programs. The basic operation is impressively smooth and quiet. People with back issues may find it difficult to stay on the bike for too long due to there being no back adjustment. Everyone else will have no problems getting the workout they need on this quality recumbent bike.