What Is Profemin?
Profemin is a natural supplement that was designed to relieve certain symptoms that women can experience when going through menopause.
From hot flashes and night sweats to mood swings and anxiety, this product claims to be a natural and side effect-free alternative to standard hormone replacement therapies.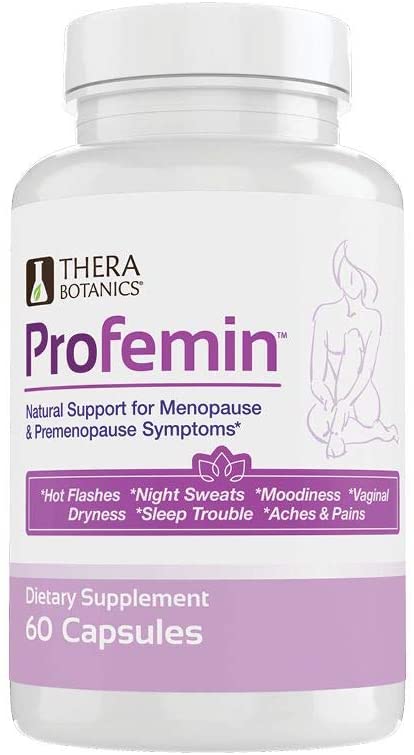 Who Makes Profemin?
Profemin, LLC
4910 Longley Lane, Suite 101
Reno, NV 89502
Headquarters located in Sherman Oaks, Ca.
Dr. Tara Allmen was the one who developed the formula for this product.
Who Is Profemin For?
This product is for anyone who is experiencing the symptoms of menopause and is looking for a natural menopause relief instead of standard hormone replacement therapies.
Profemin is marketed towards women who are experiencing symptoms such as hot flashes, night sweats, trouble sleeping, anxiety, mood swings, depression, fatigue, aches and pains, vaginal dryness, and loss of sexual desire.
How Does Profemin Work?
The symptoms of menopause occur when the hormonal levels in the body start to change.
This is why most doctors will prescribe a successful form of hormone replacement therapy.
The ingredients in this formula should even out the hormone levels so that the symptoms go away within 4-6 weeks with no side effects.
The company said the ingredients work best together as a whole for treating these symptoms, rather than individually.
Angelica Gigas is known to be traditionally used for gynecological health.
Phlomis Umbrosa is commonly used for treating inflammation and pain relief.
Cyanchum Wilfordii has been used in Asian medicine for improving circulatory function.
Profemin Ingredients
The company states that the ingredients do not treat menopause individually, but that together they create a powerful supplement to relieve these symptoms of menopause.
The ingredients in the formula are:
Angelica Gigas: This herb has been used in Korean medicine to improve gynecological health with a primary focus on menstruation and circulating blood flow. It has been used to improve conditions that impair the flow of blood during menstruation.
Phlomis Umbrosa: Traditionally used for its anti-inflammatory and pain relieving properties.
Cynanchum Wilfordii: An Asian medicinal herb traditionally used to improve circulatory function.
Other ingredients include gelatin, rice hull concentrate, silicon dioxide, magnesium stearate, titanium dioxide FD&C Blue #1 FD&C Red #40 and FD&C Yellow #6.
Profemin Side Effects
The company claims that this product comes with no side effects. While it is true that the main active ingredients do come with little to no side effects, there are inactive ingredients that do have side effects.
The main ingredient, Angelica Gigas may not have side effects but it does have some interactions.
As always, it's recommended to talk to your doctor first, especially if you're under medication.
Profemin Dosage
The recommended dosage is 1 capsule up to 2 times a day as a dietary supplement.
You can take it with or without food.
Profemin Reviews
The Profermin reviews are an average of 3 out of 5.
This is conflicting because the company states that their clinical study had a 96.6% success rate.
While the company claims there are no side effects that come with this product, many of the reviews state that they experienced headaches and more hot flashes than usual.
The majority claimed the product did not work at all.
Some reviewers expressed concern with the marketing and labeling.
It is true that the company is honest about how much of the proprietary blend you are getting per capsule.
Unfortunately, there is lack of detail about what exactly is in that proprietary blend which left some customers feeling uneasy about taking the product.
Where To Buy Profemin
You can find this product on the manufacturer's website and on Amazon.
Does Profemin Really Work Or Is It A Scam?
We believe Profemin isn't a scam. However, we believe that it is one of the best option for someone dealing with the symptoms of menopause.
The company may have chosen active ingredients that come with little to no side effects, which is a really good thing.
The amount of positive reviews plus their clinical reviews is a really good sign.
Menopause can come with serious symptoms and side effects that should be treated carefully.
If you are looking to take a more natural approach to treating such side effects, we would advise you to give a chance to Profemin.