What Is Brisdelle?
Brisdelle (generic name paroxetine) is a prescription medicine for moderate to severe hot flashes due to menopause.
It is classified as a selective serotonin reuptake inhibitor (SSRI) medication for the treatment of vasomotor symptoms (VMS). Other SSRI medications with higher concentrations of paroxetine are used for psychiatric problems.
This drug is not for depression, or obsessive-compulsive, panic, generalized anxiety, social anxiety, and post-traumatic stress disorders.
Furthermore, it does not prevent or treat osteoporosis or dryness, itching or burning in and around the vagina.
The manufacturer of this product claims that it is the only branded FDA-approved non-hormonal treatment for hot flashes.
The objective of Brisdelle is to make menopausal hot flashes less frequent and less intense.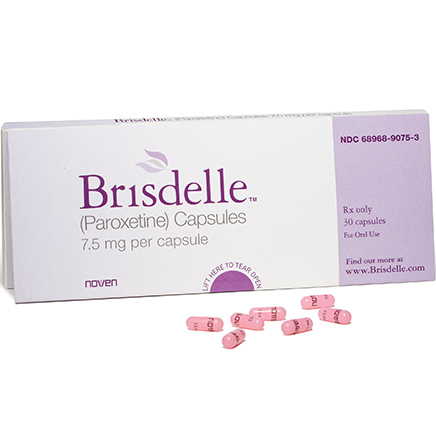 DISCOVER OUR FAVORITE ALTERNATIVE HERE
Who Makes Brisdelle?
This product is manufactured by Sebela International Ltd., and distributed by Sebela Pharmaceuticals Inc. Their address is 645 Hembree Parkway, Suite I, Roswell, Georgia 30076 USA.
For questions or concerns, you may call their hotline number 888-246-1207.
You can also email them through the web contact form on www.sebelapharma.com.
Best Brisdelle Alternative
Due to all the negative reviews about Brisdelle, we've been looking for a competitive product that was proven more effective. We checked several of them with deception, and finally came around a real effective menopause supplement. You can read its review HERE.
Who Is Brisdelle For?
Brisdelle is for adult menopausal women experiencing the discomfort of VMS, commonly known as hot flashes.
Before using this product, talk to your doctor if you are:
consuming the medicine Tamoxifen; it may not work as well if taken with Brisdelle
on warfarin, or non-steroidal anti-inflammatory drugs (NSAIDs) like ibuprofen, naproxen or aspirin; your risk of bleeding or bruising may increase
taking, or just stopped taking, a Monoamine Oxidase Inhibitor (MAOI); you may experience serious or life-threatening side effects
breastfeeding or planning to breastfeed
under prescription and non-prescription medications such as triptans for migraine, antidepressants and antipsychotics, vitamins, and herbal supplements
And do not use it if you are:
taking thioridazine or pimozide; this can cause serious heart problems or sudden death
allergic to paroxetine or other ingredients in Brisdelle
pregnant; paroxetine can harm your unborn baby
Also, talk to your doctor before using this drug if you have:
liver or kidney problems
bipolar disorder or mania
low sodium levels in your blood
glaucoma
a history of seizures, convulsions or bleeding problems
any other medical conditions
This product is not for children.
How Does Brisdelle Work?
Vasomotor Symptoms (VMS), or hot flashes, are sudden feelings of intense heat in the body. As much as 75% of women experience it during menopause.
Moderate hot flashes are sensations of heat with sweating. It will not hinder you from doing regular activities.
Severe hot flashes are more serious, disrupting your ability to continue with your routines. Both types of VMS are not only annoying but also uncomfortable.
Studies were conducted in 2023 to test and prove that Brisdelle can reduce the number and the severity of VMS during menopause.
One of these was published by The North American Menopause Society. The other was published by the Journal of the American Medical Association.
Brisdelle's mechanism of action for the treatment of VMS is unknown.
Brisdelle Ingredients
Active Ingredient:
Paroxetine – This is a medication for depression, panic attacks, obsessive-compulsive disorder (OCD), anxiety disorders, and post-traumatic stress disorder. It helps restore the balance of serotonin in the brain.
Inactive ingredients:
Dibasic calcium phosphate, sodium starch glycolate, magnesium stearate, gelatin, titanium dioxide, FD&C Yellow#6, FD&C Red#3, FD&C Red#40, shellac, and black iron oxide
Brisdelle Side Effects
The most common side effects of using Brisdelle are headache, tiredness, nausea and vomiting.
A warning from the manufacturer:
Brisdelle may affect your ability to make decisions, think clearly, or react quickly. Do not drive, operate heavy machinery, or do other potentially dangerous activities until you know how this drug affects you.
These are other possible side effects:
suicidal thoughts or actions
new or sudden changes in mood, behavior, actions, thoughts, or feelings
Serotonin Syndrome – this condition can be life-threatening and may include nervousness, hallucinations, coordination problems, racing heartbeat, among others
low sodium levels in the blood
visual problems like eye pain, changes in vision, swelling or redness in or around the eye
bone fractures
manic episodes such as greatly increased energy, severe trouble sleeping, reckless behavior
seizures or convulsions
restlessness
Brisdelle Dosage
Take one capsule daily at bedtime, with or without food.
If you miss a dose, take it as soon as you remember. If it is almost time for the next dose, skip the missed one. Do not take two doses at the same time.
Never use this drug for any condition other than hot flashes due to menopause. And don't give it to other people, even if they are undergoing the same symptoms.
Brisdelle Reviews
Our research showed that most women who took Brisdelle were relieved of their hot flashes, which helped them sleep soundly through the night. Some found their appetites decreased as well.
Others had to wait 6-8 weeks for the drug to be effective. While waiting, they put up with night sweats and sleeplessness.
However, majority of the users whose hot flashes were cured, reported experiencing side effects. And this was long after the 90-day adjustment period.
Most of them gained weight. Some felt agitated, tired, nauseated, extremely anxious, irritated, disconnected, and almost aggressive.
A few did not get rid of their hot flashes at all. One of them said all she wanted to do was sleep, and she lost interest in many things.
Another one described how the drug gave her a "hangover" every morning. It would take her until noon to fully wake up.
Where To Buy Brisdelle
This product is a prescription drug.
You would need to ask your doctor for a prescription, then present it at your pharmacy.
DISCOVER OUR FAVORITE ALTERNATIVE HERE
Does Brisdelle Really Work Or Is It A Scam?
The website of Brisdelle is impressive in terms of describing in great detail the real and potential side effects of using the product.
As with any prescription medicine, it's very important for users to have this information. And especially for a product whose potential customers are mostly over 50 years old.
That said, we're still not comfortable recommending this drug. The list of side effects is not only long but also contains serious conditions.
Also, sourcing is a bit inconvenient as you cannot purchase it over-the-counter or online. There are other menopause supplements more conveniently available.
Another issue we have with this medication is that the manufacturer doesn't provide information on how it works. As stated on their website: The way Brisdelle treats hot flashes associated with menopause is not known.
Finally, we find it difficult to ignore the disturbing effects of taking this medicine on women who have used it longer than the prescribed adjustment period.
Hence, we find it fair enough to conclude that enduring so many discomforts is not worth the benefit of getting rid of one menopausal symptom. Other supplements are able to relieve menopausal women of not just hot flashes but also irritability, sleeplessness and fatigue, to name a few.