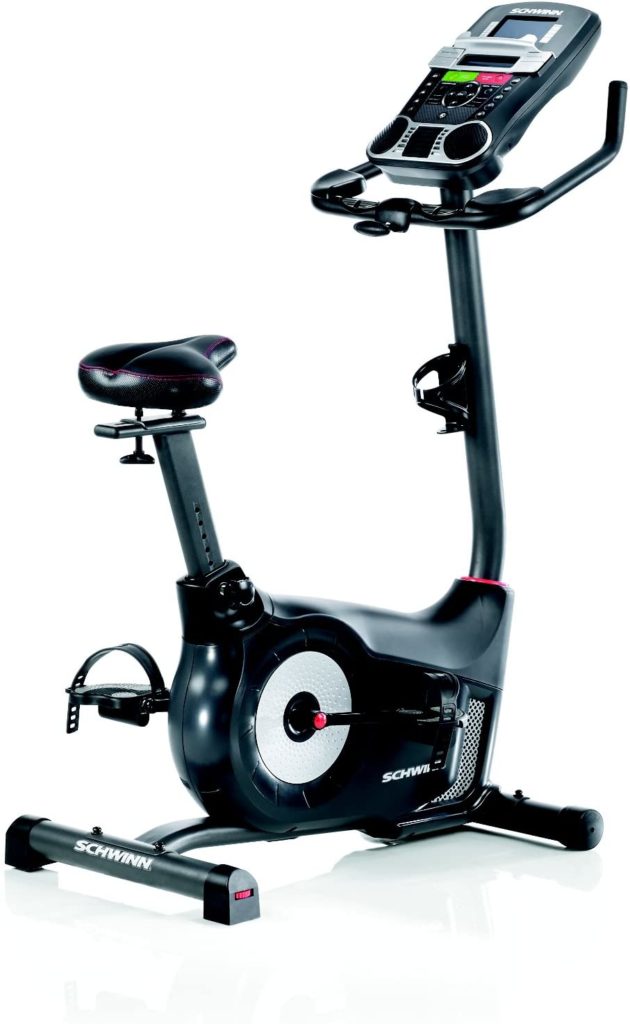 Scwhinn 170
CLICK TO REVEAL PRICE
Schwinn have been producing bikes in one capacity or another since 1895 and have a fair (Although Recent) amount of rep in the exercise bike industry.
Almost everybody knows of Schwinn by now and it's a mark of quality that most gyms are proud to display.
I've owned a few Schwinn outdoor bikes and the one I have right now is a 21 speed aluminum frame mountain bike, although it's never actually visited a mountain in its life! I'm fortunate to live next door to a huge and flat cycle path which gives me an outdoor break from the indoor routine once a week.
Personally, I've never given Schwinn enough credit as an exercise bike manufacturer, something I'm hoping to put right in this review!
Spec & Features
The Schwinn 170 is a modern upright design, with the handles and on-board computer located high up plus an all round bar so you can lean in when you want to. It's a pretty handsome beast in itself, a sea of quite pleasing satin black and silver in the upright parts that belies the quality manufacture that you'd expect from Schwinn.
First thing I noticed about the bike, was the sheer range of programs and work-outs available as standard.
There are a whopping 29 programs as standard with another 12 profile programs, more than enough for most newcomers to the exercise bike way of life, plus the usual heart rate monitoring device to keep track of your progress.
For those wanting a quick start without too much fuss, there's a program specifically tailored to help new bikers get comfortable and give them a simple plan to follow for their first few weeks.
The LCD readout displays the usual heart rate, distance, rpm and calorie count plus a useful heart rate zone monitor and goal achievement indicator, great for people who are following a specific plan and want to know exactly where they are at any one time.
This is one of the things I wouldn't be without on my bike, a BodyMax B2 and would strongly advise anyone to ensure their bike has it as standard! It's important to note, because so many manufacturers get it so wrong, the heart rate monitor is very accurate on the Schwinn 170. I tested mine using a SP02 finger meter and found it varying by extremely small amounts.
This is quite an achievement in itself as many exercise bike heart rate monitors are terrible, especially if they lack a wrist strap.
As with most exercise bikes, it comes with workouts that are adjustable so you can gauge your heart rate over time and maintain a healthy level during the course of your workout. A USB port on the side means you can edit this using a PC if you're not confident using the heads up display on the bike.
I actually like this feature because editing function without a mouse / keyboard can be a real pain!
Seats, Bars & Comfort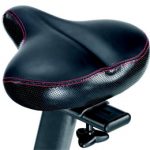 The seat is a quality item, ergonomically padded out and with a pleasing half leather shell. I found it easily as comfortable as many upmarket bike seats. As is fast becoming standard on upright bikes, there's a handle on the rear that means you can sit bolt upright during your cycle, something that will please those who need to vary their position mid workout.
Personally, I'm not the worlds greatest fan of sitting upright. I was more than happy to use the wrap around bar to hunch into a racing bike position. One of the cool things the Schwinn offers, is a small 3 speed fan that helps to keep you cool. It sounds like a complete gimmick but let me tell you something, it works!
During my week's trial I found myself using it frequently and as someone who owns a Bodymax B2 it was a real bonus. When my current bike bites the dust I'll certainly try to get one with onboard fan in future. As for the other parts, pedals are easy to use, not slippy at all and well placed whilst the on-board computer is quite easy to use.
Schwinn have their own system in place here and its as quality a piece of software as you'd expect. As a self confessed tech geek, I reveled in changing my exercise routines and programs to get the best out of every session.
Obviously, your mileage might vary here but there's certainly enough standard programs to keep most bikers happy.
Sound System
The on-board sound system works well, with a pair of pretty powerful speakers that do a good job of keeping you motivated during workouts. It's worth mentioning that the USB plug has charging capability too which I personally know is useful, I rarely remember to charge my iPod!
Conclusion
Schwinn have brought their traditional bike know how and great quality to the exercise bike industry in style. They've created a thoroughly modern upright design that most gym users will feel totally at home riding, whilst the on-board computer, LCD screen and heart rate monitor is up to par compared with anything in the ProForm, RevXtreme or Bodymax catalogue. It's not the cheapest of bikes, yet its features should place it firmly at the top of your list if you want a quality exercise bike that competes with the best.