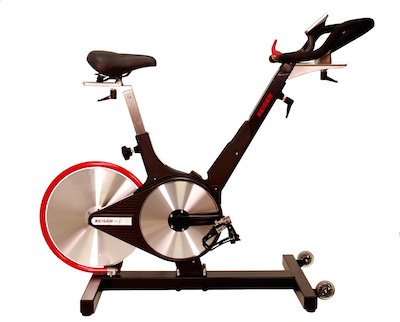 When it comes to spinning cycles, there's good and then there's Keiser. The Keiser brand have established a reputation for state of the art indoor cycling equipment over the last few years that is unmatched in the industry. To understand why they are so highly regarded, all you need do is check out their flagship bike, the Keiser M3 Plus.
Let's find out what makes this bike so special.
Features 
Sleek Look – This bike looks impressive from the very first glance. It is finished in brushed aluminium and features sleek silver lines with black trim. Not only does it look good, but it looks solid. You'll need to make sure that you keep the bike clean and well maintained to keep that pristine look because sweat can react corrosively with the aluminium finish of the bike.
Comfortable Seat – The seat is extremely wide, catering for all body shapes. It is also well padded with foam to provide that extra bit of comfort while you're training. The seat is completely adjustable, both up and down and fore and aft.
Magnetic Resistance – The Keiser M3 indoor cycle features a smooth 24 gear Eddy current magnetic resistance. This provides the most realistic motion possible to challenge you as you progress through the different workout levels. Another major plus of the eddy current resistance system is the very quiet operational noise.
24 Gears – With two dozen gears, the Keiser M3 Plus offers possibly the greatest range of training intensities of any indoor bike anywhere. The gears are controlled by a handy lever positioned on the main frame just below the handles.
Built to Last – The Keiser M3 Plus is the result of ten years of fine tuning. The result is a bike where every component is built to last. The main frame is manufactured in California using heavy duty steel and aluminium. The bike is extremely sturdy, rigid and durable. It will last for many, many years. In fact, this bike is being used in commercial gyms all over the world where it is being subjected to multiple heavy workouts every singe day.
Pros
High spec, quality finish
24 Gears
Magnetic Resistance
Sturdy
Fore and aft adjustable handlebars
Adjustable Shimano TM Combo pedals
Smooth, whisper quiet operation
Four way adjustable seat positioning
Backlit M Series Display
Fluid, silk-like operation
Cons
Limited LCD Display – Considering the price you're paying for the Keiser M3 spin bike, you'd expect a pretty advanced data display. Unfortunately, all you get is calories, expended, distance and speed. This a little disappointing. There are also no pre-set workout programs with this model.  You can purchase an optional computer which displays wattage and heart rate.
Handlebar Extension – Because the stem frame of the bike is angled, when you raise the length of the handle bars, you are actually extending the length of the entire bike. If you are a petite woman or a tall guy this will provide problems for you.
Recommendation
The Keiser M3 Plus Indoor Cycle from Keiser Fitness is a top of the range model that delivers a superior indoor cycling experience. It features high quality specs and has a stunning visual appeal. It'll cost you for this sort of quality, but if you want the best, you have got to pay for it.