What Is Organifi Green Juice?
Organifi Green Juice is a dried superfood drink mix.
The manufacturer claims that it can improve your mental clarity, boost your health and wellness, lower your stress levels, detox the organs in your body, improve your skin, and also increase your immunity.
In their own words, the company claims that their green juice powder can "supercharge your life," "restore your glowing health" and help you feel much younger just by taking 30 seconds out of your day to consume it.
The greens powder is apparently USDA organic, suitable for vegans, GMO-free, gluten-free, and soy-free.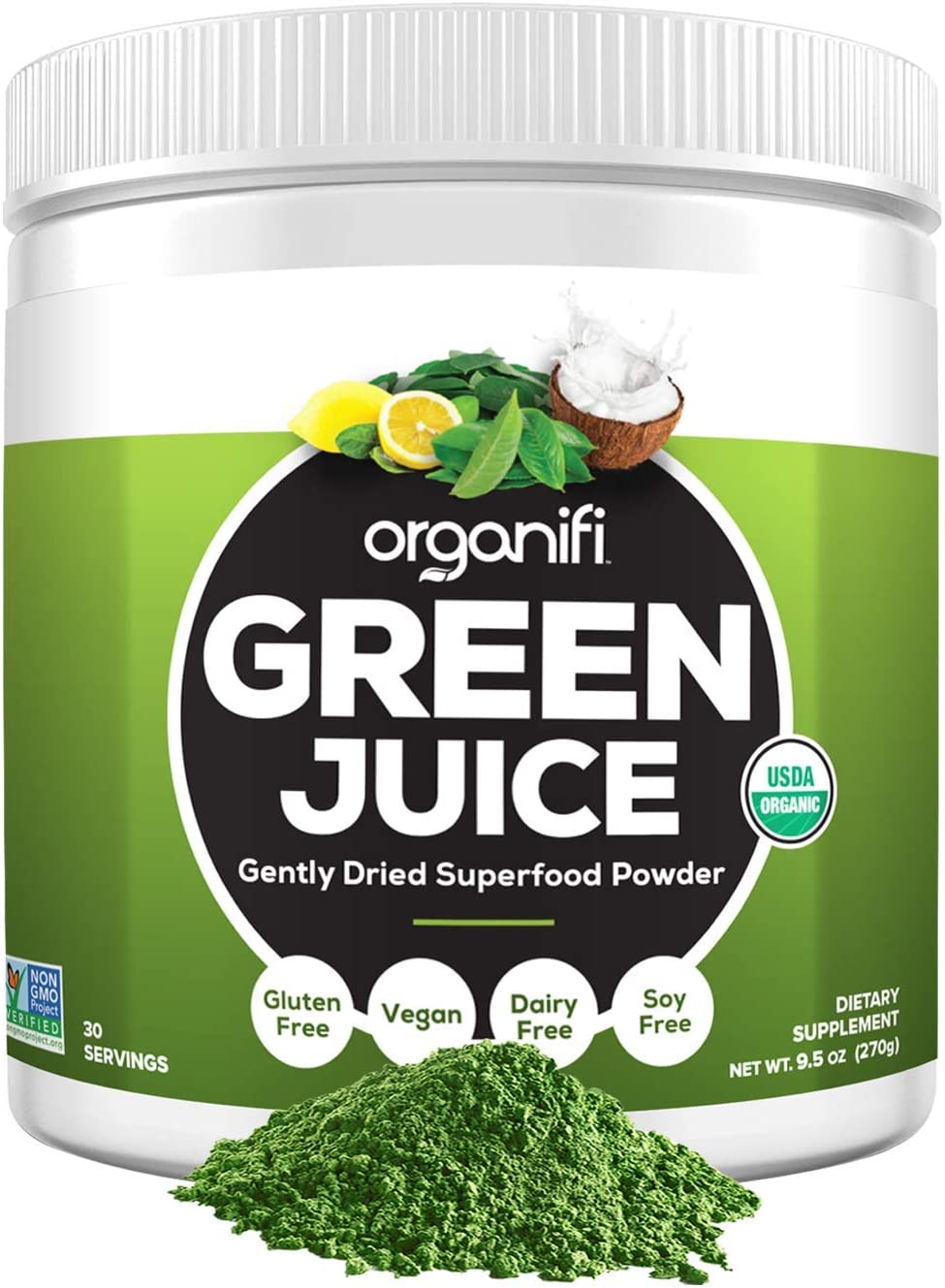 Who Makes Organifi Green Juice?
This product is made by a company called FitLifeTV. The company was founded by a man named Drew Canole.
He offers many different products and services related to fitness. If you are familiar with the Better Business Bureau, neither Organifi nor FitLifeTV is listed with them.
The manufacturer has some questionable marketing tactics. For example, the website states that Organifi Green Juice was featured on quite a few popular networks such as NBC, Dr. Oz, the LA Times and Fox, among others.
However, if you look into it like we did, you'll find that there is no third-party verification that the company made an appearance with any of the above networks.
Also, the manufacturer claims that this green juice powder was voted the "#1 best tasting greens powder on the market." However, there is no information about when the voting occurred, or even who gave out the award.
Who Is Organifi Green Juice For?
This product is intended for anyone who wants more superfoods in their life.
It is not meant to be a meal replacement. It is not intended to substitute your daily intake of fruits or vegetables either.
It is simply a nutritional supplement meant to provide your body with more nutrients.
How Does Organifi Green Juice Work?
This greens powder works by giving your body a boost of nutrition. Whether it's in the form of vitamins or minerals, your body will know what to do with the nutrients.
One thing that is lacking from this green juice powder is probiotics and enzymes. You might have noticed that many greens powders contain enzymes to help with proper metabolism.
Probiotics are also used in many green powders to help with digestion and increase the number of good bacteria in your gut. This product lacks both of these things, which makes it less effective than other green powders.
Organifi Green Juice Ingredients
There are two main blends in this greens powder. They are the Alkaline Greens Blend and the Superfood Blend. Here is more information about what ingredients are in each blend:
Alkaline Greens Blend (5,100 mg) – This contains organic wheat grass, organic wheat grass juice powder, organic chlorella, organic matcha green tea, organic moringa, and organic spirulina.
Superfood Blend (1,450 mg) – This blend includes organic coconut water powder, organic ashwagandha, organic red beet, and organic turmeric.
This is a very short ingredients list compared to other green juice powders. Here are some other ingredients that are not present in the above blends:
Organic rice bran soluble
Organic lemon powder
Organic natural flavors
Monk fruit (a sweetener)
Here is a more in-depth look at some of the ingredients in this powder.
Moringa – This ingredient comes from the Moringa tree in Africa. It can help to prevent diabetes and heart disease, but there have been no clinical studies done about it.
Mint – Helps with indigestion and cramps.
Chlorella – This is a green algae that can reduce inflammation. If you have thyroid issues be wary of consuming sea vegetables because it can negatively affect your already unstable hormones.
Beets – Beets are high in manganese. They can thin your blood and they are also high in folate.
Lemon – Lemon can reduce your appetite and stabilize your blood sugar levels. Sure, it's true that lemon can curb your hunger – but how much lemon is actually in this greens powder? We doubt you'd be getting enough lemon in each serving to feel any effects from it.
Turmeric – Very high in antioxidants and it's anti-inflammatory.
Matcha Green Tea – This contains EGCG, which is an antioxidant. This ingredient also contains caffeine, so this powder is not caffeine-free.
Coconut water powder – Coconut water contains lots of potassium, but we aren't sure how much of that would still be in the coconut water powder.
Spirulina – This ingredient is high in protein and iron. Again, if you have thyroid issues you should do some research about sea vegetables before consuming them.
Ashwagandha – This is an adaptogen that can apparently boost your mental clarity and your immune system. It can also lower your blood pressure.
Wheatgrass – This is full of chlorophyll which has a cleansing effect on the blood.
There isn't any information about the quantity of each ingredient used in this greens powder.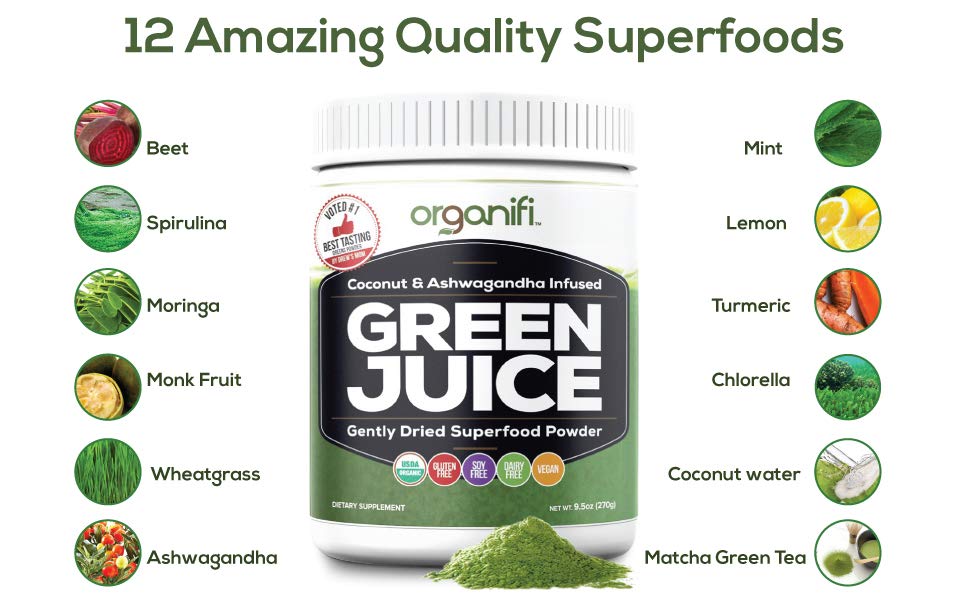 Organifi Green Juice Side Effects
Since this powder contains caffeine, you might experience some of the typical symptoms from caffeine consumption such as restlessness and irritability.
You can also experience bloating and indigestion, especially from some of the ingredients that your body might not be used to, e.g. moringa.
Organifi Green Juice Dosage
Add a tablespoon of this greens powder to water, juice, or to your smoothies. You could even add it to your breakfast such as oatmeal or cereal, but then it might completely ruin it because of the taste.
Organifi Green Juice Reviews
Many Organifi Green Juice reviews have the customers praising its positive effects on their health. The company also provides a money-back guarantee under certain conditions for customers who didn't feel happy about their purchase.
On the other hand, some users were wondering why they were not experiencing any of the promised benefits. They said they didn't notice an increase in their energy levels or any improvement in their health.
Many customers also complained about the high price of this product. They argued that there are other greens powders on the market that offer more benefits at a more reasonable price.
Outside of Amazon, it's hard to find other reliable customer reviews about this green juice powder.
Where To Buy Organifi Green Juice
You can purchase this product directly from the manufacturer's website or on other online platforms like Amazon. Here is the pricing for the green juice powder as of this writing:
You can purchase 1 bottle (a 30 day supply) for $47.95 (not including shipping and handling)
3 bottles (a 3 month supply) costs $129.95 plus shipping and handling
4 bottles (4 months) costs $149.95 plus shipping and handling
If you purchase this from the manufacturer's website and you only buy 1 bottle, you will immediately be enrolled in an auto-ship program, which many people dislike.
This means that you will get one bottle per month shipped to you, and your credit card will be charged for it each month. However, when you purchase 3 or 4 bottles at a time, it's just a one-time purchase.
DISCOVER OUR FAVORITE ALTERNATIVE HERE
Does Organifi Green Juice Really Work Or Is It A Scam?
We believe that Organifi Green Juice is not a scam and it does work for some people. Yet, we don't think it is the best option out there.
Even though some of the ingredients used in this powder are beneficial, it's not guaranteed that you will experience all the significant benefits that the manufacturer claims it would give.
This is especially true since we don't know the amount of each ingredient used. Also, as mentioned earlier, this product does not contain any probiotics or enzymes, which are both very important for overall health.
Based on our research, we believe that there are more potent and effective greens powders on the market that you would be better off investing your money in.
Latest Comments:
Sorted by: Most Recent

by Marvin Zuccaro review for Organifi Green Juice
I love green powders and Green Juice is the latest I tried. Seems to be a very popular product in Amazon so had to order. I did not finish yet my month-supply but I experience feeling energized and refreshed. Planning to stick for a few more months before trying another.

by Will Chock review for Organifi Green Juice
Well I agree that Green juice's more expensive than its competitors (thought my all-time fave Power Greens is almost same price) I would give this product 4 stars for the ff reasons: 1. not too heavy texture, 2. palatable taste 3.nutritional benefits 4. prompt customer service..

by Chanelle C. review for Organifi Green Juice
Yes! Green Juice is too costly. Glad I'm not the only one who finds it overpriced!

by Fitness Enthusiast review for Organifi Green Juice
I honestly wanted to like this green juice. really… guess i'm one of the many who was carried away by the hype.
I ordered a canister good for 30 days for a little over 60 dollars… that's not so reasonable IMO. as for the taste… it has that distinct mint taste that makes me feel like gagging in the morning! it even got worse when I tried using it as smoothie with milk or berries. sorry but truly disappointed…!