Desk bikes and pedal exercisers have been developed to solve the problem of being too busy to exercise. They allow you to work out while you work, by providing pedallers than can actually be placed under your desk so than you can burn calories while doing your office work.
Another type of desk bike look more like a full bike set up, and have a desk attached to them to allow you to work while you ride. This mash up between a desk and an exercycle is best suited for people who work from home.
Our range of deskcycle reviews features the following bikes:
Deskcycle Desk Exerciser
The DeskCycle desk exerciser is a handy way to burn extra calories while at work. It provides a stable, compact way to convert your desk or lounge chair into an exercise station.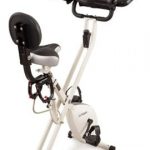 Fitdesk FDX2
The Fitdesk FDX 2 is an excellent option for getting in an extra hour or so of exercise in when you're overloaded with work. It features an extra comfortable seat and back support and is surprisingly solid for a lightweight foldable.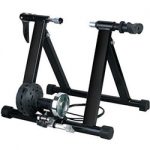 Magnetic Steel Indoor Bike Trainer
The Magnet Steel Indoor Exerciser Trainer comes with five internal resistance settings and offers a quiet smooth operation at a great price.