Folding exercise bikes are a popular option for the many people who want to exercise at home but are challenged with confined living spaces. Foldable bikes are lighter and generally have fewer features that their fixed counterparts. Most of them fold up like an ironing board to be kept under your bed or in a cupboard when you're not using it.
There are three basic types of folding exercise bike:
Each version of the folding bike is a pared down version of the non-folding model. They usually feature wheels and some even have handles for ease of transport. Folding bikes are not nearly as strong and reliable as the fixed type of bike. Their lightness makes them prone to moving around, especially when you are engaging in a high intensity training session. Many folding bikes also have frames that consist of a number of separate parts. In contrast, fixed bikes often are made of just a single piece of metal. This makes them much stronger, as they have fewer joints, bolts and other parts that could break down.
Our range of Folding bike reviews features the following bikes: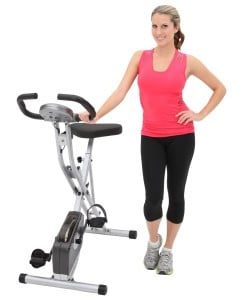 Exerpeutic Folding Upright Bike
The Exerpeutic is a sturdy addition to the lightweight, foldable exercylce market.
It offers a stable and reliable ride with 8 levels of magnetic resistance.
Sunny Folding Recumbent Bike
The Sunny Folding Recumbent Bike is a lightweight, foldable bike that provides a good deal of back support with an ergonomic design that provides comfort and functionality.