Have you been taking or considering using energy-boosting products? Perhaps you need something to give you a little push to make your morning exercise routine easier, or you need some extra help to juggle multiple roles at home and at work.
Energy boosters are popular and widely available on the market, so you can surely find one that can help meet your needs. Just carefully weigh all your options before picking one that suits your preferences. An energy booster is beneficial as it allows you to easily tackle the tasks that you have laid out for the day.
How Do The Best Energy Boosters Work?
The best energy boosters have different working processes, depending on the ingredients used for each formula.
Let's take a look at some ingredients of today's popular and effective energy-boosting products and how they work:
1. Caffeine
Caffeine enhances or speeds up the rate of metabolism while making you feel more energized. It works by stimulating the central nervous system and has both positive and negative health effects.
2. Korean Ginseng
Ginseng acts as an adaptogen. This basically means that it helps your body adapt to stressful situations as well as helps improve energy levels and mood.
3. Green Tea
Green tea is rich in antioxidants which is why it has several health benefits. Its main ingredient is caffeine, which serves as a stimulant that can improve memory, mood, reaction time, brain function, and vigilance.
4. Guarana
The guarana plant has anti-cancer, anti-bacterial and stimulant properties. It can aid in weight loss and it has been used since the early times because of its therapeutic benefits.
Why Use The Best Energy Boosters?
There are days when you just feel down and not so alive, for whatever reason. Luckily, you don't need to endure such bad times. The market offers numerous energy boosters that you can use to reduce or eliminate those negative feelings and tiredness.
Why take the best energy boosters? Here are just some of the reasons:
You'll be able to control or reduce stress. Everybody gets stressed every once in a while. But when it's already taking its toll on your health, it's time to get ahead and be your own boss. With energy-boosting products, you can alleviate or at least manage stress. Do you know that stress and overthinking can consume too much energy? That's why at the end of the day, you feel exhausted even when you didn't do anything at all.
You can get more things done. Less energy equates to fewer achievements for the day. When you have a lot of things to accomplish yet you know you don't have enough energy for it, a quick pick-me-up can definitely save the day.
Your mind and brain will work better. There are energy-boosting products that can improve brain function. You can use that to your advantage to successfully complete all your day-to-day tasks with accuracy.
How To Choose The Best Energy Boosters?
Because there is such a high demand for supplements and products that can boost energy levels, picking the right one is no stroll in the park. You can get overwhelmed by many options. Plus, it can be tricky when you are not fairly familiar with all the choices and how they actually work.
While there are plenty of energy-boosting products available on the market today, we've narrowed down the list of the best energy boosters that you can choose from. Check out our best reviewed energy boosters below.
1. Red SupremeFood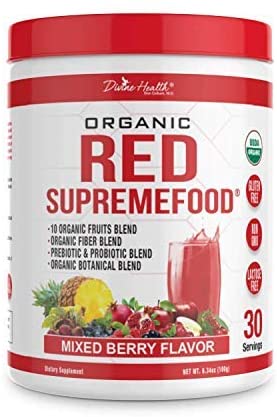 This product is derived from red fruits and vegetables, hence its name Red SupremeFood. It helps in ensuring that your health and wellness remain at its optimum state, thanks to its rich content of essential blends, antioxidants, and coenzymes.
The supplement comes from a company by Dr. Don Colbert. They produce a wide range of supplements and health products that are dedicated to bettering health, boosting energy levels and treating certain medical issues.
Another good thing about Red SupremeFood is that it can be taken by anyone. If you live an organic lifestyle or you're a strict vegetarian, this product is surely something that won't harm your way of living.
They have incorporated nine organic fruits that are all approved by the USDA. The list includes apples, acerola cherries, beets, raspberries, cranberries, blueberries, acai, cherries, pineapples, and pomegranate.
Aside from boosting energy, it also rejuvenates the body and improves vitality so that your well-being is always at its peak. The formula contains a blend of pre-probiotic ingredients such as L. rhamnosus, organic inulin, L. casei, L. acidophilus, and B. longum.
Because the ingredients are mainly organic and natural, you don't have to worry about any serious side effects. But of course, you still need to seek a medical opinion if you are pregnant, breastfeeding or with any existing medical condition.
Pros:
can mix easily with your choice of beverage like juice or water
several positive reviews and feedback
available online through its official website and from other online merchants like Amazon
soy-free
gluten-free
organic
dairy-free
GMO-free
Cons:
no measuring scoop is provided
there may be an aftertaste but you can resolve this by mixing it with any beverage with flavor
2. Webber Naturals Maca With Ginseng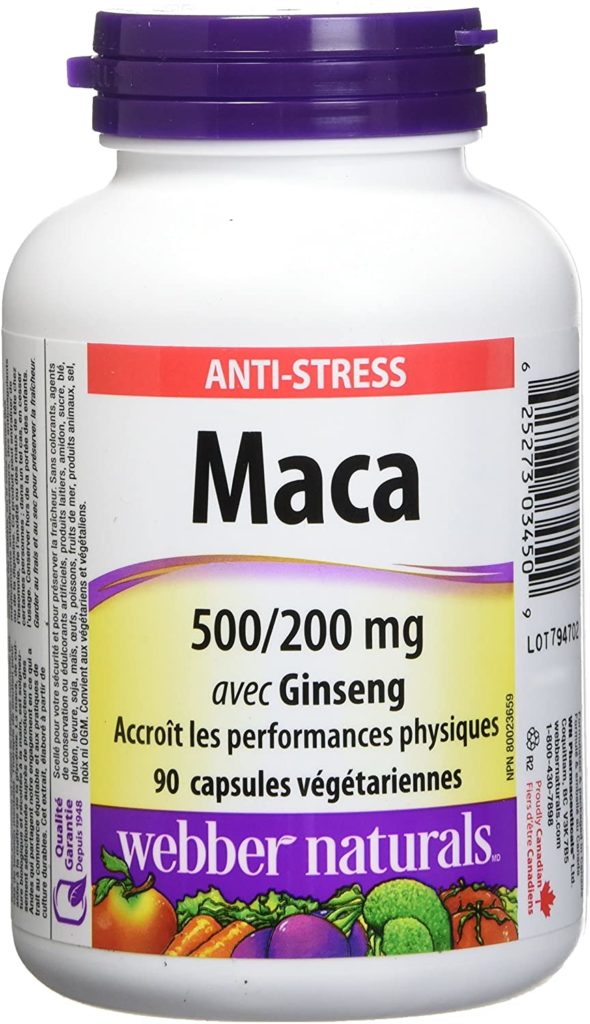 Webber Naturals has been around for more than 50 years and most of their products are dietary supplements for different medical concerns. They are from Canada and they have provided their contact details on their official website.
Webber Naturals Maca With Ginseng is ideally for people with hectic schedules and active lifestyles. Its main ingredients are maca and ginseng which are both known to be adaptogens. An adaptogen can help you eliminate or control the physiological effects that are brought about by stress.
This supplement claims to boost energy levels, enhance vitality, and improve your libido. The manufacturer utilizes gelatinized maca that's said to be more efficient and can be easily absorbed by the body.
Maca powder is a good source of vitamins, minerals, antioxidants, amino acids, and enzymes. This is why there are studies saying that it can benefit the prostate, mood, hormone balance and the skin. It may also be helpful in preventing various diseases.
Ginseng, on the other hand, contains ginsenosides which can stimulate physical and mental activity. If you are always tired and feeling weak, ginseng can be a good herb to try. It also has anti-inflammatory effects and may lower the levels of blood sugar in the body.
Women who are already starting to experience menopausal symptoms can also benefit from this product. It is good for stabilizing glucose levels while improving physical and mental performances.
Pros:
good for balancing the mood
may also target sexual health improvement
available online
Cons:
possible side effects include insomnia, headaches, and anxiety
not for people who are taking medications for heart failure, depression, and blood thinning
limited user reviews online
3. Applied Nutriceuticals Caffeine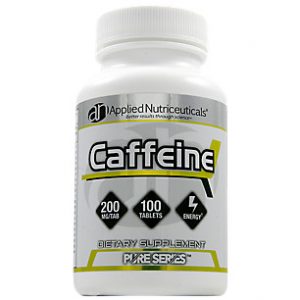 Applied Nutriceuticals Caffeine features caffeine as its key ingredient. It promises to help you stay focused while making sure that your energy levels are high enough to keep you going all day long.
The chemical caffeine is usually found in sources like yerba mate leaf, coffee beans, cacao beans, tea buds and leaves, guarana seeds and cola nuts. Its main working process starts as it stimulates the central nervous system so that you stay alert and don't feel sleepy.
Caffeine is mainly known for its ability to keep you mentally alert, and FDA has also approved it as an ingredient in products for pain like acetaminophen and aspirin. This means caffeine may help with the alleviation of migraine and headaches.
This product is only for individuals who are at least 18 years old. It can also be helpful for athletes who need to improve their endurance and physical strength. The manufacturer claims that their product can provide the following benefits:
may prevent Type 2 diabetes
may prevent you from developing or getting gallstones
can help with asthma and airway function
can delay exhaustion
While caffeine can give several health benefits, people are also warned from taking too much of it as it may cause potential side effects like rapid heart rate, irritability, nervousness, and sleeplessness. When taken in large doses it may lead to agitation, irregular heartbeat, headache, chest pain, and many others.
Pros:
may work great for bodybuilders and athletes
available online through their official website
also available for retail at select stores nationwide
Cons:
few reviews online
several side effects are possible and some can be a bit serious
not for people with certain medical conditions
not for pregnant women
4. Superbeets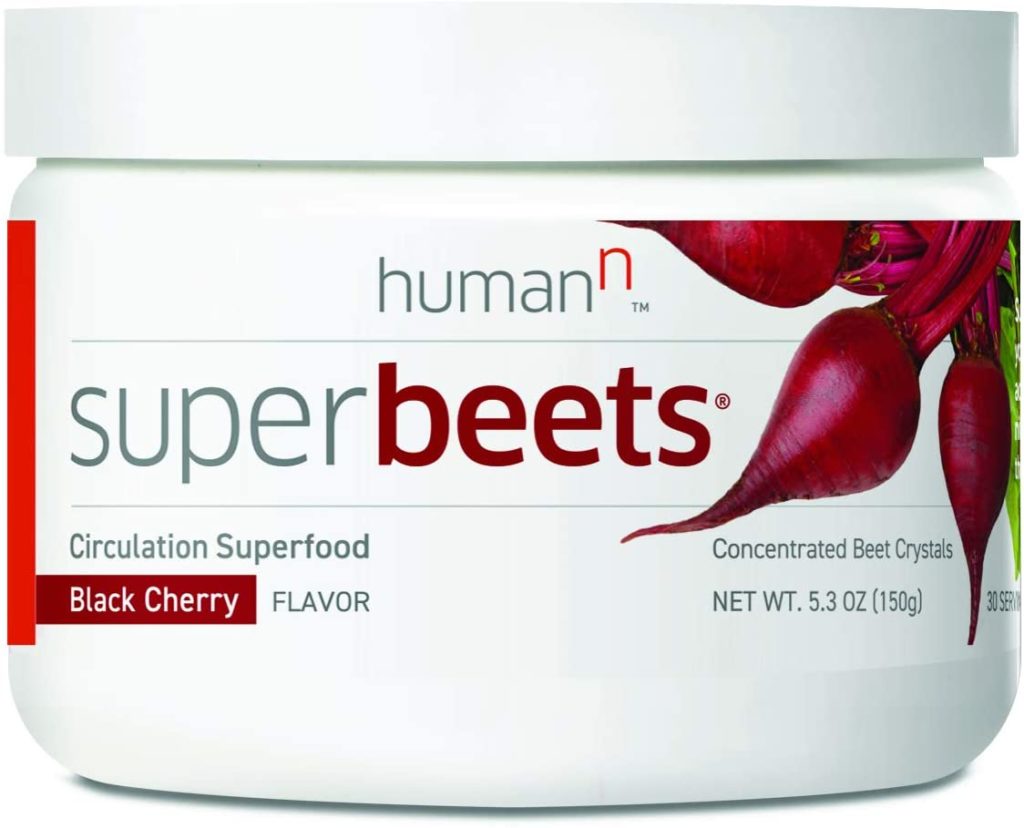 Superbeets is among today's best energy boosters because it doesn't only aim to improve levels of energy but it also targets better circulation. It is rich in nutritional nitrates that can help in increasing the levels of nitric oxide in the body.
The name of the company that manufactures Superbeets is HumanN. It is spelled with an extra N in the end because it stands for Nitric Oxide. They offer other products that they claim to be dietary supplements that can boost overall health and wellness.
If you are an athlete, a weightlifter or a regular gym-goer who would like to improve energy levels and stamina, Superbeets can be a good option for you. However, this is not advisable for pregnant women. It would be best to visit your OB first before taking this dietary supplement.
A serving of this product can provide you with 15 grams of calories. There is also sodium, potassium, carbohydrates, sugars, protein, vitamin C, and magnesium. This is based on a diet that's comprised of 2,000 calories per day.
Taking this supplement on a daily basis can give you potential health benefits such as improving heart health and promoting healthy blood pressure. As you can see, it's not only formulated to increase the levels of energy and stamina as it is also helpful in different aspects.
As for the side effects, Superbeets may turn the color of your urine or stool into red or orange. However, this should not raise any medical concern because this change is harmless and only natural given the color of the beets.
Pros:
can cure or prevent certain diseases, even cancer
enhances exercise performance
improves energy levels and stamina
the beet powder used contains no GMO
easy to use
with 90-day money-back guarantee
made in the USA
several positive reviews from users
Cons:
not ideal for long-term use
the facility where they make it may contain milk, wheat, eggs, and soy
price is a bit higher if you are to compare it to other supplements that feature beets as the main ingredient
the taste is not very much appealing
5. Twinlab Energy Fuel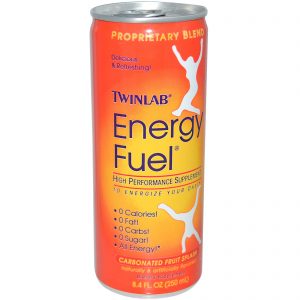 This carbonated drink completes the list of today's best energy boosters on the market from our perspective. Twinlab Energy Fuel features a herbal formula without carbs, sugar, fat, and calories. It's specially designed for people who are always on the go.
To give you a little background about the Twinlab company, it was founded in 1968 bay David Blechman. He is an expert in the field of pharmaceuticals and this company manufactures different products that include teas, minerals, vitamins, and herbs.
The company has several office locations. If you need to personally reach them, you may find the addresses on their website. They also posted a toll-free number that you can call during business hours.
According to its packaging, Energy Fuel is made of all energy without fat, carbs, calories, and sugar. The formula features a proprietary blend of ingredients such as guarana seed extract, caffeine, taurine, American ginseng root extract, green tea leaf extract, ginkgo biloba leaf extract, and Siberian ginseng extract.
These ingredients are all known to help boost energy levels, along with other health benefits. Guarana, for example, may help with weight loss. Taurine can be effective for the treatment of high blood pressure, liver disease, cystic fibrosis, and congestive heart failure.
Although the health benefits seem promising enough, you still need to consider the possibility of side effects. There are reports that this energy drink may cause shakiness, anxiety, nausea, and nervousness.
Caffeine can also be addicting and withdrawal from it can be quite a challenge. It's best to speak with a healthcare professional first to better understand each component and to know if you are safe to use and take such dietary supplements.
Pros:
ready to drink and consume
with lots of reviews online
widely available online and offline
good for users who are on a diet
Cons:
potential side effects may occur
no exact working process is provided by the manufacturer
caffeine and other ingredients may be of high amounts (since the formula is proprietary)
Conclusion
Picking the best energy boosters still depends on your specific needs and preferences. This is only a list that we have provided, hoping that it can take some of the burdens off your hands. We know how daunting it can be to go through several products on the market without the slightest idea as to how they work or if they really work at all.
To get a better feel for these products, you might want to consider checking online reviews first. Feedback from real users can greatly help in determining if a brand is really true to its claims and promises. It's best to go for verified reviews and not those that appear shady and too promotional for a particular product.
And while energy-boosting products can actually help, it does not mean that you can consume them as much and as often as you want to. Make sure that you follow indications and dosage instructions accordingly. You also need to consider other deciding factors such as your medical condition, if you have any.
We'd recommend consulting with a medical expert first particularly if you are pregnant or lactating. Dietary supplements in general may pose risks even with their natural ingredients, so it pays to take the necessary precautions.
There are many different energy boosters on the market and they come in a variety of brands and forms. You may choose a ready-to-drink product if that's what you prefer. There are also the powder types that you can mix with any liquid. It's really up to you.
We hope that our list of today's best energy boosters has helped give you an idea. There are many other products that may also prove helpful, so we suggest that you conduct further research as well.
You may consider your target product's list of ingredients, the name of its manufacturer, and the other health benefits it can provide. Most importantly, find out if its ability to boost energy levels is truly remarkable based on its ingredients and user reviews.