Diabetes is a serious illness with no cure, but the medical community is not deterred. Hence, countless diabetes products have been made to relieve the symptoms of this debilitating condition.
Before we get into that, let's have a closer look at this disease that affects millions of people worldwide.
Briefly, diabetes is a condition wherein your body is unable to produce glucose at just the right levels – not too low or too high.
Glucose is any food you eat turned into sugar. All the cells in your body require glucose to function properly. Your liver acts as its storage.
The pancreas, an organ behind your stomach, releases the hormone insulin to help your body store and use glucose.
When glucose level rises, your pancreas produces more insulin. When glucose drops, your liver releases replenishment.
Trouble begins when glucose level outnumbers insulin count. Without a tool to use and store it, glucose runs freely in your blood, resulting in high blood sugar. This can lead to one of three types of diabetes.
Type 1 happens when your immune system destroys the insulin-producing cells of your pancreas.
The more common form, Type 2, occurs when your insulin is not enough or your body is resistant to it. Complications from this include blindness, amputations and kidney failure.
Gestational diabetes, the rarest form, is exclusive to pregnant women. It is temporary, but the 4% of women who have it increase their risk of developing Type 2 in old age.
There is good news, though. It's now possible to arrest diabetes before it gets full blown.
When your doctor detects that your blood sugar is higher than normal, but not high enough to be Type 2, what you have is pre-diabetes.
How Do Diabetes Products Work?
Diabetes products fall under two categories: for diabetics and for pre-diabetics. They also come in different forms: injections, inhalers, pharmaceutical drugs, and supplements.
While diabetes can't be cured, it can be managed by using any of those diabetes products. Here's how they work:
Keeping blood sugar on normal levels.
Maintaining blood cholesterol within normal ranges.
Controlling blood pressure under 130/80.
Slowing or preventing the development of complications.
Improving the way your body uses insulin.
Decreasing sugar production in your liver.
Increasing insulin production in your pancreas.
Diabetes supplements contain vitamins and minerals that can help with the discomforts of a diabetic person. For example, the combination of chromium and biotin may improve glucose metabolism.
Vitamins B6 and B12 can ease diabetic nerve pain. Vitamin C helps control blood sugar levels.
Why Take Diabetes Products?
Because diabetes has no cure, once you have it, you have it for life. But it doesn't have to be one of less quality.
And if your doctor detects a pre-diabetes condition, you might even prevent it from progressing to diabetes.
Whatever diabetes stage you are in, it is important that you address it. This disease can lead to other serious health conditions affecting your heart, kidneys, brain, nerves and eyesight.
Diabetes medications may help prevent these complications. And if you are still on the pre-diabetes stage, diabetes supplements could help prevent the disease itself.
How To Choose The Best Diabetes Products
Keep in mind that diabetes is a serious condition. Therefore, to manage this disease, you have to work closely with your doctor.
Even if you make lifestyle changes, you can't avoid taking medications. Your doctor is in the best position to determine the right drugs for you.
In addition, it is wise to take diabetes supplements to improve your body's health and ability to prevent complications. Again, ask your doctor to help you choose the best one for you.
While there are plenty of diabetes products available on the market today, we've narrowed down the list of the best diabetes supplements that you can choose from. Check out our best reviewed diabetes supplements below.
1. Glucocil
Our choice for the best diabetes supplement is Glucocil, a product of Neuliven Health. The company is based in San Diego, California and manufactures various health and wellness products.
The best thing about Glucocil is that it works well with both diabetics and pre-diabetics 18 years old and older.
Also, if you are predisposed to getting diabetes due to heredity or overweight, this supplement can help keep your blood sugar on good levels.
It targets the liver to make this organ function optimally in glucose production. As a result, your blood sugar level will stay normal and stable. Also, glucose buildup in your bloodstream will be prevented.
This feature is especially beneficial for the elderly since our liver slows down in producing glucose as we age.
In addition to supporting liver health, Glucocil enhances your circulation, blood vessels and heart health.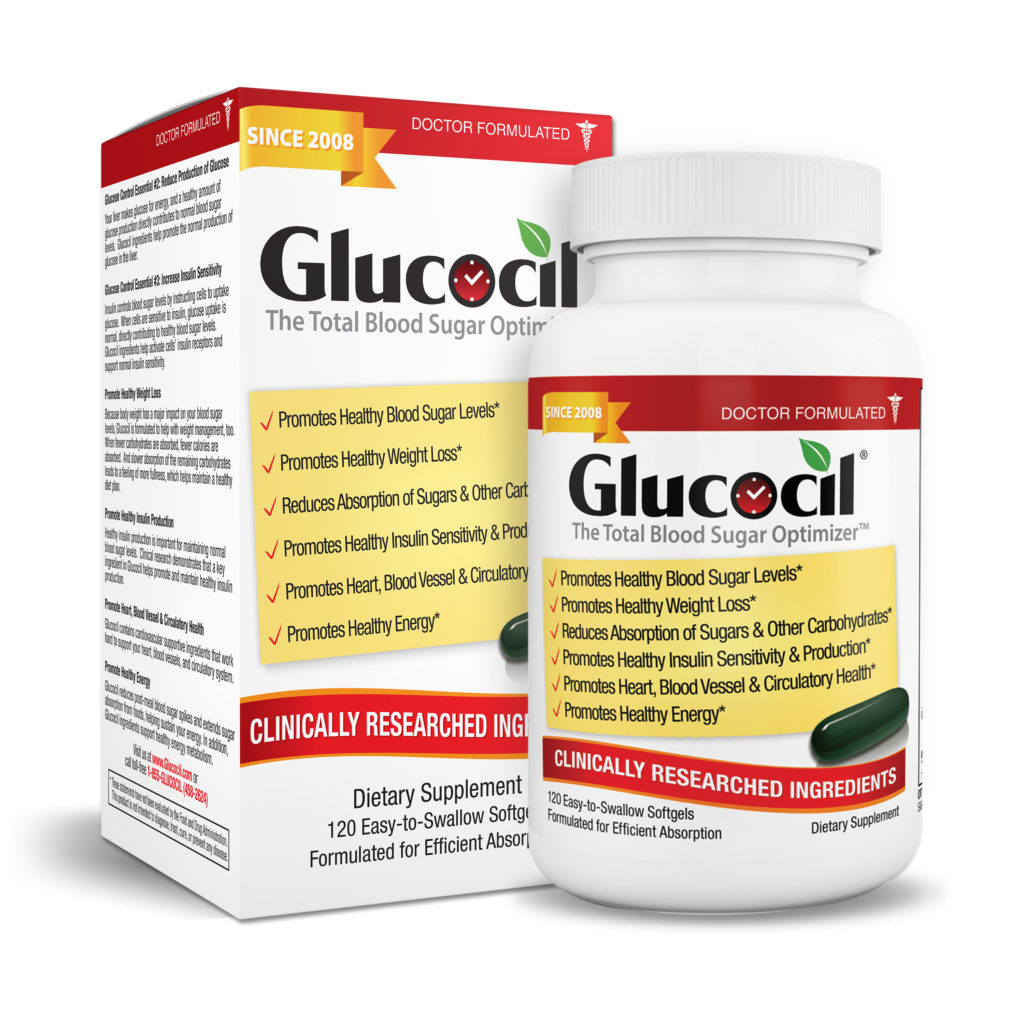 Pros
no prescription required
all natural ingredients
no artificial flavors or preservatives
clinical research conducted
easy to swallow soft gel capsules
thousands of positive reviews from loyal customers
Cons
available only online and not in physical stores
Based on the above facts, and on the overwhelmingly positive reviews we have gathered, we believe Glucocil deserves our top vote.
So, how will you know if this diabetes product works? You will experience loose stool, gas, constipation and bloating a few days after taking it.
This is because the supplement lessens your body's absorption of the carbohydrates in the food you eat. The extra carbs are then expelled through your bowels.
Not to worry. Your body will get used to it in a few weeks. However, if you have other reactions such as acid reflux or heartburn, try taking the supplement after a meal.
Also, if you are a vegetarian or vegan, you should know that this diabetes product contains fish. And if you have a sensitivity to soy, consult your doctor before using it.
2. VitalNET Labs Optilevel Blood Sugar Support
VitalNET Labs Optilevel Blood Sugar Support is our second best diabetes supplement. This product is from Enduro Medical Enterprises located in Lake Havasu City, Arizona. The company manufactures dietary and nutritional supplements.
Optilevel is for both diabetics and pre-diabetics. Not only does it promote healthy blood sugar levels, it also supports those already in the normal range.
In addition, it provides nutrients to help you maintain a healthy heart, immune system, and bone and collagen tissue.
Most importantly, this diabetes product aids in the metabolism of carbohydrates, proteins and fats. All these features contribute to your proper management or prevention of diabetes.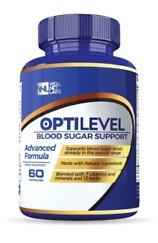 Pros
contains only natural ingredients
provides coaching and training by a registered nurse
manufactured in an FDA approved facility
inspected by accredited third party NSF for quality and purity
Amazon's Choice for blood sugar support supplement
30-day money back guarantee
Cons
cannot be taken with other supplements containing high levels of elemental chromium
production facility may process milk, soy, wheat, egg, peanuts, tree nuts, fish, crustaceans and shellfish
While there are not many reviews on Optilevel because it is a relatively new diabetes supplement, most of them are positive.
Men and women who have tried it saw results such as weight loss, better sleep, less cravings, higher energy and more normal blood sugar levels.
However, be aware that this product contains banaba leaf extract, which is not commonly found in diabetes supplements.
There haven't been enough clinical studies on the side effects of this herb. So, you might want to avoid it if you are pregnant since unexpected reactions might be passed on to your fetus.
Another warning: This diabetes product may not contain ingredients that may cause allergic reactions, but it is produced out of a facility that processes such substances.
Therefore, you might want to consider this factor if you are vegan, vegetarian, or have sensitivities.
3. Nature Made Daily Diabetes Health Pack
Third on our list of best diabetes products is Nature Made Daily Diabetes Health Pack, a product of Nature Made. They are a vitamin and supplement company based in Mission Hills, California.
As far as diabetes supplements go, this one is unique because it comes in packets. Each pack consists of six different pills targeting specific problem areas of both diabetics and pre-diabetics.
For example, while all of us are exposed to damage from free radicals, those with diabetes experience it differently.
Nature Made Daily Diabetes Health Pack combines vitamins C and E, selenium and alpha lipoic acid (ALA). Together, these antioxidants protect diabetics against free radical damage better than they would have individually.
You may be daunted by the dosage of six pills daily. But you have the options of taking them all at once or spread out through the day.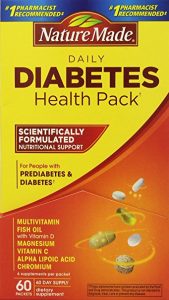 Pros
recommended by pharmacists
each pack contains six different supplements
no artificial colors, synthetic dyes or preservatives
gluten free
available online and in retail stores
Cons
needs to be taken with a meal
taste of the pills is not so good
may cause nausea or constipation
Nature Made Diabetes Health Pack boasts of a really long list of natural ingredients. Hence, its benefits for diabetics and pre-diabetics are many as well.
One of these is chromium, which helps maintain healthy blood glucose levels. Another one is lutein, which supports eye health.
However, not everyone who tried this diabetes product felt happy with the results. Some of them experienced kidney problems, nausea and stomach ache.
Also, taking this supplement with certain prescription drugs can lead to undesirable effects such as reduced effectiveness of either the drug or the supplement.
And it's important to note as well that it contains fish oil. So it may not be for you if you are vegan, vegetarian or allergic to fish.
4. BioNox Sugar Balance Botanical Blend
BioNox Sugar Balance Botanical Blend is number four on our list of best diabetes products. This diabetes supplement is from Nox Nutrients located at Simpsonville, South Carolina.
It is made especially for people who already have diabetes. The natural ingredients it contains promise to reduce fatigue, boost metabolism, and support the immune system.
In addition, its formulation promotes normal blood sugar levels. The manufacturer claims that this diabetes product has been researched and studied by a medical advisory board.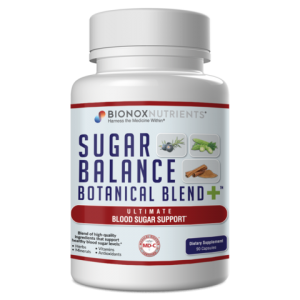 Pros
all natural ingredients
non-GMO, gluten-free, no preservatives
manageable dosage of two capsules 2-3 times daily
FDA approved
90-day money-back guarantee
Cons
herb ingredients are contained in a Proprietary Blend
no information about the company
available only online
not many reviews
BioNox Sugar Balance Botanical Blend comes with a Medical Doctor Certification. This means that it has been reviewed for safety, effectiveness, proper dosage and pharmacokinetics.
The herbs, vitamins, minerals and antioxidants in this diabetes product have been shown to maintain healthy blood sugar levels.
And while not many diabetics published reviews about this product, most of them were good.
They are the ones who have been on diabetes medications for quite a while. Due to the financial cost and side effects they experienced from these drugs, they added this supplement to their regimen.
Many of these diabetics observed improvements like normal blood sugar levels, increased energy, weight loss, and a general feeling of well-being.
However, some users said that they didn't see any difference in their blood sugar levels. Others experienced swollen feet, ankle and foot cramps, and dizziness.
In rare circumstances, this botanical blend may result in insulin autoimmune syndrome and low blood sugar.
All things considered, we still think BioNox Sugar Balance Botanical Blend is one of the best diabetes products on the market today.
The main reason we placed it on number four is because it earned more negative feedback than our top three. Plus, we are not really a big fan of Proprietary Blends since they don't indicate the individual amounts of each ingredient.
5. Vital Nutrients Blood Sugar Support
And finally, on number five of our list of best diabetes products is Vital Nutrients Blood Sugar Support. Vital Nutrients is a supplement manufacturer located in Middletown, Connecticut.
This diabetes supplement targets your pancreas, the organ responsible for producing insulin, essential hormones, and enzymes that break down food.
The focus on pancreas is probably the reason why the ingredients list of this product is shorter compared to those of other diabetes supplements.
We believe, though, that it is the most important feature of the product because a poorly functioning pancreas almost always results in diabetes.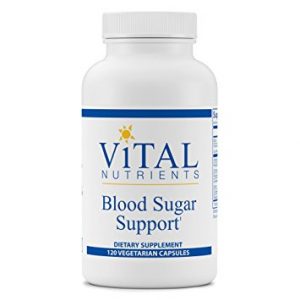 Pros
vegetarian and vegan friendly
no gluten, dairy, soy, eggs or sugar
reasonable dosage of two capsules twice daily
easy to swallow
verified by testing at independent US laboratories
Cons
results are inconsistent
some ingredients, like American Ginseng, cause side effects
no money-back guarantee
available only online
In addition to supporting pancreatic health, Vital Nutrients Blood Sugar Support promotes healthy blood sugar levels.
Furthermore, the manufacturer offers more than 200 health products, all science-based and clinically tested. Their quality assurance program uses independent US ethical laboratories. They test the raw materials and finished products for purity and potency.
We ranked this number five on our best diabetes products list because we believe that diabetes supplements should do more for its users.
It's true that a healthier pancreas is one of the most important benefits a diabetic can get from a supplement. However, the disease leads to many complications which we think should be addressed as well.
Moreover, we also found negative reviews from users who experienced side effects after using this diabetes product. These include stomach acidity and feeling cranky.
One customer who started feeling anxious rightly pointed out that anxiety can raise a person's blood sugar. And that is exactly what happened to her.
Others reported seeing little or no results from taking Vital Nutrients Blood Sugar Support.
Nevertheless, we believe that it still deserves to be one of our best diabetes products.
We acknowledge that some diabetes patients will have negative reactions to some diabetes supplements. This is a natural consequence of the uniqueness of each diabetes case.
As long as the side effects of a diabetes product are not serious, we may recommend it. Or, we would suggest that you consider the others we included on this list.
Conclusion
Finding out you have diabetes could be one of your most devastating moments. Akin to a life sentence, there is no way to turn this illness around.
And worse, it carries a long list of complications with it.
Yet, this kind of despair is unwarranted in this age of modern medicine. Diabetes can now be managed!
But you cannot, and should not, do it on your own. You need a diabetes treatment team composed of an endocrinologist (diabetes specialist), a nutritionist, an eye doctor, and a foot doctor.
With these health professionals, you will create a diabetes management plan for your particular situation and condition.
And on your end, here's what you can do to keep your diabetes in check:
Eat a balanced diet and exercise regularly.
Avoid food with added sugars, saturated fat and processed starches.
Monitor your blood sugar and blood pressure levels at home.
Learn to relax and live a stress-free life.
Get enough sleep.
See your doctor regularly.
Take doctor prescribed diabetes products, at the recommended dosage.
You should also seriously consider taking diabetes supplements, but not without consulting your doctor. Some of these products may interact with your medication.
Most importantly, remember that supplements should not be used as replacement for medications. Even the US Food and Drug Administration (FDA) is very strict about this.
The FDA guidelines state that no claims can be made to treat, prevent, or cure diabetes. Hence, you must be wary of diabetes products making such claims.
In conclusion, we would like to commend you if you were diagnosed with diabetes and have made it to the end of this article. It means you are taking a proactive stance to control your life, reclaim your health, and manage your illness with grace and dignity.