Stiff neck. Aching hips. Weak ankles. Creaking knees. Immobile hands.
Joint pain. We all experience it. Athletes and bodybuilders consider it a "necessary evil" in their training. And as we approach our senior years, we accept it as part of growing old.
Yet, joint pain isn't always caused by strains, sprains, injuries or aging. It may also be due to conditions like arthritis, bursitis and gout.
The good news is, you don't have to endure it. Relief is available in many different ways and forms, from physical therapy and supplements to medication and joint replacement.
While we are not professional medical practitioners, we aim to help you ease your joint pain. And the best way we can do that is to vet joint pain relief supplements.
Thus, we conducted an extensive research on the best joint pain relief supplements on the market today. We hope this helps you make an informed decision on managing your condition.
How Do Joint Pain Relief Supplements Work?
The best joint pain relief supplements contain at least two of the following ingredients:
Glucosamine Sulfate — This substance occurs naturally in the cartilage of your joint, keeping it healthy and lubricated.
In supplements, it's harvested from the shells of crustaceans (shrimps, crabs, lobsters) and shellfish. It helps repair joints by replacing lost fluid and promoting cartilage growth.
Chondroitin sulfate — Your body naturally produces this ingredient to prevent the breakdown of cartilage. It also reduces joint pain and inflammation.
Manufacturers of supplements source this substance from cow trachea or pork byproducts.
Calcium — Almost all of your bodily functions – from the pumping of your heart to the contraction of your muscles – use calcium. Consequently, when you are calcium deficient, your body uses what's in your bones.
Vitamin D3 — When sunlight hits your skin, your body produces Vitamin D3, one of the critical forms of Vitamin D. Its main role is to help your bones absorb calcium.
Other important ingredients:
Turmeric
Omega-3
SAMe (S-adenosyl-L-methionine)
Bromelain
Stinging Nettle Root Extract
Some of these can cause side effects. Hence, it's best to consult your doctor to determine if a joint pain relief supplement is safe for you to use.
Why Take Joint Pain Relief Supplements?
Joint pain is a serious problem which affects almost all aspects of your life. It can impact your performance at work and manifest in your interactions with other people.
Why should you live with this condition when you can get rid of it? You have various options depending on your lifestyle and preferences.
We highly recommend regular exercise coupled with taking supplements. These are cheaper, more convenient and safer alternatives to drugs and joint replacement surgery.
How To Choose The Right Joint Pain Relief Supplements
Because joint pain is a symptom of a variety of conditions, you need to secure a proper diagnosis from your doctor. This will ensure that you get the right treatment, and choose the right supplement.
Your doctor is equipped with the knowledge and tools to determine the underlying cause of your joint pain. It can be a simple sprain; but what if it's arthritis, gout, or even cancer?
Not all supplements are created the same; each contains a unique combination of ingredients. Knowing the condition causing your pain will help you choose the best joint relief supplements for your unique needs.
While there are plenty of joint pain relief products available on the market today, we've narrowed down the list of the best joint pain relief supplements that you can choose from. Check out our best reviewed joint pain relief supplements below.
1. Joint Advance
Among today's best joint pain relief supplements is Joint Advance from Pacific Naturals, a trusted name in health and beauty products.
The manufacturer promises that its unique formulation provides relief from joint pain, improvement in mobility, and increased joint lubrication.
It contains only plant-derived ingredients which are scientifically proven to be effective in supporting joint health.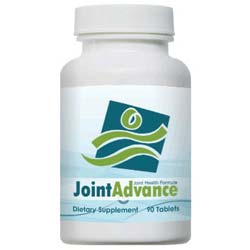 Pros
wide array of natural ingredients, all for joint pain relief
vegetarian and vegan friendly
clinical trials support each ingredient
comes with a joint protection diet guide
90-day money back guarantee
lifetime membership access to company's online fitness program
Cons
Three things impressed us about Joint Advance, which earned our top vote on this list.
First, your order comes with a joint protection diet guide. Most of you may think that joint pain is caused only by physical strain, injury, aging or certain illnesses.
However, this is not so. There are actually food and beverages that trigger acids in your body, resulting in joint problems. Some of them could worsen existing joint issues.
The Joint Advance diet guide helps you make the right choices in what you eat and drink. This is a valuable support in your fight against joint pain.
Secondly, your first purchase automatically gives you access to the company's online fitness program. This includes, among others, exercise regimens for different types of joint pain.
And third, you have 90 days to find out if this supplement is right for you. If it isn't, you can return the product and get your money back.
A word of caution: While the natural ingredients in Joint Advance have no known side effects, it contains ginger, which can cause mild discomforts if you are pregnant or nursing.
2. Omega XL
From Great HealthWorks (GHW) of Fort Lauderdale, Florida comes our second best joint pain relief supplement, Omega XL. GHW is one of the largest health and wellness products manufacturer in the US.
This joint pain supplement contains omega-3 fatty acids extracted from Perna Canaliculus, the green-lipped mussel endemic to New Zealand. The waters of this country are considered to be among the cleanest on earth.
The lipid extract in Omega XL has been clinically studied and proven to reduce joint pain due to inflammation. Extensive research also shows that it yields more omega-3 than regular fish oil.
In addition, the manufacturer employs a production process that removes all proteins from the mussels. This makes the product safe even for individuals who are sensitive to shellfish.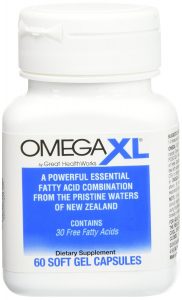 Pros
supported by 30+ years of clinical research
small, easy to swallow gel capsules
2-year shelf life when stored properly
safe for individuals with shellfish allergy
no fishy aftertaste
90-day refund policy
Cons
not for vegans or vegetarians
Omega-3 fatty acids are some of the most effective ingredients in alleviating joint pain. This is why there are many fish-oil based joint supplements on the market.
However, taking these supplements often come with a price, and we're not talking about dollars. Most of them are in large and difficult to swallow capsules.
In addition, the source of their fish is either unknown or may be contaminated with mercury. They also cause a "fish burp effect" in regular users.
Moreover, clinical studies show that some of them could interfere with certain medications.
Omega XL addresses all of these concerns while providing safe and effective relief to joint pain. Hence, you will enjoy greater joint mobility and function without complications.
3. Flexoplex
Flexoplex from Pharmaxa Labs made it to number three on our list of best joint pain relief supplements. The company is known for using formulations produced under the supervision of medical and nutritional professionals.
This product generally supports your overall joint health. In particular, it targets your joint mobility by strengthening, preserving and enhancing its inherent characteristics.
It also numbs the pain sensors in your body. As a result, you will feel fast relief from joint pain.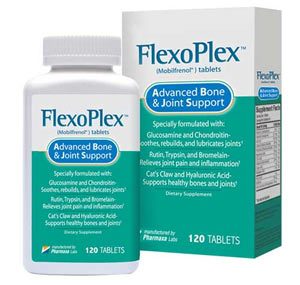 Pros
all natural ingredients at optimal levels
compounds are pharmacy-grade
comprehensive website
facilities are approved by the FDA
offers a starter bottle at a low price
60-day money back guarantee
Cons
may cause headache
reviewers said it's less potent than other joint relief supplements
One of the ingredients in Flexoplex is bromelain. This enzyme is extracted from the flesh and stem of the pineapple plant. It prevents inflammation and decreases pain and swelling due to arthritis.
But what we like best about this supplement is the healing process that your joints will experience when you take it.
The first step is the repair of the damages on your joints. Then, your joint cartilage will be rebuilt. And finally, your joints will receive sufficient lubrication so you can enjoy greater mobility.
All these steps are necessary for your joint inflammation to subside. And no inflammation means no pain.
We just wish that the manufacturer of Flexoplex conducted clinical tests to prove the efficacy of the product. This way, the side effects we mentioned above could probably have been avoided.
And to quote one of their customers: Povidone, shellac, soy lecithin and silicone dioxide have no health purposes in this supplement. We agree.
4. Doctor's Best Glucosamine Chondroitin MSM
From Doctor's Best Inc. comes our fourth choice for today's best joint pain relief supplements: Doctor's Best Glucosamine Chondroitin MSM.
The company manufactures an array of nutritional supplements. They take pride in the fact that their formulations are science-based and tested for quality.
Most noteworthy about this product is that it contains MSM, which not all joint supplements have. This sulfur compound is produced not only by the human body but also by animals, fruits, vegetables and grains.
It reduces joint pain and inflammation through the sulfur that your body uses to form connective tissues. In addition, it calms nerve impulses which send messages of pain to your brain.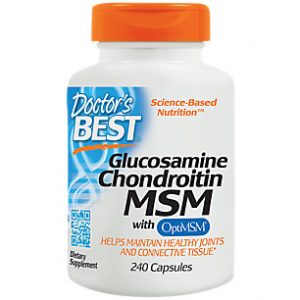 Pros
combines the top 3 joint pain relief ingredients
can be taken with or without food
gluten-free, soy-free and non-GMO
passed Quality Assurance testing
available online and at physical retail stores
Cons
may cause abdominal cramps and bloating
its glucosamine is sourced from crustaceans and shellfish, which can cause allergic reactions
dosage is 4 capsules daily
return policy is difficult and expensive
Doctors unanimously agree that glucosamine, chondroitin and MSM are among the top ingredients for joint health management. The best joint pain relief supplements include these in their formulations.
Doctor's Best Glucosamine Chondroitin MSM employs scientific processes to ensure you get these ingredients in the highest quality.
By using potassium chloride, they purify, sulfate and stabilize glucosamine to remove impurities. So what you get is pure glucosamine sulfate.
In addition, sophisticated laboratory analytical methods ensure at least 90 percent purity of the chondroitin in this supplement.
Also, the MSM ingredient undergoes a four-stage process that removes impurities and contaminants from it.
But this product is not for everyone. If you're taking medications for diabetes, glaucoma or warfarin, it may interact with your medicine.
And as mentioned above, the crustacean and shellfish derived glucosamine is not safe for those allergic to it. This also makes the product a no-no for vegetarians and vegans.
5. Instaflex
Number five on our list of best joint pain relief supplements is Instaflex, formulated under the guidance of Dr. David Katz.
Dr. Katz is the director and co-founder of the Yale Prevention Research Center. He is also the director of Integrative Medicine at Griffin Hospital.
The manufacturer of this product followed Dr. Katz' advice to use natural ingredients that target joint pain at the source. He instructed them to avoid substances which simply mask the pain.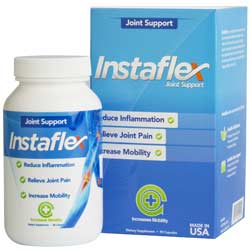 Pros
endorsed by professional football player Doug Flutie
product was subject to clinical tests
many positive customer reviews
30-day money back guarantee
2-week free trial period
Cons
may cause skin bumps, cramps, sluggishness, itchiness and upset stomach
unexpected side effects were due to lack of information on ingredients
expensive
trial period involves enrollment in the company's auto shipping program
Instaflex is worthy of recommendation primarily because it's doctor-formulated. And it uses ingredients supported by clinical research and scientific evidence.
One of these is turmeric, which is effective in relieving joint pain, though not widely used in other joint pain relief supplements.
Traditional Chinese and Indian medicine use this plant to treat the symptoms of arthritis: joint pain, inflammation and stiffness.
On the other hand, Western clinical studies show that it's more effective in the prevention, rather than reduction, of arthritis joint inflammation.
However, Instaflex is missing glucosamine and chondroitin, which doctors say are the top two ingredients in fighting joint pain.
Therefore, despite all the scientific evidence supporting its efficacy, this product is probably not as effective as the other best joint pain relief supplements which contain those two ingredients.
Conclusion
Joint pain is more common than you think, though it comes in different forms due to various causes. Some are mild, yet others could be debilitating. Some last a few weeks, others continue for months.
Whatever it is for you, be assured it can be managed, sometimes even eliminated. Your joints will function better when you remove inflammation.
Taking one of the best joint pain relief supplements we recommend is one way of doing it. And it is a good way.
There are just a few factors to consider when choosing the right product for you.
First of all, study the ingredients. Read labels to ensure there's nothing you're sensitive to. It's especially important if you are taking medication for a serious condition.
Also, be aware that the most effective ingredients, glucosamine and chondroitin, are slow-acting. So if your pain gets unbearable, choose a supplement with additional, fast-acting substances.
The second factor to consider is the cause of your joint pain. If you have a genetic predisposition to developing joint cartilage problems, your supplement must be safe to take for a long period.
The same goes for you if you're an athlete. Your exercise regimen and sports activities make you prone to developing knee and hip arthritis.
The last factor is to keep in mind that even the best joint pain relief supplements will not completely solve your joint pain. Rather, you must also make some lifestyle changes:
Exercise regularly under the guidance of a physical therapist.
Wear correct footwear that provide cushion.
Quit smoking.
Avoid processed food with omega-6 fatty acids and carbohydrates with high glycemic index.
Finally, remember that when it comes to joint pain, doctors are your best friend. Long-lasting relief from these supplements is possible when you follow your doctor's advice.