Upright stationery bikes come in many different types from many different manufacturers and price ranges. They more closely replicate the feel of riding an actual bicycle than recumbent or foldaway bikes.
You should look for a bike with an adjustable seat, LCD display and smooth, quiet pedaling. The common electronic display features and functions that come with upright bikes are . . .
Speed in miles per hour or kilometers per hour
Calculated distance that you have traveled during the workout
Your entire workout time
Your resistance levels
The calories and / or fat burned during the workout
Your pulse and heart rate
Select models of upright bike will give you various program modes. All uprights will offer a range of resistance levels, including inclines, declines and varying pedal intensity. Having a bike with pre-set workouts is an advantage, making it easier for you to work out on an on-going basis.
When selecting an Upright Bike, the key features to look out for include:
Flywheel Size – The flywheel, deep inside the housing of the bike, is the thing that determines how smoothy the bike rides. The bigger the flywheel, the more smooth the operation of the bike will be. On some bikes, the flywheel can be as heavy as 48 pounds, providing an amazingly smooth and quiet operation. Of course, this size flywheel also makes the bike quite a lot heavier.
Console Features – Depending on the budget, the console that comes with your Upright Bike could vary from a very simple single display to a multi color, multi-variate dot matrix display. The quality of the heart rate measurement can vary greatly on upright bikes. Most bikes will provide a hand pulse measurement which is located on the handle bars. They will give you a very average readout of your pulse when you put your hands on the handle bar sensors. The better quality models will have a built in wireless heart rate function. When you wear a chest heart strap (most models will not provide a chest strap) the bike's computer will automatically take a reading of your pulse. This a far more reliable indication of your pulse than the hand held variety.
Crank – Some bikes will come with a single piece crank that has been shaped to fit. Others will be in 3 separate pieces. These are stronger and will give you better performance.
Seat – Most seats now offer height adjustment. The best bikes, however, will also allow you move the seat backwards and forwards to really customize your fit.
Their is a great variety when it comes to seat comfort and padding. The top quality bikes will provide you with a generously sized gel padded seat.
Sturdiness – The amount of steel that goes to make up a bike will determine how strong the machine is. Generally speaking, the more steel featured, the more expensive a bike is. the size of the flywheel also contributes to the bike's rigidity.
Our Range of Upright Bike Reviews features the following bikes:
Schwinn AD6 Airdyne Upright Exercise Bike
The AD6 Bike by Schwinn offers movable arms that allow you to work both the upper and lower body together.
It provides a wind based resistance in addition to the flywheel and comes with an especially comfortable seat.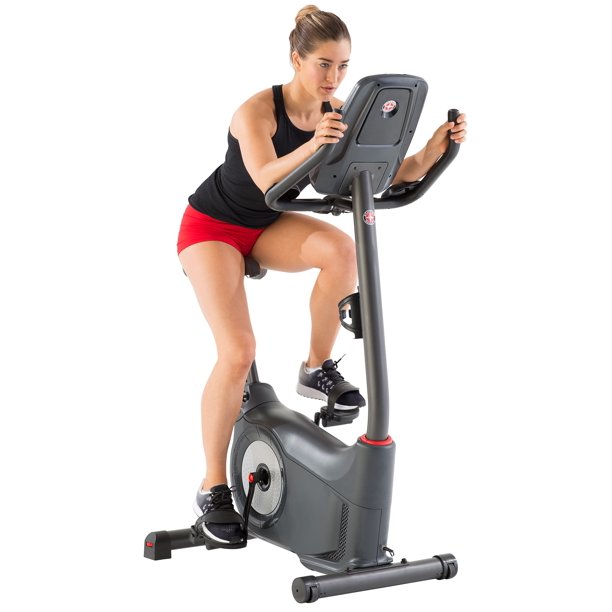 Schwinn 170 Upright Exercise Bike
The Schwinn 170 has a modern upright design featuring Schwinn Dualtrack monitoring, 29 computer workout options and a massive 25 levels of resistance.