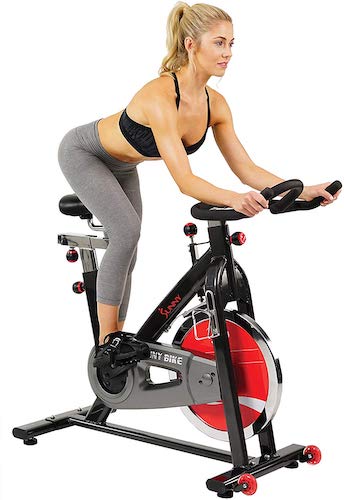 There're a lot of different types of exercise bikes available and for the ones who are just entering the fitness world, it can be a bit overwhelming to choose from all these bikes. The biggest problem is that all of these bikes look so similar but have a fundamental difference in how they function. You can't straight away tell if the bike is of an entirely different category or just a modification.
Of course, all these types of bikes have their own set of advantages and disadvantages. Understanding the difference between how these types of exercise bikes work will help you figure out which type is the best suited for you. The most common confusion occurs between the spin bike and stationary bike. These two bikes are the most common ones and can regularly be found in gyms and even at homes of fitness lovers.
The chances are that you can't tell the difference even if both types of bike are placed in front of you at the same time. But that's okay; no one can blame you since it's not easy to figure out the difference as both bikes look very similar. It is easier to tell the difference between an upright exercise bike and a recumbent one, but with spin and stationary bike, the difference is a bit more subtle. Both bikes have several similarities and differences, and both offer a unique set of features that you should know about before you decide which one to get for yourself.
Spin Exercise Bikes
Also known as indoor cycling bikes, these bikes have a unique combination of machine elements that makes them work. The basic difference between the two isn't in the looks but in the way they function. This bike provides resistance in a very distinct way and unlike upright bikes, the spin bikes have a weighted flywheel that goes through a transmission system before connecting to the pedals. This system closely resembles that of an actual bike. This system, combined with direct-contact braking, provides resistance while you cycle.
This bike greatly resembles an actual road bike as you also have to lean forward into a crouching position while working out on it, which is very similar to the position you are in when you are on a motorcycle. On a spin bike, you can adjust the resistance via a knob, and you can also adjust the handlebars. Changing the resistance is a lot like changing the gears. If you're a bike-riding enthusiast or a professional biker, this is what you need to get for your fitness workout. This bike not only helps you improve your cycling skills, but it also increases your stamina and lower body strength. You can also paddle while standing up so that you can get a complete workout. This is something that you can't do in a traditional upright bike as you have to remain seated at all times. Riding the spin bike while in a standing position helps you get a more intensive workout and engage more muscle groups than you can do on a stationary exercise bike.
Of course, riding the bike in a standing position isn't the safest position, and it can lead to injuries. Another disadvantage is the fact that you have to work out in a crouched position, which is not the ideal position for prolonged workouts. However, spin bikes require a higher level of intensity, so if you prefer intensity over duration, get a spin bike already.
Stationary Exercise Bikes
While the exterior of a stationary bike and spin exercise bike is pretty much the same, the internal mechanism is entirely different. The stationary exercise bikes use electromagnetic induction to create resistance. However, that is not the only difference as these bikes don't use brake pads but instead, magnets are used for slowing down the flywheel's rotation. One of the biggest advantages is that most of the modern stationary exercise bikes offer you a range of preset workout routines to choose from. You can simulate the riding up or down the hill feeling while using this gym equipment for a realistic experience.
You can get these exercise machines at a very low and affordable price as well as at a very sophisticated and high-end price. The price variation depends on the features and extra toys offered, so you can get a good stationary bike depending on your budget. It features a central console that can be used to set a number of parameters to match your needs and specifications. Using this console, you can select a preset simulation as well as fine-tune parameters to deliver an extremely customized and effective workout to match your body type and stamina. Most of the latest models also feature a heart rate monitor, so it can also be a great tool to monitor your cardio fitness. If you are trying to lose weight that only happens in your fat-burning zone, you should know that the zone is different for every individual. It mainly depends on the weight and age and so, these machines let you customize however you want to.
People who prefer full-body workout mostly avoid spin and stationary exercise bikes as both machines focus only on the lower body strength. However, if you like cycling and want to build upper body muscles, you can try a stationary bike that offers dual-action arms as well to help you focus on your arms, back, abs and chest. These machines may not be available at a low price, but with this stationary bike, you can get an intensive full-body workout as well as enjoy a good cycling session.
In terms of comfort, the stationary bicycles have an upper hand as they feature well-padded and much wider seats. Even after long workout sessions, you won't feel as uncomfortable. However, in terms of intensity, spin bikes take the lead as they can help you break a sweat and get your muscles pumping in less time.
Conclusion
For cycling fans or professional bikers, spin exercise bikes are a good fit. Not because this gym equipment has better efficiency and depicts a real-life cycling sensation, but also in terms of resistance delivery, it is superior, especially as you go higher. It is much smoother and natural, and you can control the resistance with your pace so that you can start off slow, reach the maximum and then slowly drop momentum to get the most out of your workout.
However, if you want to burn calories and lose weight or just stay in shape, you should go for the stationary bike. These machines are ideal for prolonged workout sessions, and you can select a preset to match your requirements. You can go slow for an hour or go for ten minutes; the choice is yours. The customizable settings with the consoles and LCD screens mean it's the perfect fitness equipment for the entire family. Heart rate monitors are another welcome feature that every fitness lover will take advantage of. The comfort level is also higher, so you have a smaller chance of straining yourself. These are also available in different price ranges, so you can decide which features you need the most and buy one based on your budget.
While the overall effects of both types of bikes are the same, the level of intensity that you choose to work with can vary. Even though these fitness exercise machines help you enhance your fitness and workout, some people can achieve the same results without a machine by simply running on the field. To conclude, to achieve fitness, you need to work out with intensity and both types of exercise bikes offer the means to achieve that.