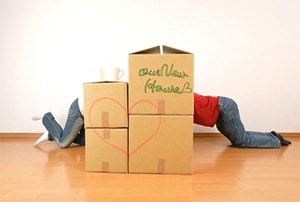 If you have been dating someone for a length of time over six months (generally), then the chances are high that you have had the conversation about moving in together.  If you have taken this step in your relationship, then you might have seen your sex life dwindling before your very eyes.  Consider whether or not moving in together has effectively killed your sex life.  If it has, then you can follow the tips outlined below to get things back to the way they were without sacrificing your relationship.
You have probably come from your own space where you shared dates with your significant other.  Things were new and exciting and the sex was fabulous.  Now that you see each other every day, things might have cooled off.
Here's what you can do to avoid burnout when it comes to a healthy sexual relationship with your partner:
Plan for Dates – Enjoy date nights with one another where one person is charge of the dinner plans and then you can alternate. Doing this together increases closeness, but keeps the air of mystery alive within your relationship.  If you continue dating, you continue showing your partner that you still care about the things that brought you together in the first place.  It shows him or her that you care about their needs and wants, while leaving the worries of your everyday lives behind – even if for only one night.
Go Away Together – Take a vacation or just a quick getaway. You can eliminate thoughts about bills, work and your daily schedules and simplify things between you.  This will help you remember why you were a couple in the first place by strengthening the bond you share.
Buy Her Flowers – Even the little things still matter, like flowers. When you are out, before coming home, pick up a nice bouquet of flowers.  It will let her know that you still think about her even when she's not around.
Plan a Special Dinner for Him – There are two ways to a man's heart, one through his mind (think sex and love) and the other is through his stomach (think food). When he arrives home from a hard day's work, treat him to his favorite meal.  This will show him that you care enough to want to cater to his wants and needs.
Do What He Likes for a Day – If he has a particular favorite hobby or sport, try doing that for the entire day. It will show him that you have been listening when he talks about baseball or his favorite video game.  In this way, you will both learn more about each other while getting closer.
Surprise Him with Sex – If he isn't expecting regular sex on a Friday night, drag him to the bedroom and rip his clothes off. When you take the initiative, he will be that much more turned on.  He will be so excited that he will have no choice but to let you have your way with him.
Do a Striptease – Everybody likes a bit of a show and your man is no different. Slowly take off each of your items of clothing until you're down to your bra and panties.  When you are down to your panties, you can end the show by making him take them off of you.
Free Yourselves from Distractions – There is nothing worse than getting ready to have a wild night of passion than to have your children or your boss interrupting the fun. Turn off your cell phones and hire a babysitter if you need to.  Think about all of the fun you can have together when you don't have to worry about stopping to do other things.  You deserve a break from all of life's distractions and it will allow you the opportunity to work on your sex lives.
Enjoy Each Other's Company – Simply enjoying each other's company is something that often gets overlooked in this day and age. People are mostly way too focused on technology and all of their gadgets to really make a connection with one another.  You can start to enjoy your partner's company by having a day when you just talk without constantly staring at your cell phone or tablet.  You may even be able to have a night at a hotel free of your devices.  Start small and see where it goes from there.
Schedule Some Time with Your Friends – You have probably heard of the phrase: "Absence makes the heart grow fonder." In your case, if you are living together, then there is likely not much time that you're both apart from one another.  Ladies, schedule a girls' night out with some of your friends and paint the town red.  You will give him some free time to enjoy his own hobbies while spending quality time away from home.  When you come back home, you both might have missed one another.  What better way to express those feelings than a wild romp in the bedroom?
If you have taken your relationship to the next level where you are both sharing the same space, it doesn't mean that you have to keep things dull and boring.  When we live with someone, we may have the tendency to fall into a routine.  Routines, while great, can sometimes turn boring.  Routines can also cause all to lose intimate touch with our partners.  Following the steps listed above, you can take back control of your sexual relationship regardless of your living situation. Overall, you want to have a healthy relationship with your significant other and that includes having a healthy sex life.
You may feel like you have spent way too much time together to really be free to be intimate.  However you feel, there is a way to work around that if you are both willing to put in the time and effort necessary to go forward in your relationship.