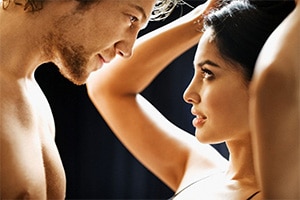 If you are going to be intimate with a woman for the first time, then you should work on your powers of seduction. When you can seduce a woman and do it right, they turn into putty in your hands. Forget about talking dirty for the time being. Your best bet to seduce your lady is to follow the tips below to ensure that she is the complete focal point of your sexual escapades.
With the steps provided, you can be on your way to the ultimate seduction of that special lady in your life. The first eight tips are for those men who are in new sexual relationships, while the last tip is dedicated to men in longer term relationships.
Kiss Her Gently – Women enjoy a tender touch from a man, especially in the beginning of any sexual relationship. Try kissing her softly and leaving her wanting more. This will work to get her ramped up for the events to come. It may even cause her to want to take over and handle things on her own.
Touch Her – Go slow with touching and pay attention to her body's response to your touch. Pay attention to details when it comes to something she signals feels good and what doesn't. If she moves in closer to your body, you can take that as a signal that she is enjoying what you are doing. If she backs away or flinches, regard that as something that she may not wish to have repeated. Listening to her body language can help you do what you've set out to do and that is giving her an orgasm that she will never forget..
Ask Questions – Many women climax based off of different stimulation. When doing any kind of sex act with your lady, ask her if she likes the way you are touching her with your hands, mouth or other body parts. She may be shy, so you can ask if she wants you to go faster or slower. When you ask questions, it shows her that you care about her having the best possible sexual experience. Questions like, "Are you enjoying this?" or "Should I slow it down (or go faster)?" will communicate to her that she is in the driver's seat when it comes to the intimacy of the act that you are sharing.
Listen to Her – If you are asking questions of what your lady enjoys, then you should actively listen to everything she is telling you. Paying attention to her body and responses shows her that you aren't merely participating for your own satisfaction.
Have Confidence – Even if you don't have confidence with regard to your sexual exploits, fake it. Displays of confidence makes her feel more secure in having you as a sexual partner. If you are confident, then she can relax knowing that you are fully in charge of giving her pleasure.
Focus on Her – For the first few times of sexual intercourse with a new lady, you want to place all of the focus on helping her achieve orgasm. Many men can go through relationships with women and not know exactly what she likes. If you can learn what she enjoys early on, your relationship can progress and flourish. If you make sex all about her, she will always return the favor with enthusiasm.
Don't be Selfish – Think about giving her pleasure and worry about what comes next for you later on. When you give up the selfish thinking, you can open yourself up to giving her the best sex she has ever had. If she sees that you are a giving person, then she will be open to being more giving with you.
Keep it Simple – At least in the beginning of any new sexual relationship, you are going to want to keep the sexual shenanigans simple. It isn't cool to break out the whips and chains during your first sex session, so keep the sex play to regular, vanilla sex. There will be time for you to share your fantasies with each other, but in the beginning, you should concern yourselves with pleasing each other.
Be Adventurous – For those who have been in a long-term relationship, this one is for you. Be adventurous when it comes to sex and it will make your relationship last even longer. I'm not talking about having sex in a public place like a library, but a change in scenery could do you both some good. Rent a hotel room with a Jacuzzi and enjoy yourselves. Put on some mood music, light a candle and kill the lights. She will love the idea and will be relaxed in this new environment, completely free from distractions.
Having a great time in seducing the woman of who you wish to be intimate is going to pay you back ten times over. When your lady realizes the amount of effort you have placed into satisfying her needs and making her sexual satisfaction the center of your sexual journey, she will be happy and ready to give you back that ten times over.
When you are first intimate with a woman, there is a good chance that you are hoping for a repeat performance sometime down the line. If it proves to be memorable for her, then there is a great chance that you will have the opportunity to progress in your sexual exploits together. When you are both comfortable, you can move in with the dirty talk, sex toys or anything else that suits your fancy. Overall, you want to encourage her to feel open and honest with everything you are sharing together, sexually and otherwise.